You've seen pictures of van life, maybe you've rented a van for a week and you're ready to jump in. Now what? Next comes deciding what type of van to buy. In the US there are 3 popular vans that people convert and live in- Mercedes Sprinter vans, Ram Promaster vans, and Ford Transit vans. In this post we're going to compare the Promaster vs. Transit van going through the pros and cons of both vans to help you decide which one is right for you!
Disclosure: This post contains Amazon affiliate links. As an Amazon Associate we earn from qualifying purchases. This means at no additional cost to you, we will earn a commission if you click through a link and make a purchase. This post may also contain other affiliate links and non-affiliate links to products and websites.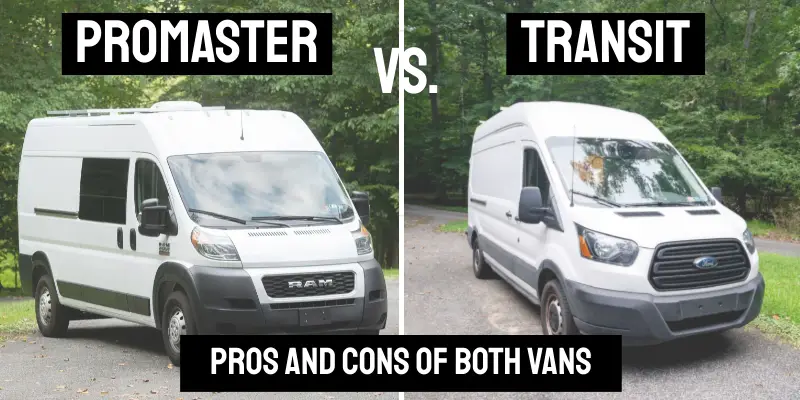 Our first van build was a 2019 Ford Transit and we loved it! We initially bought a Ford Transit van mainly because, if necessary, it can be worked on by any mechanic. Sprinter vans have Mercedes parts that are generally more complicated to work on and most times require a Mercedes dealership or other Mercedes authorized mechanic. Because van life can be so unpredictable we didn't want to break down in the middle of nowhere and have to get towed hundreds of miles to the nearest Mercedes dealership. This was something that was important to us just in case something did happen while living on the road.
A year after we bought our Ford Transit we bought a Ram Promaster and converted it. After meeting so many people who built and lived in Promasters we now understand why it's becoming a more and more popular choice because there actually are a few advantages to the Promaster over the Transit!
Read More: Why We Bought a Ford Transit Instead of a Mercedes Sprinter Van
Pros to Buying a Promaster
There are a lot of pros to buying a Promaster. Generally we found a lot of used Promaster vans when we were looking which makes the buying process more convenient.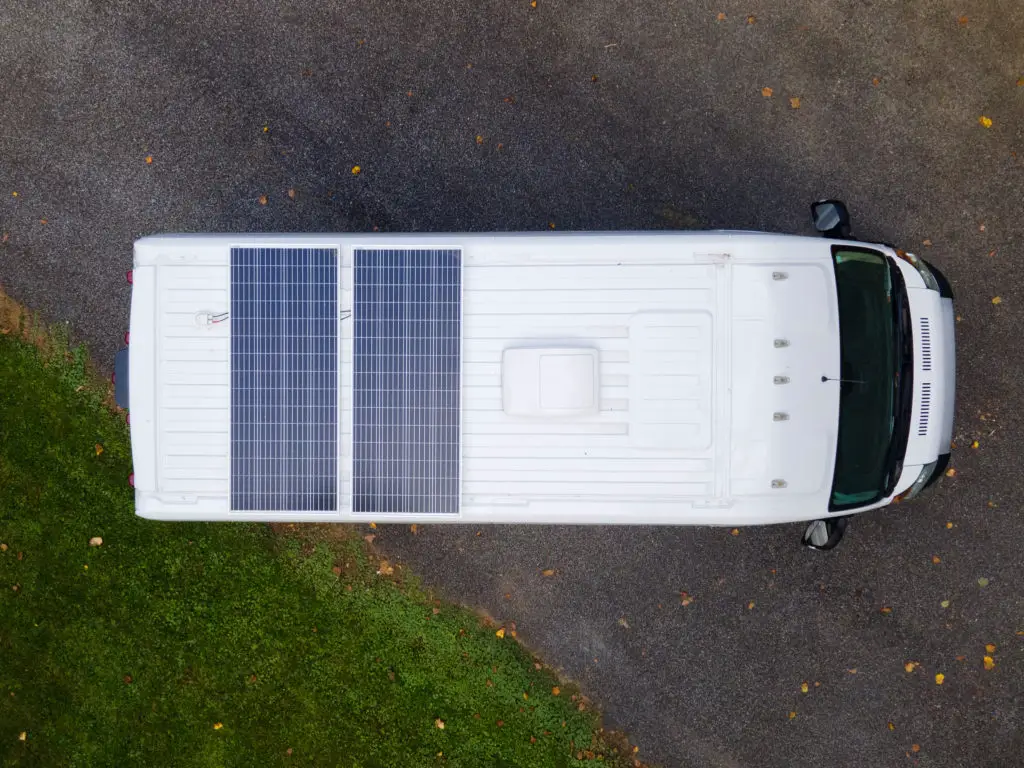 More Square = Easier to Build
Once you've done a van build you realize how annoying all the little bump outs and curves are. The Promaster is significantly more square than both the Sprinter and Transit. This makes the conversion a lot easier!
You can notice even just by looking at the Promaster from the outside that it is more square compared to the curved sides of the Transit. This meant we were able to keep everything more square and straight as opposed to having to build everything completely customize to the angles in the Transit van.
This angle tool helps you find really specific angles. We used it a few times in our first build and a lot more in our second build. Another option is to simply made a stencil out of cardboard and then trace that onto wood or whatever you're cutting.
The Promaster 159 Wheelbase is the Perfect Size
The Transit 148 wheelbase is large enough to have a convertible dinette/bed and kitchen area while still fitting in a normal sized parking spot which was important to us. But in such a small space a little more room is always appreciated. The Promaster 159 wheelbase is the perfect size! It's about a foot larger than the Transit 148 wheelbase and honestly you can feel the difference inside the van. There is just a little big more room to work with when planning out your conversion.
One of the best parts of the 159 wheelbase, though, is that it still fits in regular sized parking spot and really doesn't feel larger than the Transit 148 wheelbase when you're driving. This was impressive because we didn't want to all of a sudden feel like we were driving a boat with all of our belongings down the road.
The Transit does come in an extended wheelbase but it really doesn't fit in a regular sized parking spot. It adds about 2.5 additional feet of overhang off the back. You can definitely tell it's bigger when you're inside the van so if you're fine with that the extended Transit might be an option for you.
Read More: How to Choose a Van Layout
Promaster Interior Width Allows Side Sleeping
This is one of the biggest advantages to buying a Promaster. The Promaster has the largest interior width compared to both the Sprinter and the Transit. This means you can sleep sideways which allows you to use more of the remaining interior space for things like the kitchen or seating area.
A queen bed is about 5 feet wide so if you sleep sideways the bed only takes up 5 feet of length in the van as opposed to 6-6.5 feet if you sleep front to back. That means you have at least an extra 1 foot of usable space. It doesn't sound like a lot but it's significant when we're talking about a van with under 80 square feet total.
In order to have a fixed bed in a Promaster most people sleep sideways to save interior space lengthwise while still getting all the storage underneath and the convenience of not having to convert the bed every day.
We put this memory foam mattress into our Promaster build and it was really comfortable and fit perfectly!
Front Wheel Drive
Promasters are front wheel drive while Transits are rear wheel drive. Regardless once you build out a van there will be a lot of weight inside and it will always drive like a larger car than a small sedan. However, a lot of people feel like front wheel drive has better traction and drives better in certain driving conditions.
We drove our real wheel drive Transit through the desert, snow, on the beach, and on gravel roads and it did great on all of it. It depends on the types of places you plan to bring your van (especially if you plan to spend winters in the mountains in Colorado). But it is a difference that is worth noting.
Built in Headliner Shelf
The headliner is the area above the cab. You obviously don't need to be able to stand up in the cab so there is an area above there that can be utilized for storage. Promaster vans come with a built in headliner shelf. It's build into the van so you don't need to add it.
Transit vans don't come with a headliner shelf so if you want to add one you need to install it yourself. Sprinter vans also don't come with a built in headliner shelf. Because of the angle of the Transit roof we were able to install a decent sized headliner shelf. We fit all of our bedding, daypack, snacks, and other random items in the headliner shelf. It provides a lot of extra storage which is important in such a small space.
It was hard to install because the metal on either side of the headliner is really thick. So it took a few different drill bits before we were able to drill in brackets to hold the shelf. Do yourself a favor and get a whole bunch of drill bits before you start your build!
Even though we did have to install it ourselves our headliner shelf in our Transit was probably twice as big as the Promaster built in headliner shelf. So while it does require more work it gave us a lot more storage space.
Read More: Everything We Used in our DIY Van Build
Step Down to Cab Makes Nice Transition
This is a small point but it does make a difference aesthetically that we preferred in the Promaster over the Transit. From the cab area in the Promaster there is a step down into the back of the van. it makes a really nice transition when installing flooring because it goes directly to the step. Visually it just looks nicer because it's a natural transition as opposed to the Transit where it's all one level.
We found this area in our Transit between where the cab floor mats end and where our flooring started just collected dirt and became a mess. The stair in the Promaster makes this area look nicer and more finished!
Cons to Buying a Promaster
As with any van there are a few cons as well. Just remember it's a cargo van so there will always be a few things you wish you would change. Overall though there are definitely more pros to buying a Promaster than cons!
Shorter Interior Height than Transit
This is the biggest and most legitimate con to buying a Promaster compared to the Transit. If you are over 6 feet tall it's going to be really tight for you to stand up comfortably in the Promaster. The interior height of the Promaster is just about 76 inches, however, once you install insulation as well as flooring and ceiling boards you will need to subtract a few inches from that.
If you and/or your partner are under 6 feet tall then it should be no problem! But it's definitely something to consider if you're on the taller side and don't want to have to worry about constantly hitting your head.
Interior Sliding Door Handle is Flimsy
This is minor but when we first looked at Promaster vans we couldn't believe how flimsy the interior sliding door handle is. For a cargo van we expected something a lot more sturdy but it feels like a cheap plastic that might break if you pull it too hard.
It might have been that we were just used to the handle in the Transit that is much larger and, in our opinion, more sturdy.
We've seen people attach secondary handles on the door to make it easier to slide open and closed so that could be an option to improve it if it really starts to bother you.
Read More: Guide to Insulating Your Van
Pros to Buying a Transit
There are definitely a few pros to buying a Transit that ultimately lead us to buy our first van, a 2019 Ford Transit!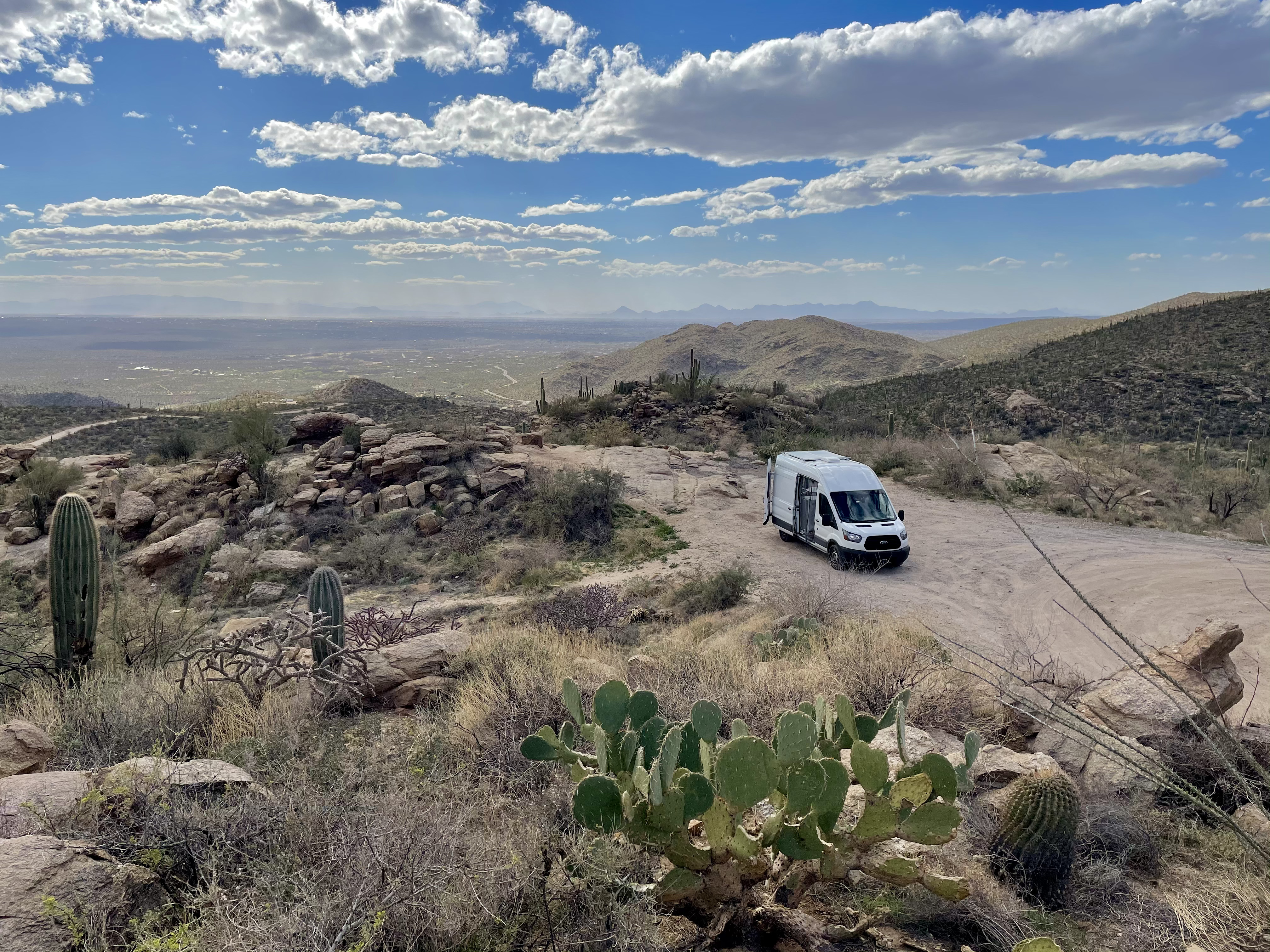 Transit have the Largest Interior Height
If you are over 6 feet tall the Transit is the van for you. The interior height of high roof Ford Transit vans is about 81 inches tall while the interior height of high roof Promaster vans is about 76 inches tall. That means Transit vans have an additional 5 inches of interior height.
Those numbers are all for the empty interior height. Remember that you will add insulation and ceiling boards to the roof as well as insulation, floor supports as well as flooring to the floor. So you will loose some of that interior height no matter which van you choose.
We've built out both a Transit and a Promaster and before starting we didn't think we would really feel the difference in height that much. But we quickly noticed during the build that we had a lot less height to work with in the Promaster than we had in the Transit. We installed slightly different floor supports and insulation due to the Promaster being smaller.
The van channels on the roof of the van are significantly thinner in the Promaster so we had to worry a lot more when drilling into them to make sure we didn't go straight through.
It is a double edged sword though because more interior height means the entire van is taller. The Transit is almost 9 feet tall with no solar panels or anything mounted on the roof. So you do need to pay a little more attention when driving to make sure you have enough clearance.
Read More: Tools You Need for a DIY Van Build
Sliding Door Step Is Helpful
Getting into a cargo van from the sliding door is a large step no matter what. You get used to it after you've done it a few thousand times and you stop thinking about it completely. The Transit has a step up that is lower before stepping into the main cab area. It's nice because it makes it a little easier to step into the back of the van especially when anyone older gets into the van.
The step is also nice to store things on because it's a contained space. We left all of our shoes on the step which gave us a place to put them especially if it was raining. Or we usually put this small trash can on the step so that it was easy to take out whenever we stopped.
Larger Back Windows That Come More Standard
While looking to buy a Transit almost all of the vans we looked at had back windows installed that come fairly standard. When we were looking to buy a Promaster we noticed that almost all of the vans we saw came with no windows in the back or on the sliding door.
This isn't a huge deal because windows, especially back windows, are easy to install yourself. However, it is an added expense to buy the windows and then time to install them.
The back windows in the Transit are significantly larger than the back windows in the Promaster just because of the shape of the vans. It's obviously not something you can change. But we did appreciate having large windows that were installed when we first bought the van!
Cons to Buying a Transit
After converting and driving both vans there are also a few cons to a Transit. It has a few things that made the initial build a little more challenging.
Transit Has a Few Design Challenges
There are a few things in the Transit that create design challenges when converting it to live. On the drivers side there is a wire bundle that goes from the front of the cab all the way to the back door. When we first bought the van it was covered by black plastic pieces (in the pictures above) that we unclipped. The wire bundle powers the locks on the back doors so you need to keep the wires.
In the Promaster the wires are tucked in the upper channel on the passenger side of the van which is a much better place for them. We have no idea why Ford puts the wire bundle on the outside and then just leaves it there. But it does pose a bit of a design challenge.
We chose to put the insulation and shiplap wall boards behind it. Then we built essentially a box to cover the wire bundle that is directly underneath the upper cabinets. It took some serious planning to figure out how to make it look intentional and not like we were trying to cover something up.
The Transit also comes with 2 very large foam pieces that cover the areas where the roof angles down to the cab. They are big (and although they're not terrible because they're black) they don't really fit the aesthetic of a converted van. So again we had to figure out how to make them look nice.
Neither of these are deal breakers but they were things that we noticed we didn't have to deal with during the Promaster van build.
Read More: How to Install a Swivel Seat in a Ford Transit
Transit is More Curved Than the Promaster
In general the walls of the Transit van are more curved than the Promaster van. This requires a little more work when building because you can't just go ahead and put up a straight piece of wood. It's not impossible and there are a lot of ways to use the curves to your advantage to make the most of the space but it gets annoying.
While converting the Transit everything was pretty much custom built to the exact measurements based on the curves and angles. In the Promaster build we could use much more standard dimensions to ensure things were built more square because the van itself is less curved.
No Bluetooth in our 2019 Transit
Our 2019 Transit didn't come with bluetooth and it immediately felt like we stepped back a few years. So to listen to music we bought this aux cord which was cheap and a solution. But it meant we couldn't listen to music and charge our phone at the same time which did get annoying on long drives.
It might come standard in newer models so that's something to look into but it's a feature we assumed it would have that it didn't.
We hope this post was helpful in going through some of the pros and cons of buying a Promaster or a Transit. There are advantages and disadvantages to either van so it really all comes down to personal preference and which one feels like the right van for you! Having converted both a Promaster and Transit van if we were to do another van build we would probably buy a Promaster. The main reason being we could sleep sideways in the Promaster giving us a lot more usable living space while having all of that storage underneath the fixed bed.
Interested in More Van Life Posts? Read Here!
Pin it for later: