Now that you've got your van it's time to figure out the best layout. A lot of factors can impact this decision and you want to make sure that it will work for you and your lifestyle. This is especially important if you're doing all the work yourself because you don't want to completely redo it in a few months when you realize it doesn't function well (or at least that's how I felt throughout our build). This post goes through five questions that will help you identify what is most important for you and your van!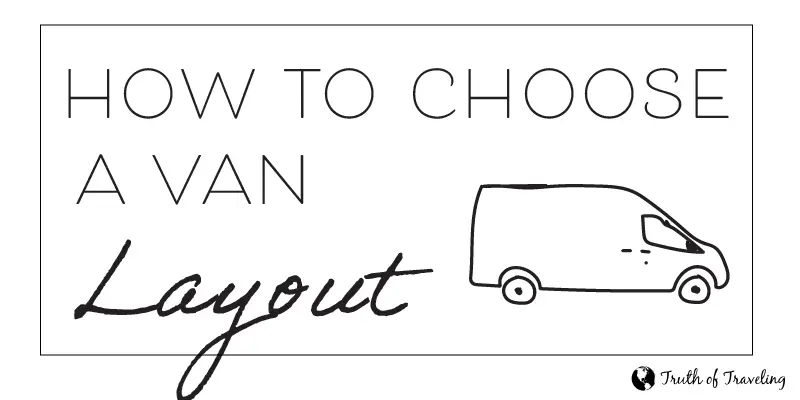 One of the best ways to figure out what you like or don't like is to rent or spend time in a van that is already converted. Whether it's for a week or a few months it will give you valuable insight into what things drive you crazy and what you realize is a non-negotiable.
1. What Van Do You Have?
The size of your van is going to greatly impact what is realistic to have. If you have a small mini van you will be able to fit considerably less than if you have a Mercedes Sprinter 170″ wheelbase. The square feet inside the van will determine if you can have a large kitchen, a shower, or neither of those.
We have a Ford Transit 148″ wheelbase. The transit is one of the tallest vans meaning we can both stand up inside with plenty of room. That was something that was really important to us. We rented vans where Dave was too tall to stand up straight and it definitely got annoying after a while. But we do feel like our van is a smidge too small for a dedicated shower/toilet room. It would mean our kitchen area would be really small and just would make the van feel much less open and spacious.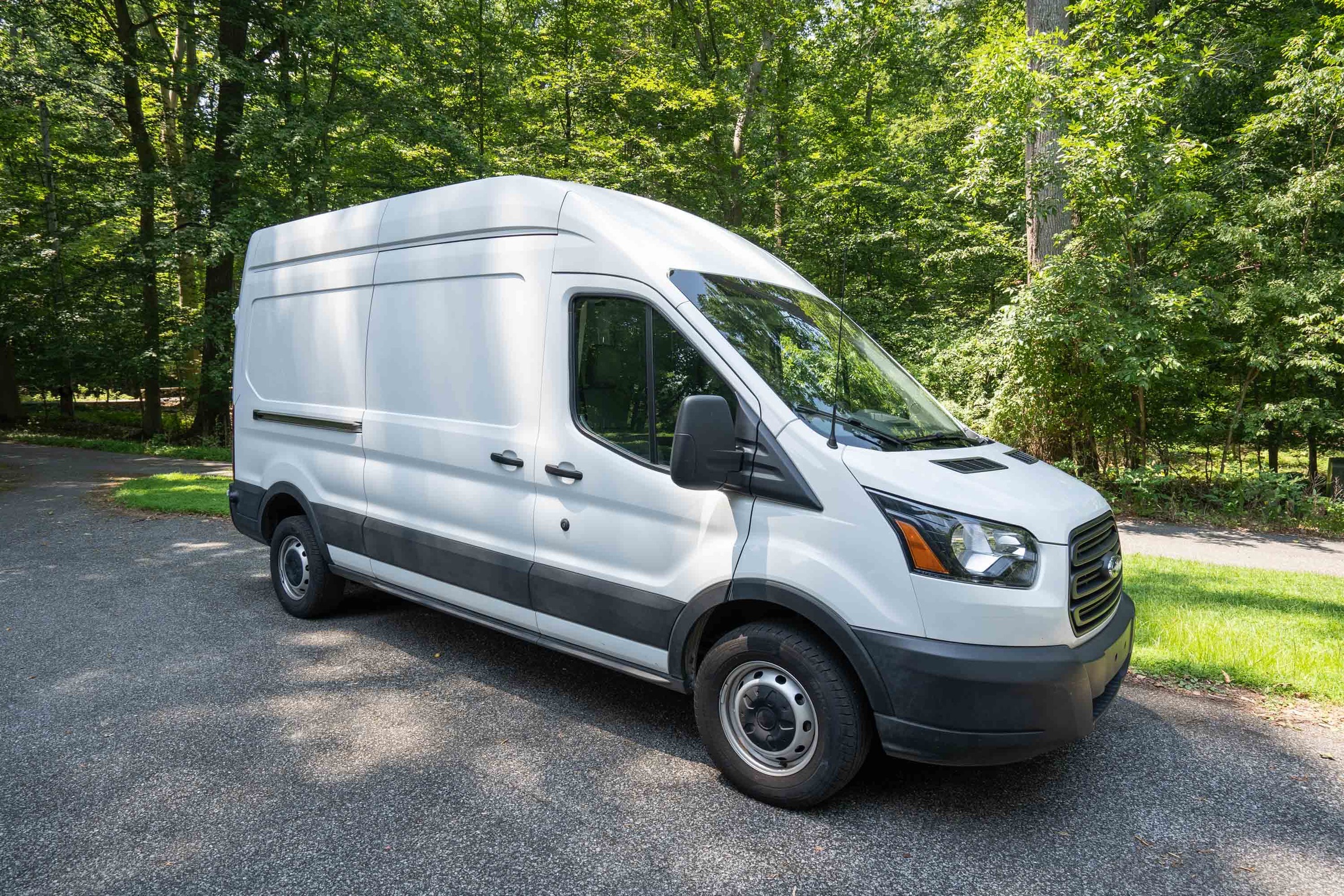 The Ram Promaster vans are some of the widest meaning you can sleep sideways which reduces how much space length-wise you need for the bed. That opens up flexibility for more options in the rest of the space.
2. How Many People are Going to Live in the Van?
If you're traveling solo you could build a smaller bed and less storage space. If you're a family of 4 you need a way to sleep the whole family while still being able to function inside the van during the day.
You also want to keep in mind how much space you will have in the van. You want to make sure there is realistically enough space to life for however many people will be living in the van. If there is only room for 1 person to stand at the kitchen that is something to keep in mind.
Also put some thought onto how big each person is. Dave is 6 feet tall so we looked at vans that would let him stand up straight inside. If you and your partner are shorter than that you can look at vans with less height.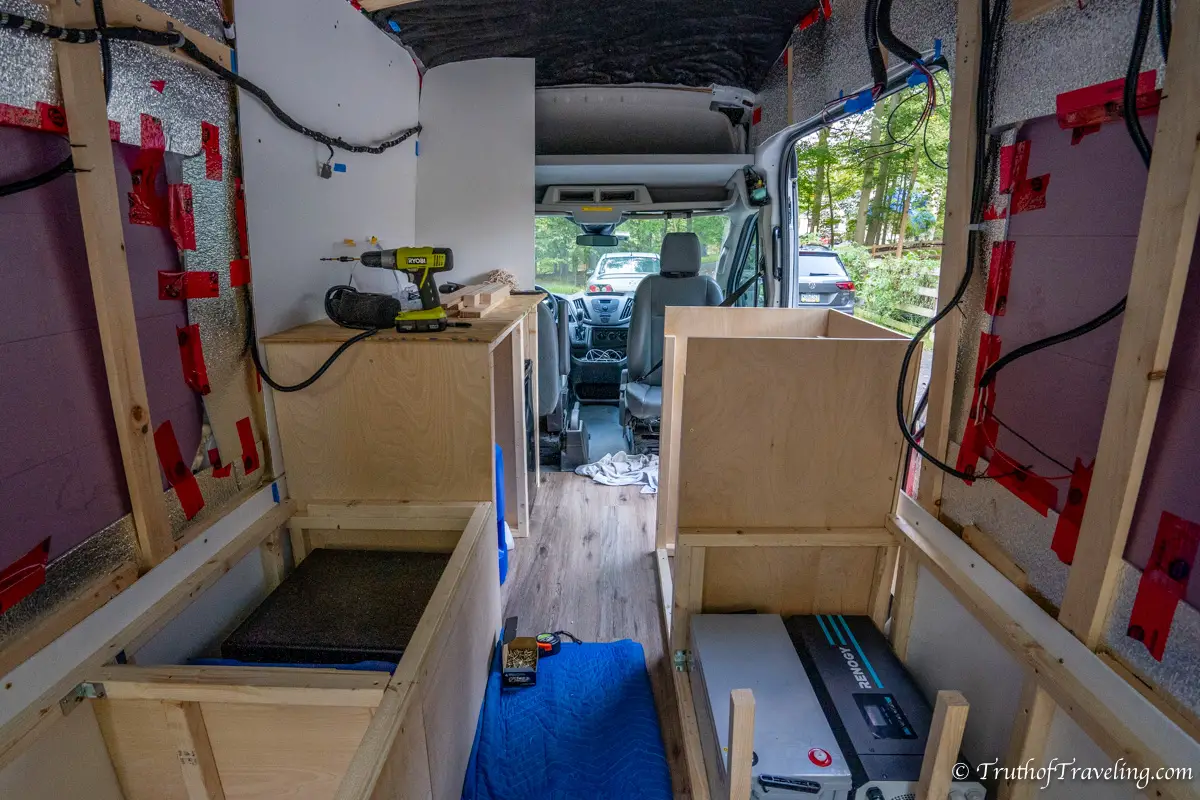 Read More: How to Install a Swivel Seat in a Ford Transit
3. Are You Living in the Van Full-Time or Part-Time?
Dealing with something that is inconvenient is okay to do for a week or two because you know it's temporary. But any longer than that and it can start to drive you crazy. So the amount of time you're planning on spending in the van should also impact your layout.
If you're planning on spending a few days in the van to take weekend trips its easier to deal with inconveniences like no bathroom and less storage space. If you're living in the van full-time you're going to get sick of things quicker.
It's important if you're living in the van full-time that it feels like a permanent home and that it functions as well as a stationary apartment or house.
This was really important to us when choosing our layout! We knew some things would of course be a little more complicated but we didn't want every single thing to be harder. I think that would just wear us down too much every day.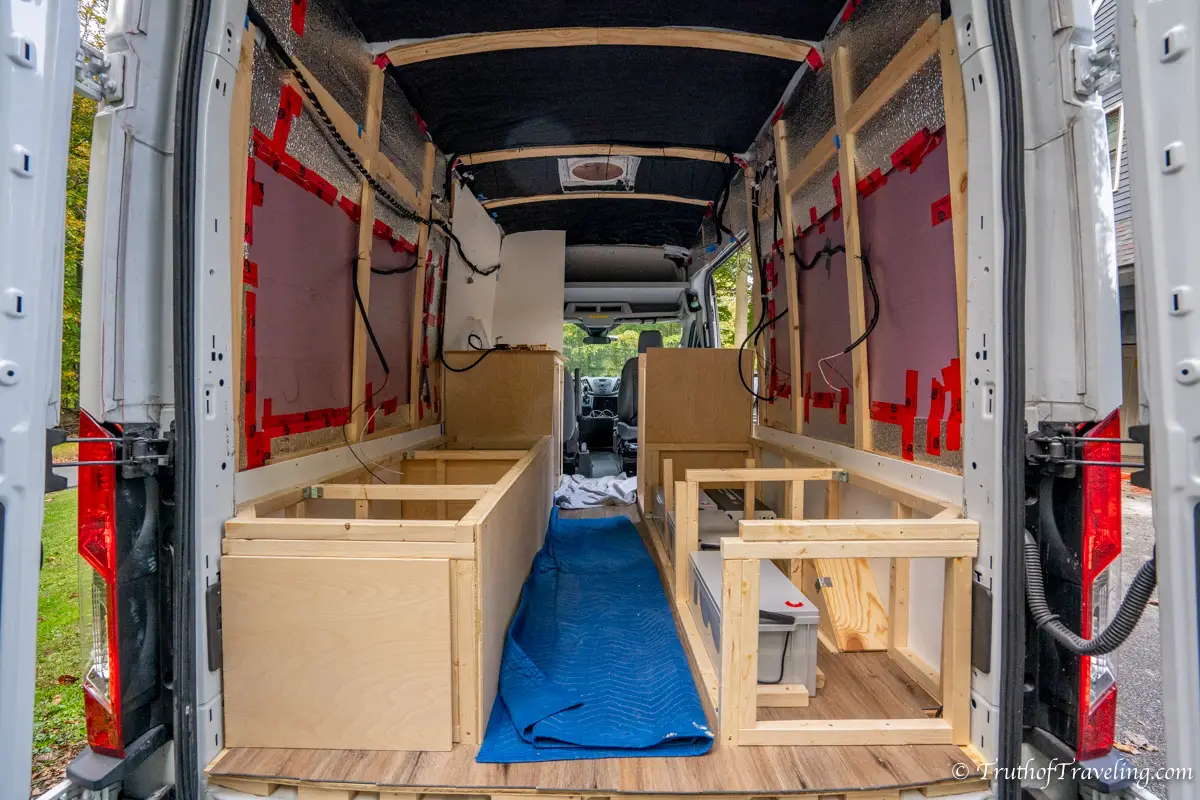 4. Where Are You Going in the Van?
If you're planning on chasing the warm weather then you might not need things like a heater. But if you're interested in going wherever you want no matter the time of year you might want to invest in better insulation and cold weather solutions that will make you more comfortable.
To spend the majority of your time off-grid having a bathroom inside your van will make it easier to stay places without facilities.
If you're looking to stealth camp in all kinds of places then you want to make sure your van can blend in and easily fit in parking spots in cities and parking lots.
Maybe you want to park in one place for half the year or move every couple of days. That could impact how you design the inside because if you plan to move often you want things secured better so you have to do less in order to move the van.
Obviously it's not necessary to identify every single place you want to go in your van but just envision yourself in the van and what that looks like.
For us we plan to chase the warm weather in our van so we chose not to install a heater inside. We've spent nights where it gets down as low as 28 degrees F (-2 degrees C) and have been completely fine! I think if we were planning on spending a month in a snowy place a heater would make us a lot more comfortable but a night every now and then is definitely doable for us. We're hoping to spend more time in off-grid spots or BLM land compared to Walmart parking lots (although it is convenient to have everything you could possibly need right there) so we decided having a toilet in the van was important.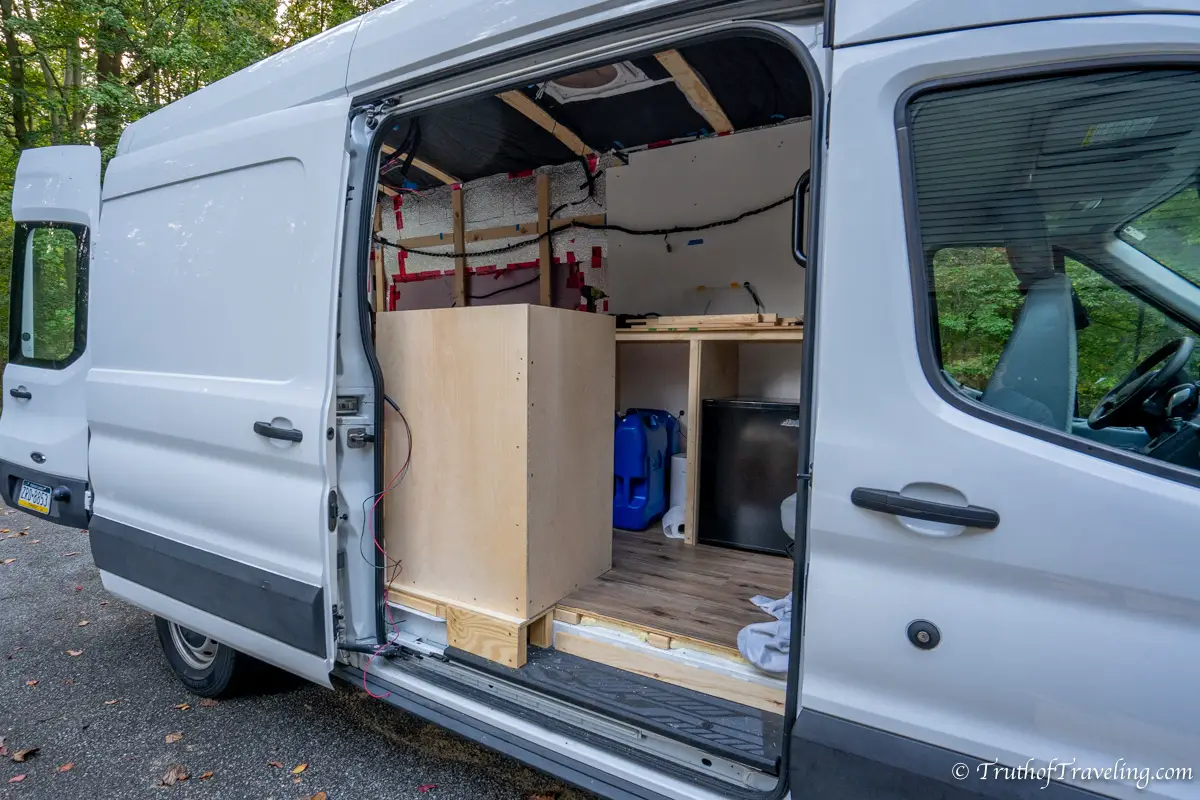 Read More: Why We Bought a Ford Transit Instead of a Sprinter Van
5. What Do You Want To Be Able To Do in the Van?
This is probably the most important question to ask yourself in terms of how your van functions. What do you want to be able to do in the van and what do you need in order to do those things.
Do you need to be able to work in the van? If so a table will make it a lot easier to consistently work.
Are you looking for it to be an adventure vehicle? A 4×4 van will let you get to harder to reach places.
Do you have lots of gear or products that you need to store? With a lot to store storage space is going to be really important meaning a layout with a fixed bed and "garage" underneath maybe the best option for you.
Is it important to be able to host friends and people you meet? Things like additional seating and a larger kitchen might make sense if you're big into hosting and cooking big meals for people.
Ultimately you can always decide that something doesn't quite work the way you thought it was going to. Or the longer you live in your van the more your needs might change. So you can always redesign your layout to make it work better. But hopefully this will help you think of a few factors that you might not have thought about before!
Interested in More Van Life Posts? Read Here!
Pin it for later: