Van life in the winter definitely comes with its own challenges. It makes things a little bit more complicated! We successfully spent January and February in our van without a heater in temperatures as low as 25 degrees Fahrenheit. After lots of chilly nights we have a few tips that make it a lot more comfortable. This post breaks down how we stay warm in our van without a heater during the winter months!
Disclosure: This post contains Amazon affiliate links. As an Amazon Associate we earn from qualifying purchases. This means at no additional cost to you, we will earn a commission if you click through a link and make a purchase. This post may also contain other affiliate links and non-affiliate links to products and websites.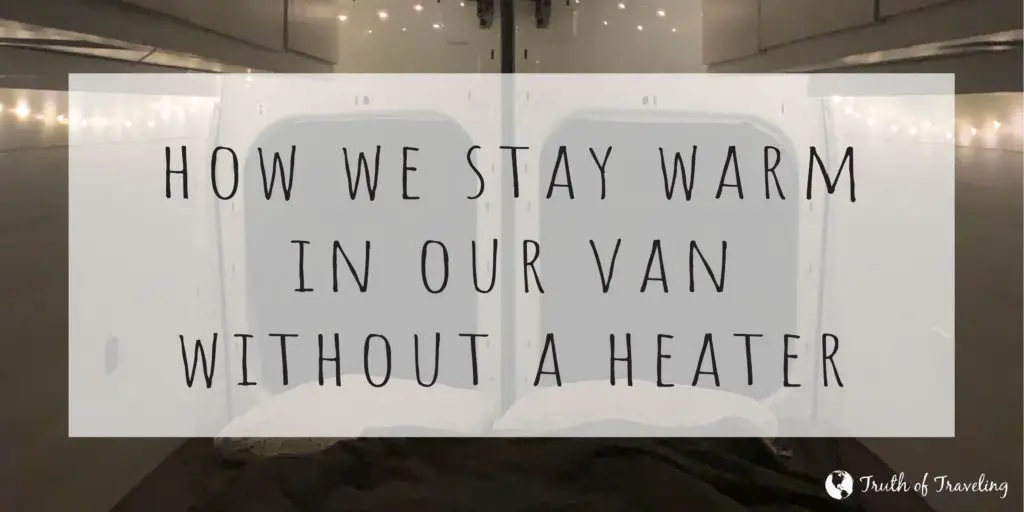 If you are able to chase the warm weather that is definitely one of the easiest ways to stay warm in a van in the winter without a heater. Being in milder climates means you have to do less in order to stay warm inside your van. We generally chase the warmer weather and yet we were still met at times with low nighttime temperatures. So it's best to have a few ways to stay comfortable if you get hit with an usual cold front.
We were completely comfortable but we weren't in states like Colorado where the temperatures are in single digits every night and snow is a constant. We generally stayed in states like Georgia, Florida, Louisiana, and Texas. It wasn't beach weather (even though we wanted it to be) but it also wasn't ski weather.
During our van build we did spend a long time insulating our van. We used a combination of Thinsulate and XPS board insulation to make sure the living area was as climate controlled as possible. We also insulated the floor and ceiling. It is a van after all so it definitely isn't perfect but we think it makes a big difference!
Don't Open the Doors at Night
Opening the slider or the front or back doors will instantly let in really cold air. The less you open the doors the more you can keep out that cold air. When it's really cold if we have to come in and out of the van we use the front doors in the cab. We leave the curtain up separating the cab from the back of the van which stops the cold air from going into the back where we are.
The slider is definitely a little more convenient to get in and out of but it's right in the middle of the living space and it's also a really big door. So it's bound to cool down the back area of the van.
We also leave our shoes in the front cab area so we don't bring in any water or mud. It helps keep the floor a little cleaner. There is nothing worse in the winter than stepping in water and ending up with a wet sock.
Read More: Why We Bought a Ford Transit Instead of a Mercedes Sprinter Van
Black out Curtains Keep the Heat in the Back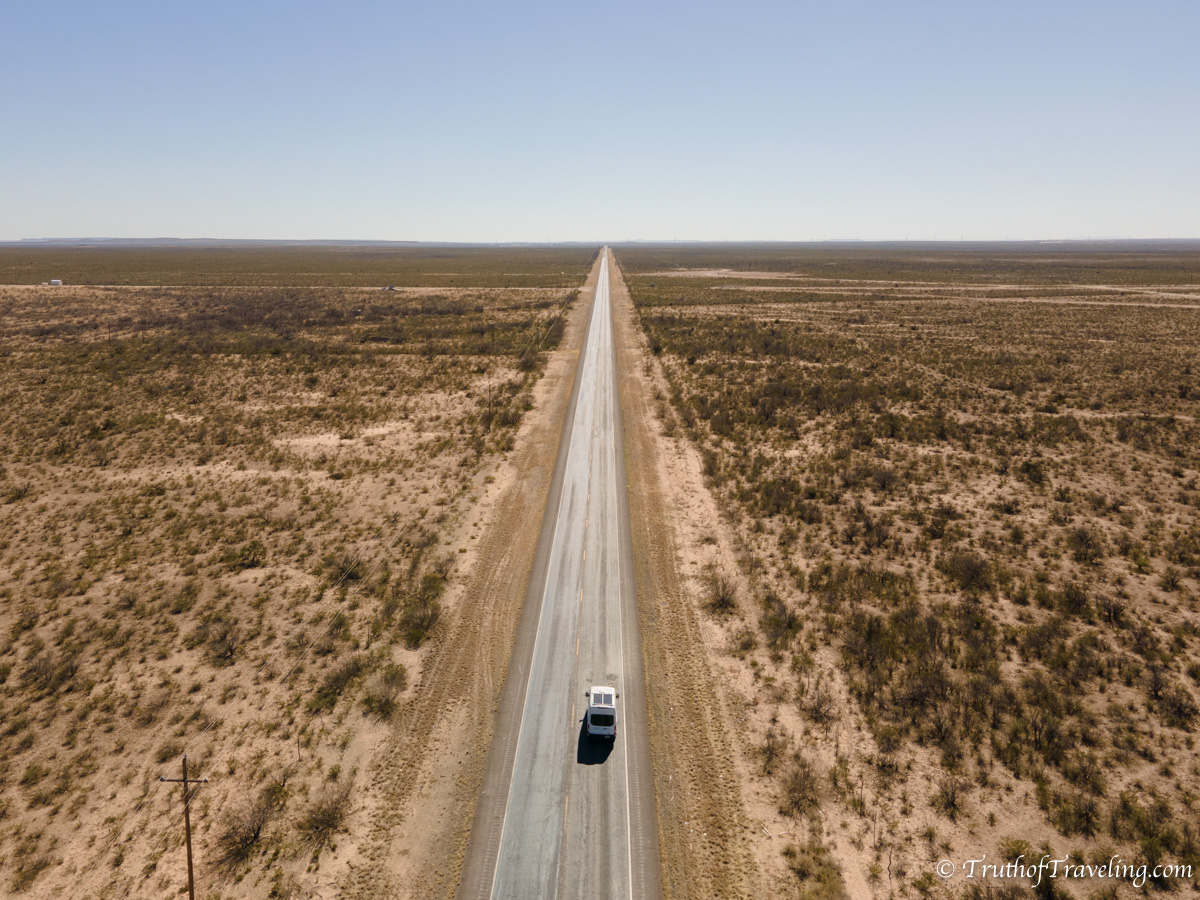 These black out curtains are literally amazing! They seriously make such a difference in helping to control the inside climate of the van. They also help immensely when we're trying to be stealthy in parking lots. 
It comes as a set of two. We use these clips to hold them up to the trim of our headliner shelf. We then use these magnets to attach each side to the metal of the van. Its easy to get in and out through the opening in the middle if we need to get up to the cab.
They do an amazing job of keeping the heat from our bodies in the back of the van. If one of us goes up to the cab we can feel a noticeable difference in the temperature.
The curtain also acts as a partition between the cab and the back of the van. It gives us a lot of privacy so no one can see what we are doing in the back if we're parked in a parking lot.
Read More: 6 Tips for Living in a Van on a Budget
Use the Stove and/or Kettle
I whole heartedly think using the stove or kettle warms up the space! We have this 2 burner propane camp stove and I swear it makes it warmer after we use it.
Quick side note: we thought it would be annoying to take a camp stove out and put back each time but it's really not and it's so easy to use! It folds up and fits perfectly in our drawer. When its not out we have so much counter space which is amazing!
We also have this kettle that we use to make hot water. It does use some electricity so if that's an issue for you then boiling water on the stove is also an option. When we boil water on the stove we use this small pot because it boils so much faster! The steam from the kettle or stove (when it's ready) definitely brings some warm air into the living space. Any source of warm air is going to make a big difference in such a small space!
Obviously make sure if you are using any propane device that you have some sort of ventilation to be safe!
Read More: How to Choose a Van Layout
Drive Until Late with the Heat On
You shouldn't count on being able to heat the entire back of the van from the heating vents in the front. Even in our 148" wheelbase the heat from the cab can't really make the back hot. Or at least it does for a little but then when we turn the van off and settle in we can notice the temperature dropping.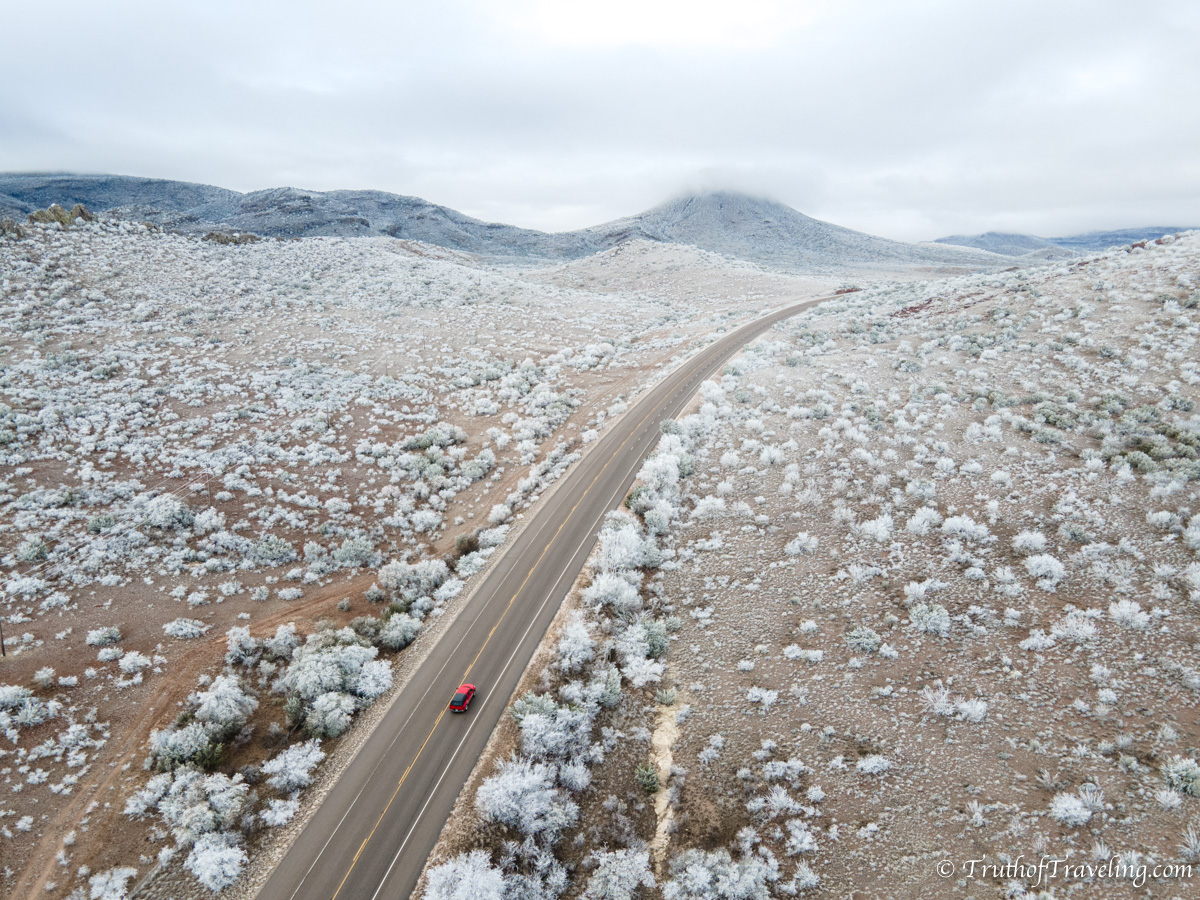 But one tip that does help the van stay toasty is to drive until late with the heat on. Sitting in the cab with the heat on will make you physically warm and comfortable. Then when you stop driving and turn the heat off you will be warm. If you get in bed under the covers quickly you can stay really warm!
Read More: Everything We Used in our DIY Van Build
Window Covers Keep the Cold Out
You absolutely need window covers! Not just if it's winter but in order to give you privacy in your van. Windows are the easiest way for hot and cold air to get inside the van because the area of the window isn't insulated like the rest of the van.
We spent so long insulating our van to make it the most temperature controlled inside that we could. But if we don't cover the three ginormous windows in the front and the 2 big back windows we pretty much negate all that insulation work that we did.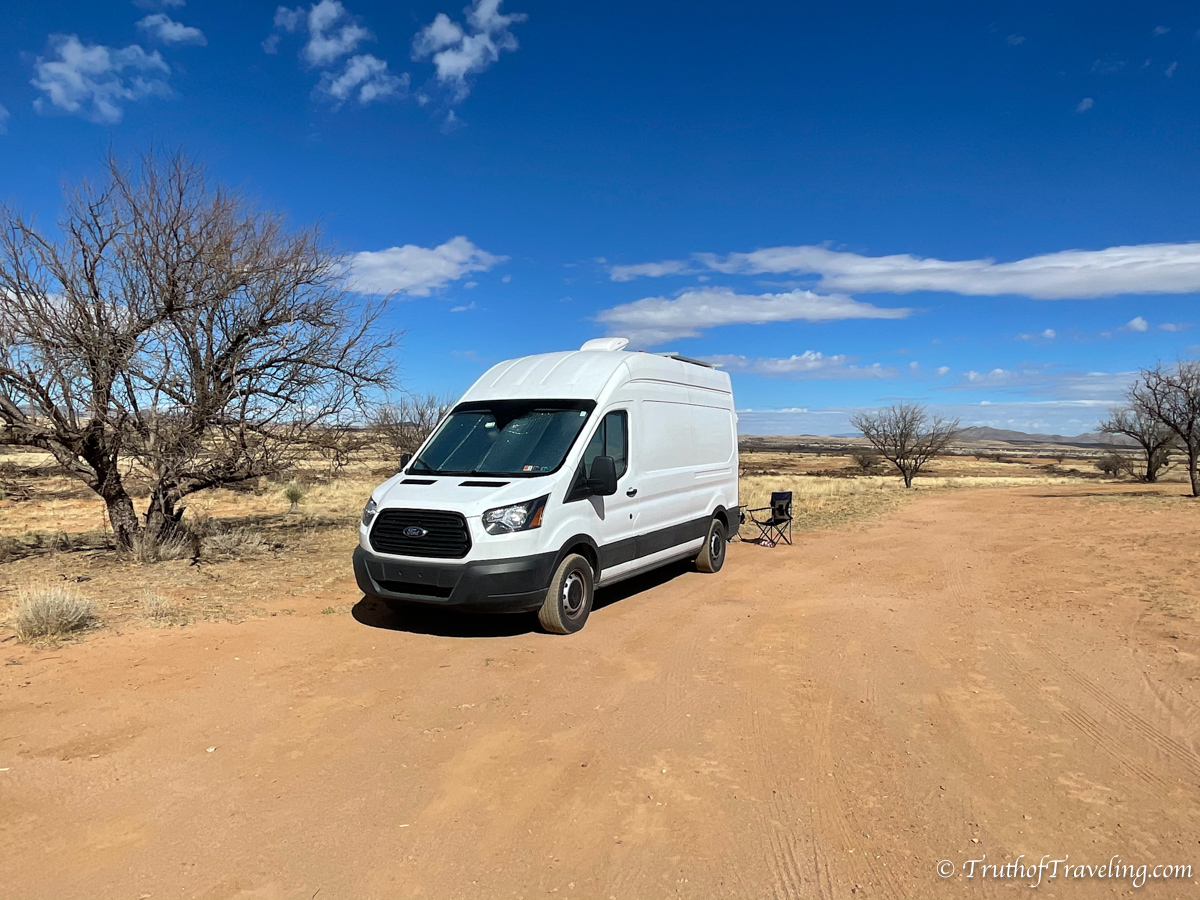 Window covers can be as simple as cutting some Reflectix in the shape of the window and smushing it in or you can get fancy ones with magnets all around the edges that roll up during the day. Whichever type you choose it will absolutely make a difference in insulating your windows and helping to keep the cold out. On the flip side when it's hot out window covers will also stop the hot air from making the inside of your van absolutely boiling.
Our back window covers are 1 layer of Thinsulate and black fabric with magnets around the edges. I used 3M-77 adhesive spray to attach the fabric to the Thinsulate. Be careful these magnets are incredibly strong so I wrapped a little electrical tape around them to make them not quite so strong.
Our front windshield and front door covers are simply Reflectix. The front windshield cover fits and putting the visors down holds it in place. The front door and passenger door covers simply just stay in place. I used a big piece of brown paper that came in a package to trace the shape and then used that as a stencil to cut out the Reflectix.
Read More: Guide to Insulating Your Van
Use Heavy Blankets
You definitely want to have some heavy blankets. We have a Beddy's sleep set and then two fleece blankets that we put on top. The comforter and extra blankets make it really cozy when we're in bed. It also means that if our convertible bed is in "day mode" we can each have a blanket on us to stay a little warmer.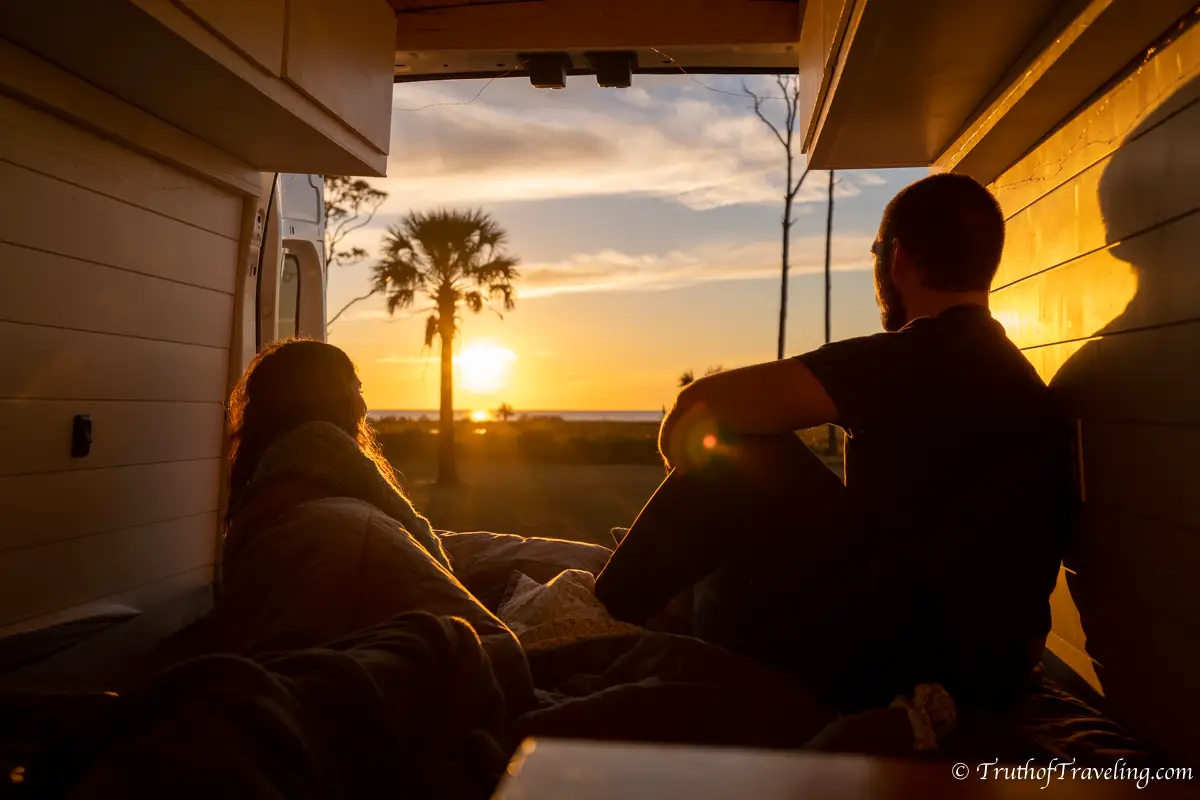 We originally thought storing extra blankets was going to be bulky and annoying but we just leave them at the end of our benches. We use them a lot so it's worth it to be comfortable when it's cold. Then when it's really warm we can put them inside one of the benches when we no longer need them.
We also just got this blanket for using outside and on the beach. Seriously blankets are really helpful in a van so it's a good thing to have extras!
Read More: 5 Reasons We Did Not Choose a Fixed Bed for our Van Layout
Eat and Drink Hot Items such as Tea
If you are cold eating or drinking something hot can make you feel warmer and feel a little more comfortable. Then by cooking or heating something up you are also creating more warm air. On really chilly nights I will usually make us both some hot tea. The tea kettle creates some warm air that heats up the space a little. Then by sipping on hot tea it makes your body feel warmer too.
Not going to lie a good dinner of Ramen Noodles also does the trick. It's warm and super easy to make if you're not in the mood for a lot of cooking. You can either make water on the stove (we use this Toaks mug to boil water on our propane stove) or boil water in a kettle if you have one.
Sleep in Layers
Whenever its cold we always sleep in layers! The worst thing is waking up in the middle of the night in shorts and a t-shirt and being absolutely freezing. We both usually wear pants, a sweatshirt, and heavy socks to bed. That way we are bundled up and then underneath all of our blankets the bed is really warm! We have never actually been cold in bed. It's the air that begins to get chilly throughout the course of the night. If you can keep your body warm you are much more likely to get a good nights sleep.
We've also found the floor of our van to get really chilly. Even though we insulated the floor it still gets really cold. So having an inexpensive pair of slippers was a lifesaver this winter!
Interested in More Van Life Posts? Read Here!
Pin it for later: