Kawasan Falls is one of the most famous waterfalls in all of the Philippines. It is located about 25 kms south of Moalboal so it can easily be done as a day trip. By far the best way of seeing Kawasan falls is by going canyoneering! This post has everything you need to know about canyoneering Kawasan Falls including how much it costs, what to bring, what to wear and what to expect!
*Disclosure: This post contains Amazon affiliate links. As an Amazon Associate we earn from qualifying purchases. This means at no additional cost to you, we will earn a commission if you click through a link and make a purchase. This post may also contain other affiliate links and non-affiliate links to products and websites.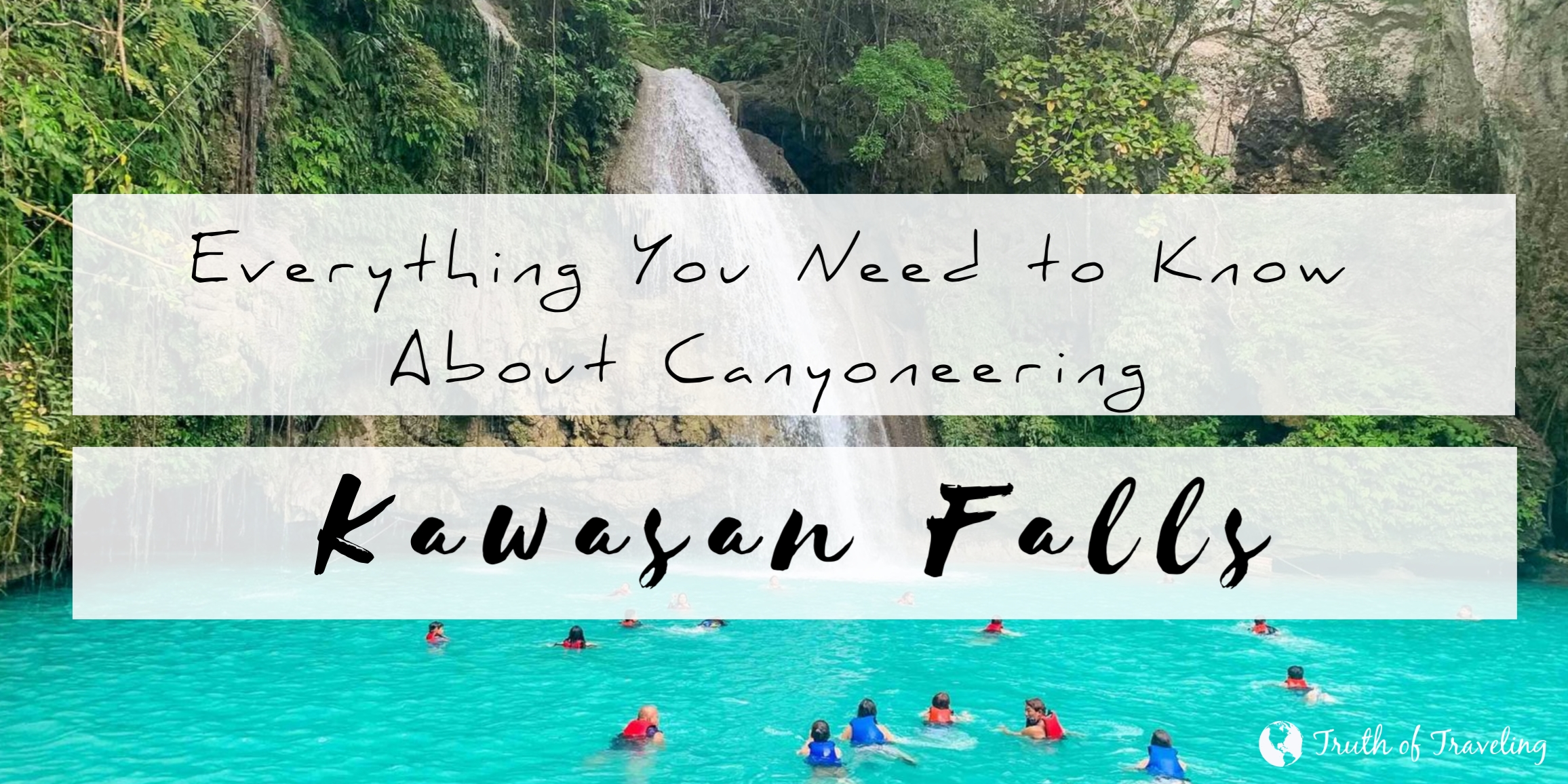 Canyoneering basically means walking, jumping, swimming and climbing through canyons. Canyoneering Kawasan Falls included all of those things! So imagine jumping off rocks, swimming in waterfalls, walking on rocks, and climbing through openings in the rocks.
How Much is Canyoneering Kawasan Falls?
Canyoneering Kawasan Falls cost 1,500 PHP or $30 USD per person. The price is pretty regulated so that is the price you will see almost everywhere in Moalboal. Some places advertise it costing 1,200 PHP but thats usually because it doesn't include things like a life jacket and helmet which you need to wear.
That price includes:
Transportation to and from Kawasan falls
Life jacket
Helmet
Water shoes
Guides that navigate your group through the falls
Lunch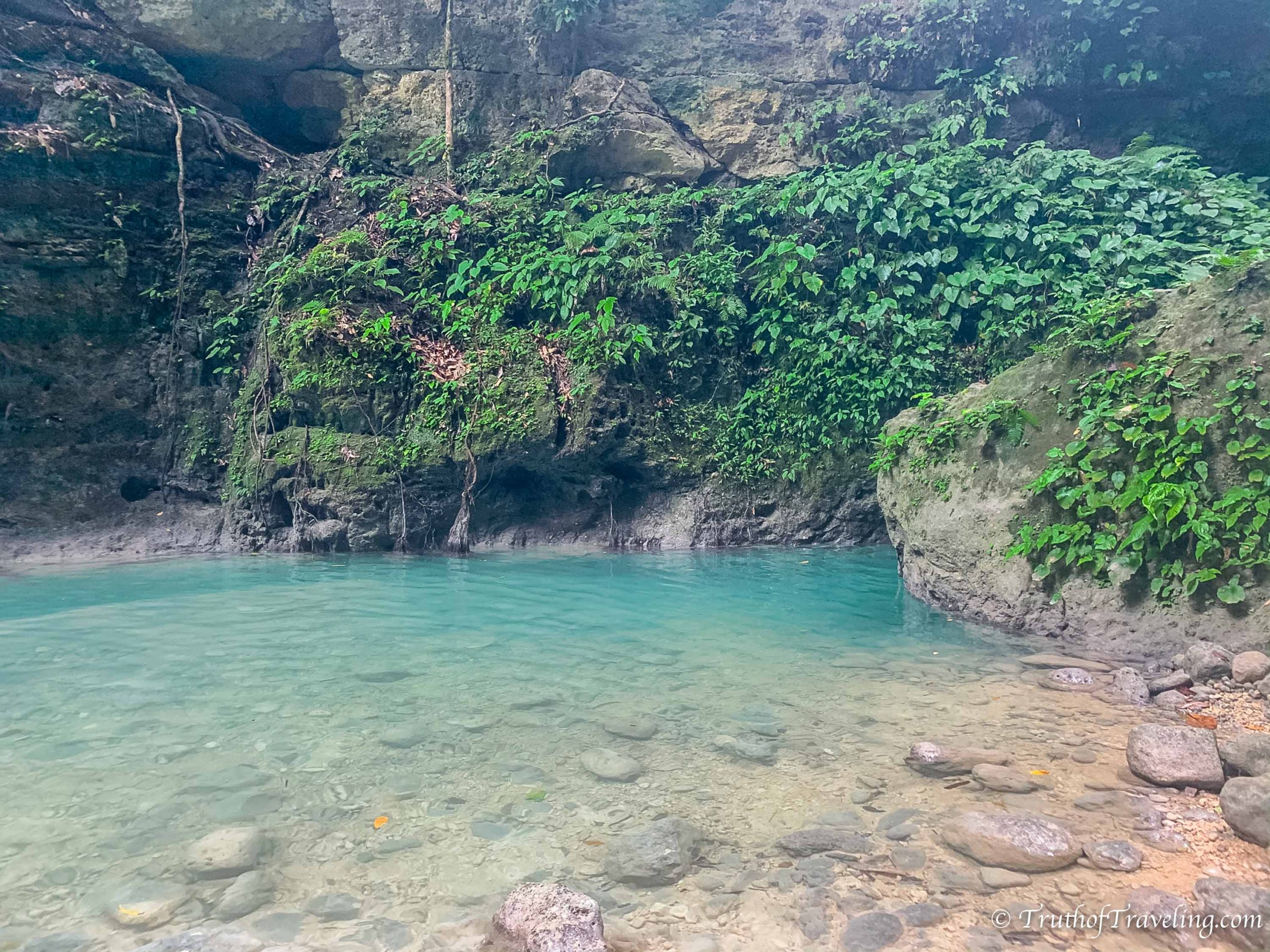 We signed up for canyoneering at our hostel, Crazy Bears, and had no problem signing up for the next day. It's definitely something you can decide the day before that you want to do it! Almost all accommodations can arrange canyoneering tours. You can also sign up for it almost anywhere in Moalboal!
Read More: 3 Week Philippines Itinerary
Can you Just visit Kawasan Falls and Not Go Canyoneering?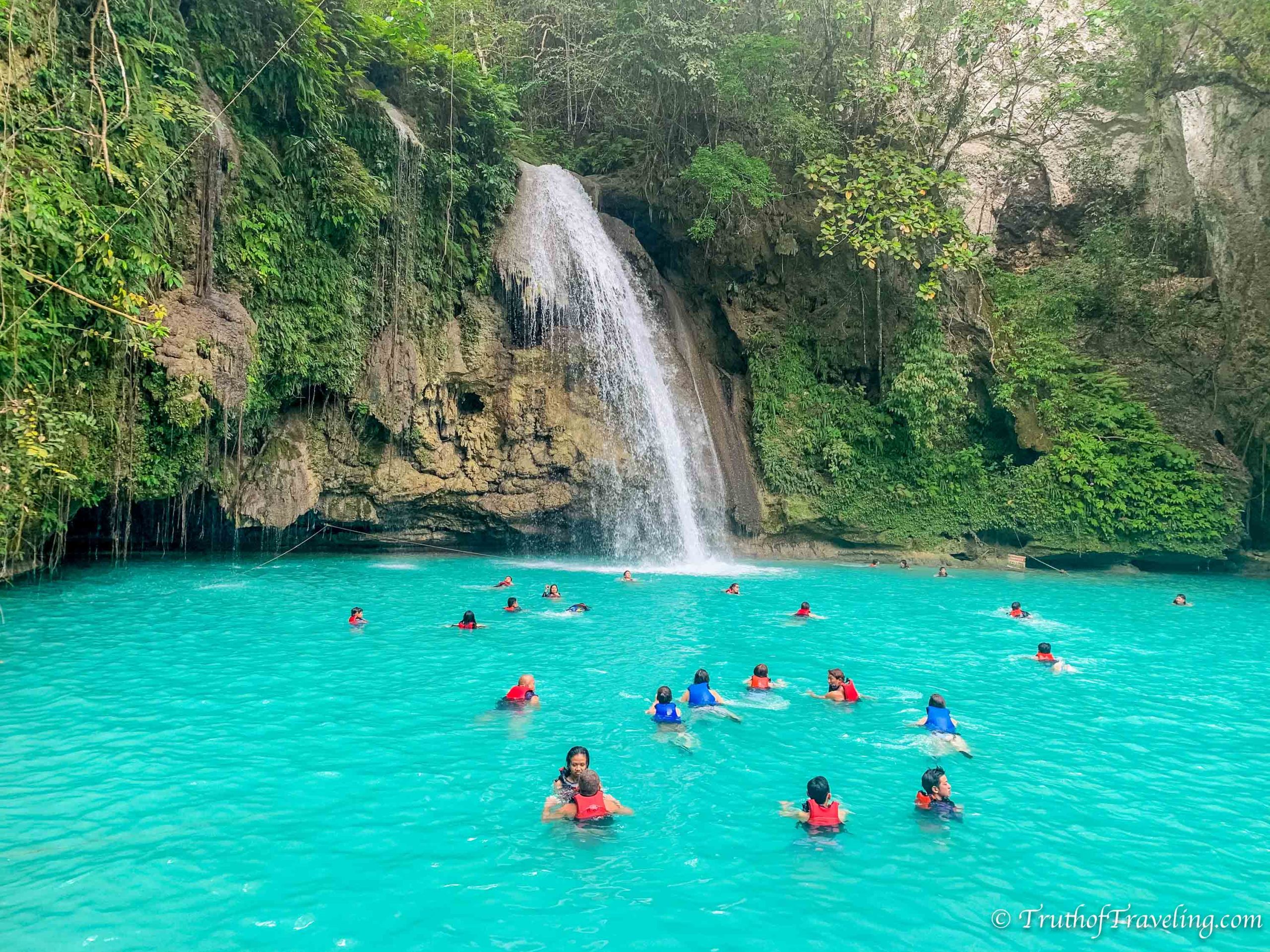 Yes, you can choose to just visit Kawasan Falls without going canyoneering! As a visitor you can get there either by taking the bus (the cheapest option) or a tricycle which will cost more. Or if you're comfortable rent a motorbike for the day and drive yourself. We absolutely loved every time we drove around the Philippines on a motorbike because you get to see so much more of the islands!
You can park at the entrance to Kawasan Falls for about 50 PHP or $1 USD.
If you take a tricycle from Moalboal you can usually arrange for the driver to wait for you and then also drive you back to Moalboal.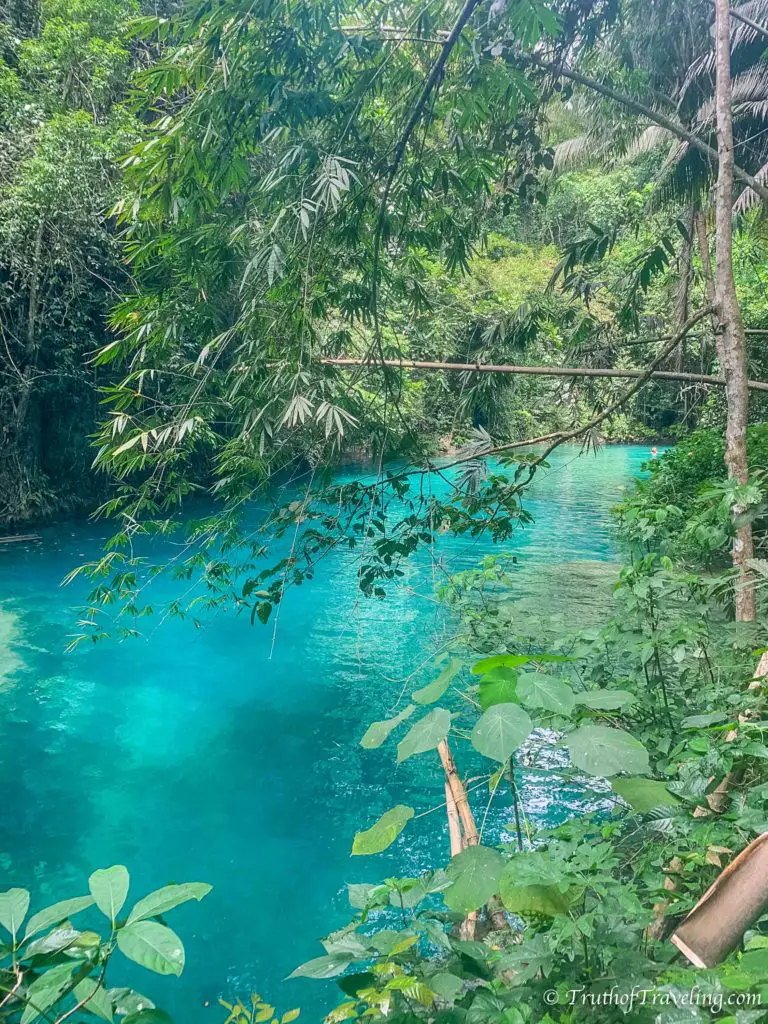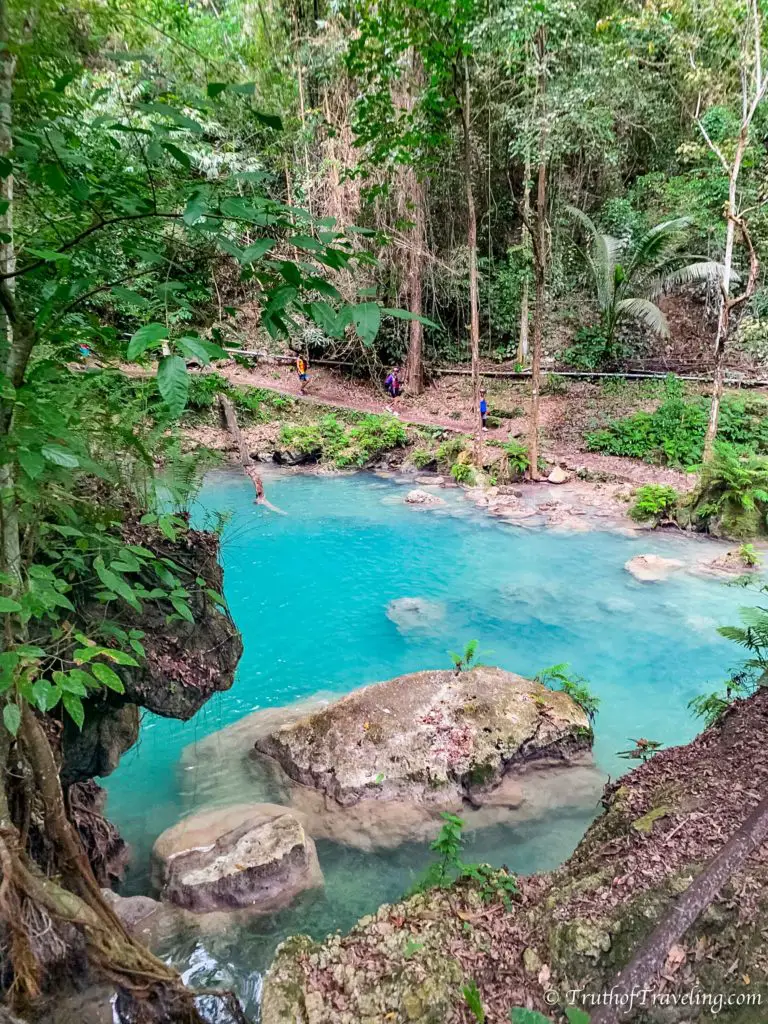 To enter Kawasan Falls as a foreigner it cost 75 PHP or $1.50 USD. You definitely want to get there early in the morning because the later it gets the more and more crowded the falls become. If you get there around 7 AM you can get the falls to yourself for a while and take some really cool pictures!
Read More: How to Get From Cebu City to Moalboal in the Philippines
Canyoneering Schedule
This is generally what our schedule for the day looked like. Everyone follows the same course going down the falls so there isn't too much variation.
8:00 AM- Got Picked up at our Hostel
9:00 AM- Got to the Tour Company's Office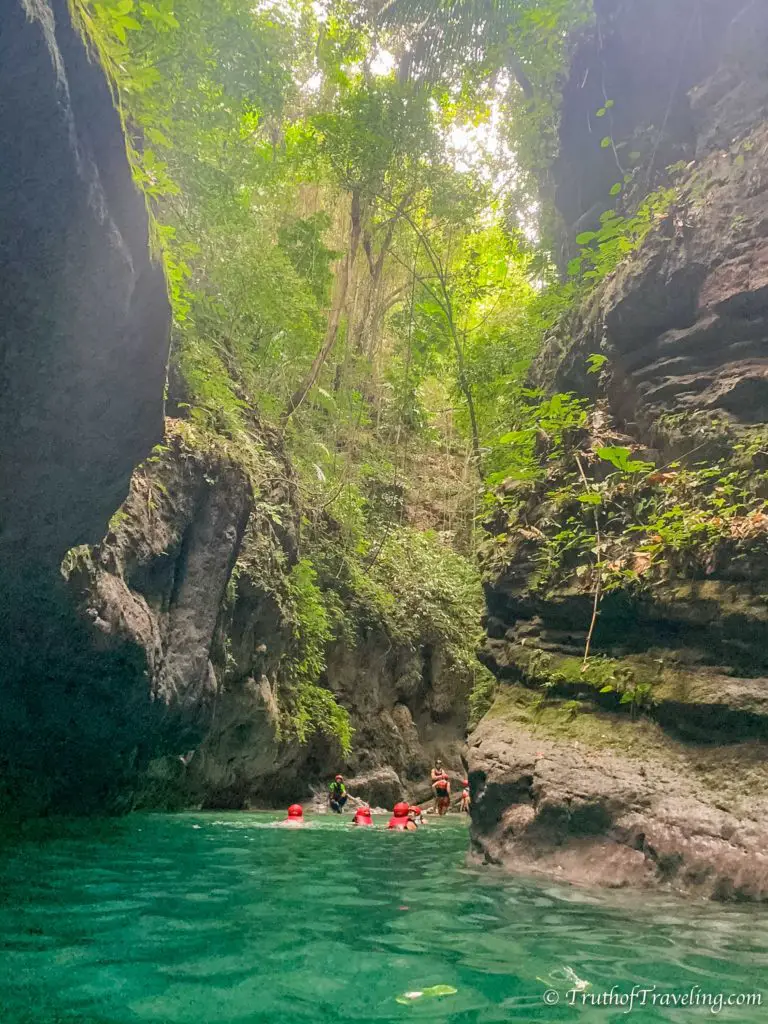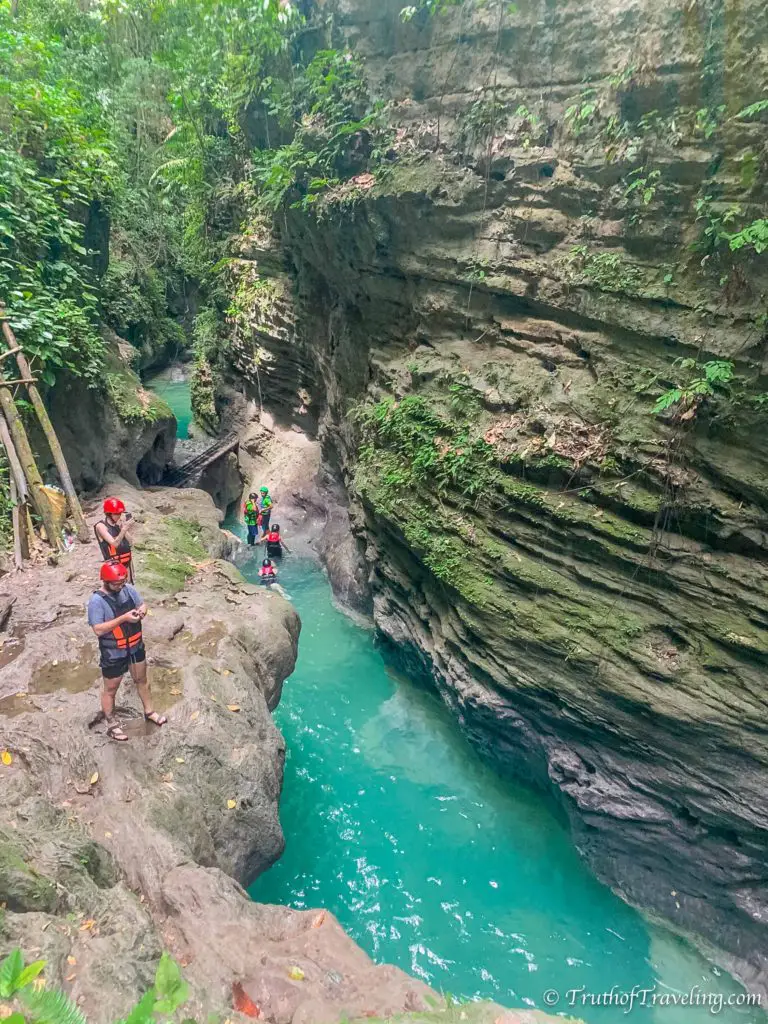 Signed waivers and get our helmets, life jackets and water shoes. We left our shoes and bags at the office for the day. We didn't have access to them again until the end of the day so only bring what you feel comfortable leaving there for a while.
From the tour company's office we drove about 10 minutes to the entrance. All the girls road in a car and the guys road on motorbikes.
9:30 AM- Safety Briefing
There is a very short safety briefing before you start the walk to the top of the falls. It basically is acknowledging that you're going to be doing a strenuous activity such as jumping, climbing and swimming.
We also filled out our information before starting to walk. We think it was to have a record of people entering the falls in each group.
9:45 AM- Started Walking to the Top of the Waterfalls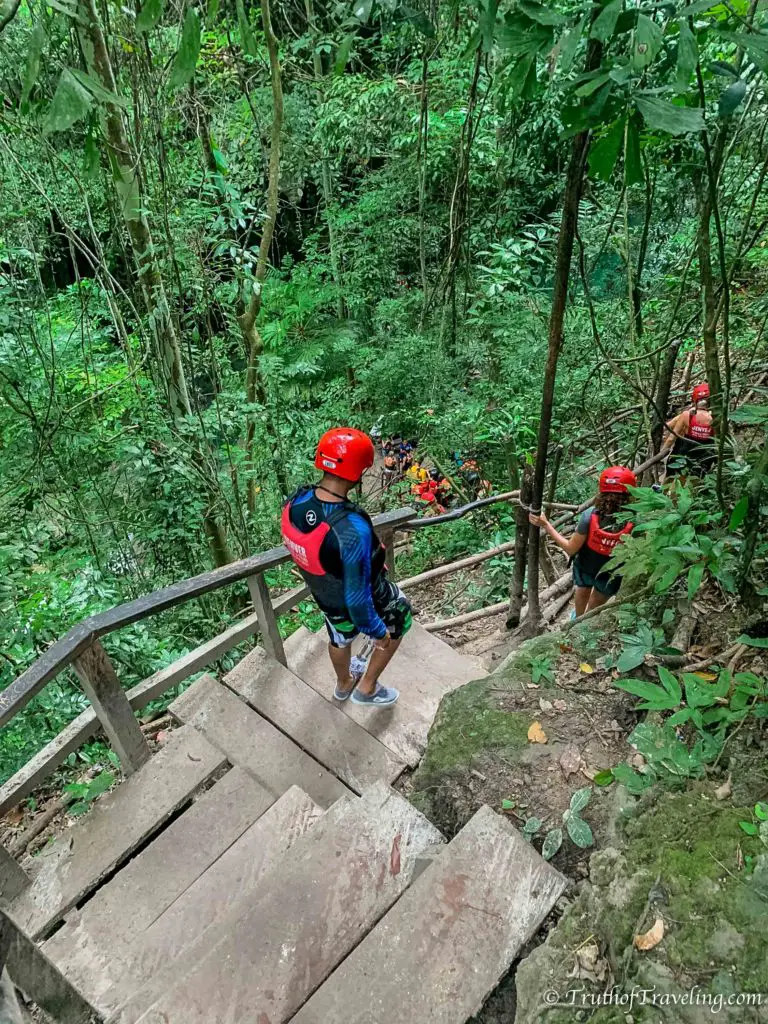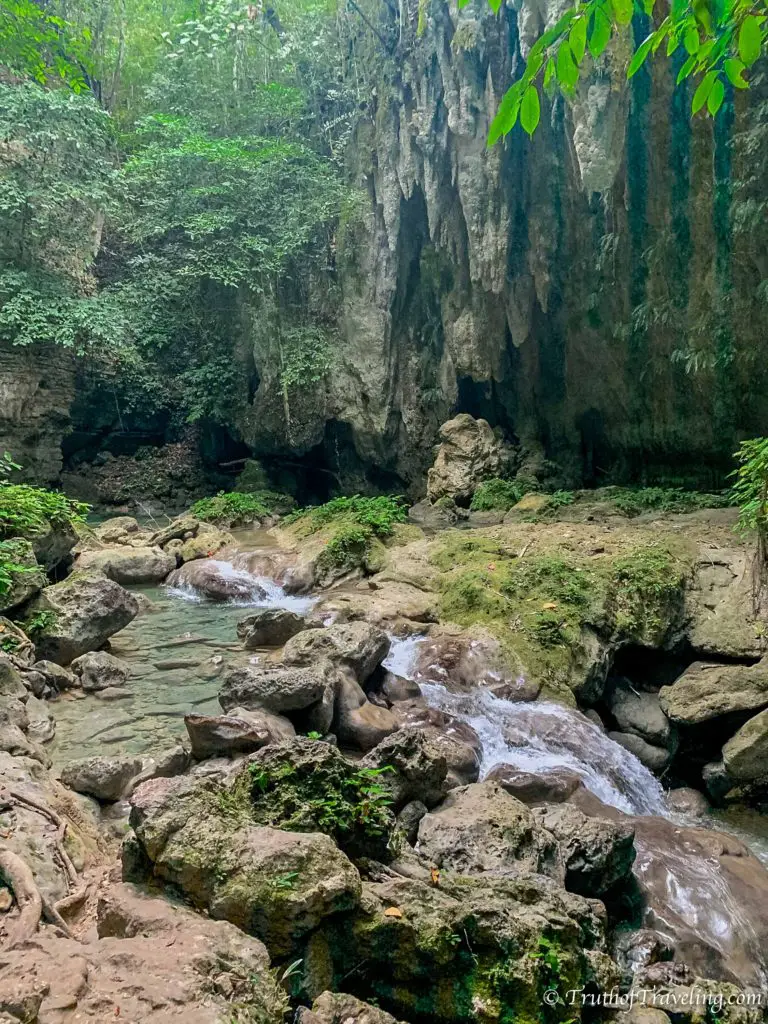 You can also choose to do a zipline that goes to the same spot for 500 PHP or $10 USD. 
It takes about 25-35 minutes of walking on a paved pathway and then stairs leading down to the beginning of the course.
The views along the way are beautiful as you're high up looking out over a clearing!
10:20 AM- First Jump of the Day
Our first jump of the day was 4 meters or about 13 feet.
We did a series of other jumps, climbing over rocks and swimming over the next 2 hours.
12:45 PM- Last and Highest Jump of the Day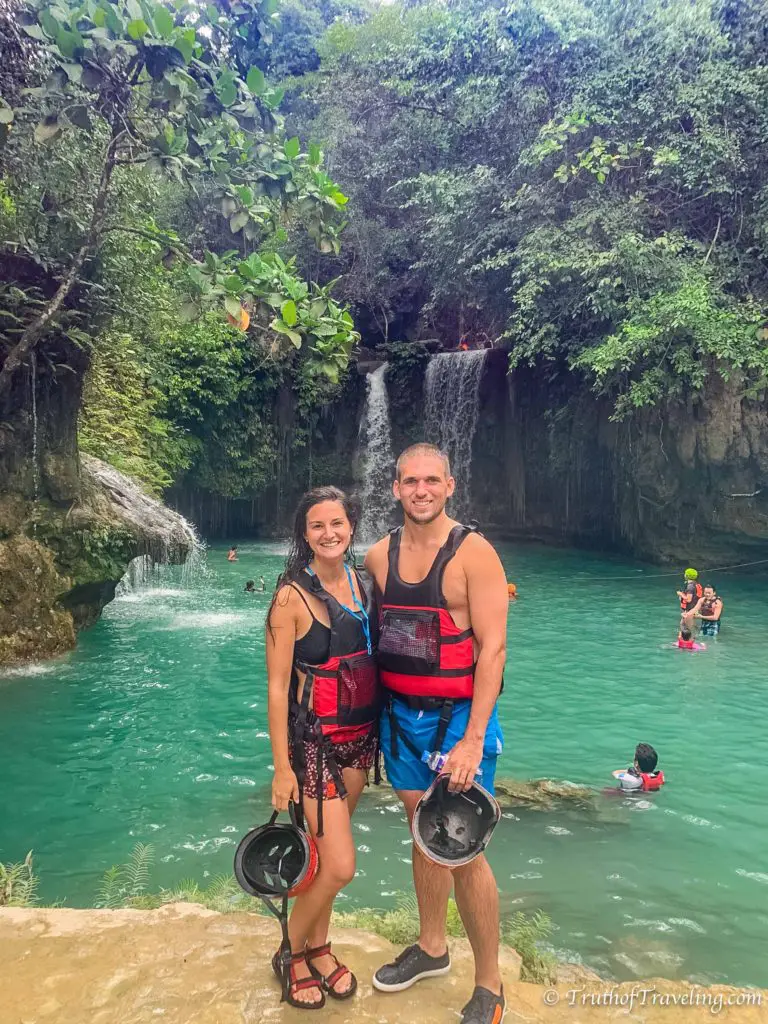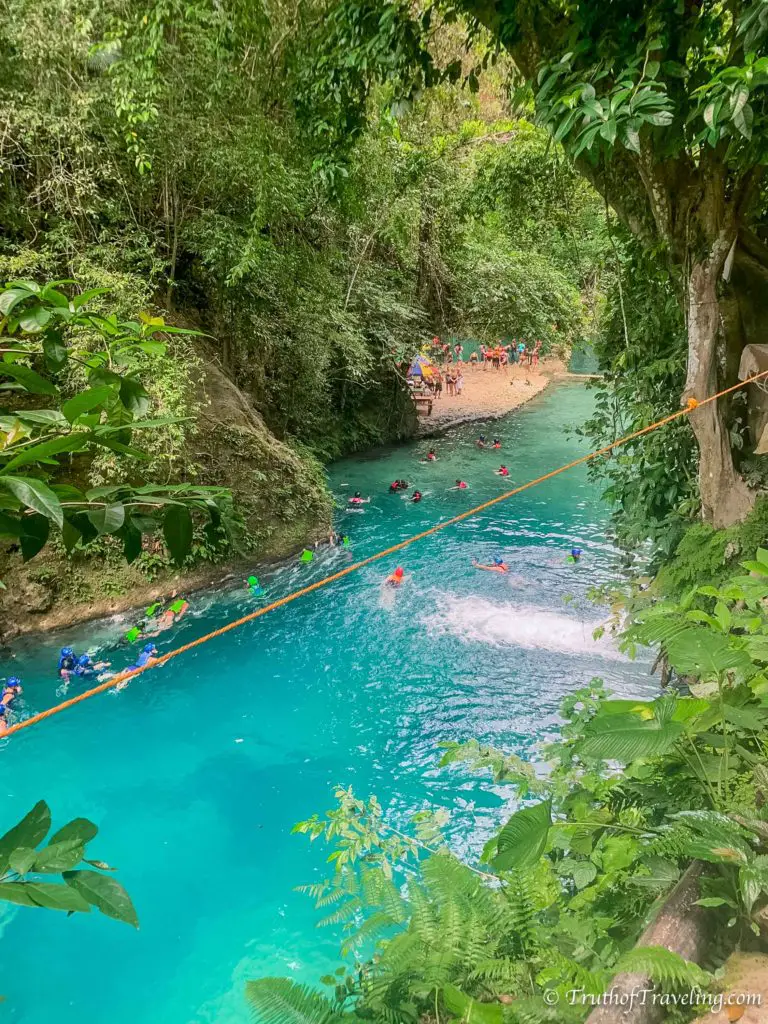 Our last jump of the day was 15 meters or about 50 feet
This last one is really high and gets you to the falls that you have probably seen in pictures!
1:30- Lunch
We walked out of the falls and had lunch at a restaurant near the exit of Kawasan Falls.
We got to choose 3 foods and then got rice, a banana and a drink.
3:30- Got Dropped Off Back at our Hostel
After lunch we drove back to the tour office to give back the equipment and get our stuff.
We then drove back to Moalboal and were dropped off at our hostels.
Read More: How Long Should I Spend in Manila, Philippines?
What Should I Bring Canyoneering?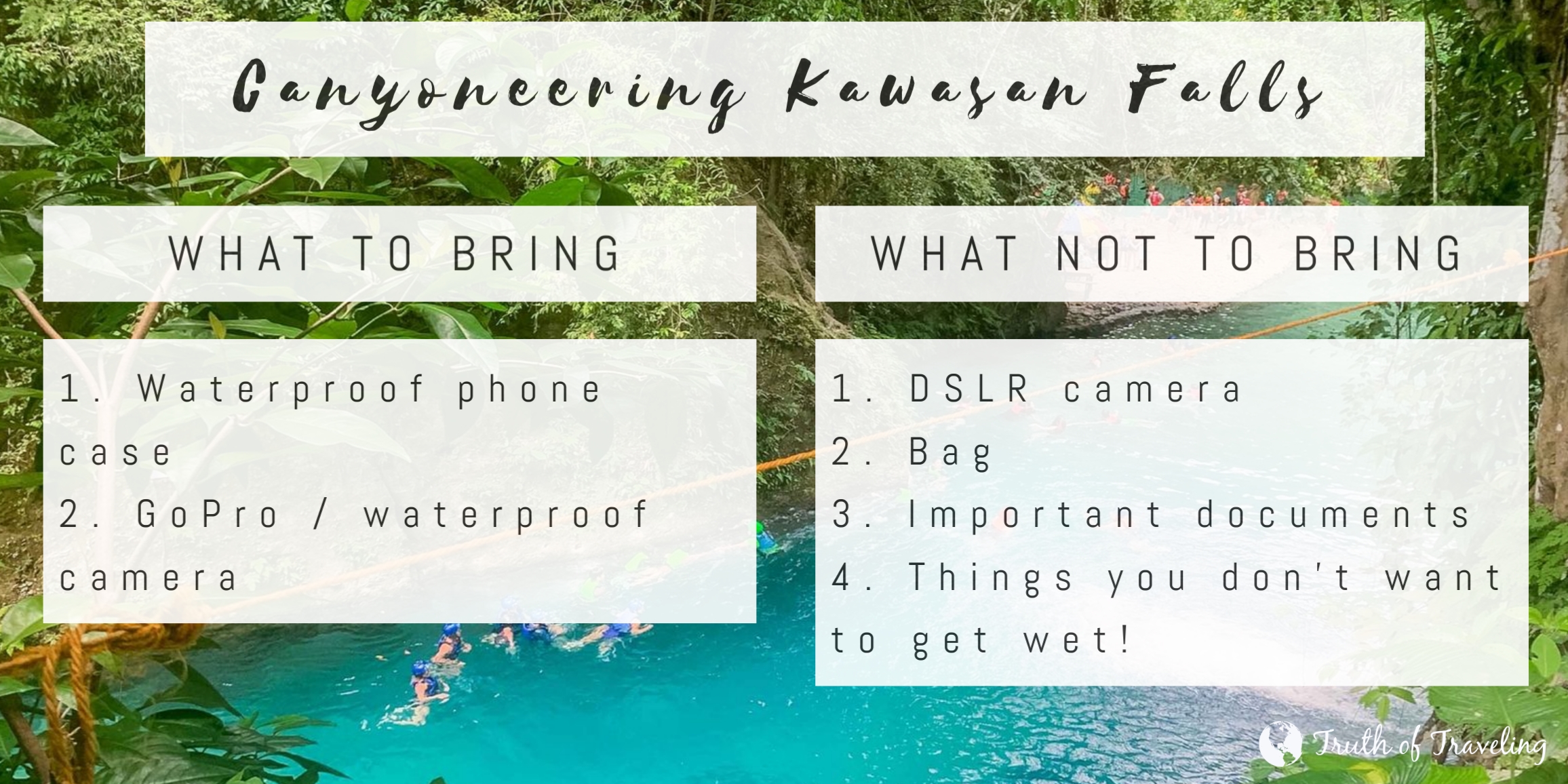 The only things you should bring canyoneering are things that can get wet. Don't bring anything that you don't want to get wet or fall 50 feet into cold water. If you're debating bringing something in a dry bag we would recommend not bringing it! You are in and out of the water so much and jumping so high that the impact when you hit the water alone could ruin whatever it is inside your bag.
We brought a dry bag with our towels, our shirts (that we didn't wear canyoneering) and our shoes that we left at the tour company's office. You won't be back there until the end of the day though so make sure you are okay leaving it.
You can find these everywhere around Moalboal. You put your phone inside, clasp both sides and it keeps the inside waterproof. Besides your phone you could fit maybe some cash but other than that it's not that big. This one has over 30,000 reviews and definitely looks like a good one!
The front of our life jackets had a small mesh pocket. Right before a big jump I would put the waterproof phone case in the pocket and zip it closed. That way even though there was a lanyard I knew it wasn't going to fall off when I hit the water.
If you have a GoPro this is a really good activity to bring it. You can get some really cool videos jumping from the top and then hitting the water. As long as you have a waterproof case for it you don't need to worry about it getting wet either!
Other than your phone in a waterproof case and/or GoPro you really should not bring anything else. You don't need money, you don't need clothes or a towel, you don't need food or water or anything else!
Read More: Complete Guide to Visiting Siargao in the Philippines
What Should I NOT Bring Canyoneering?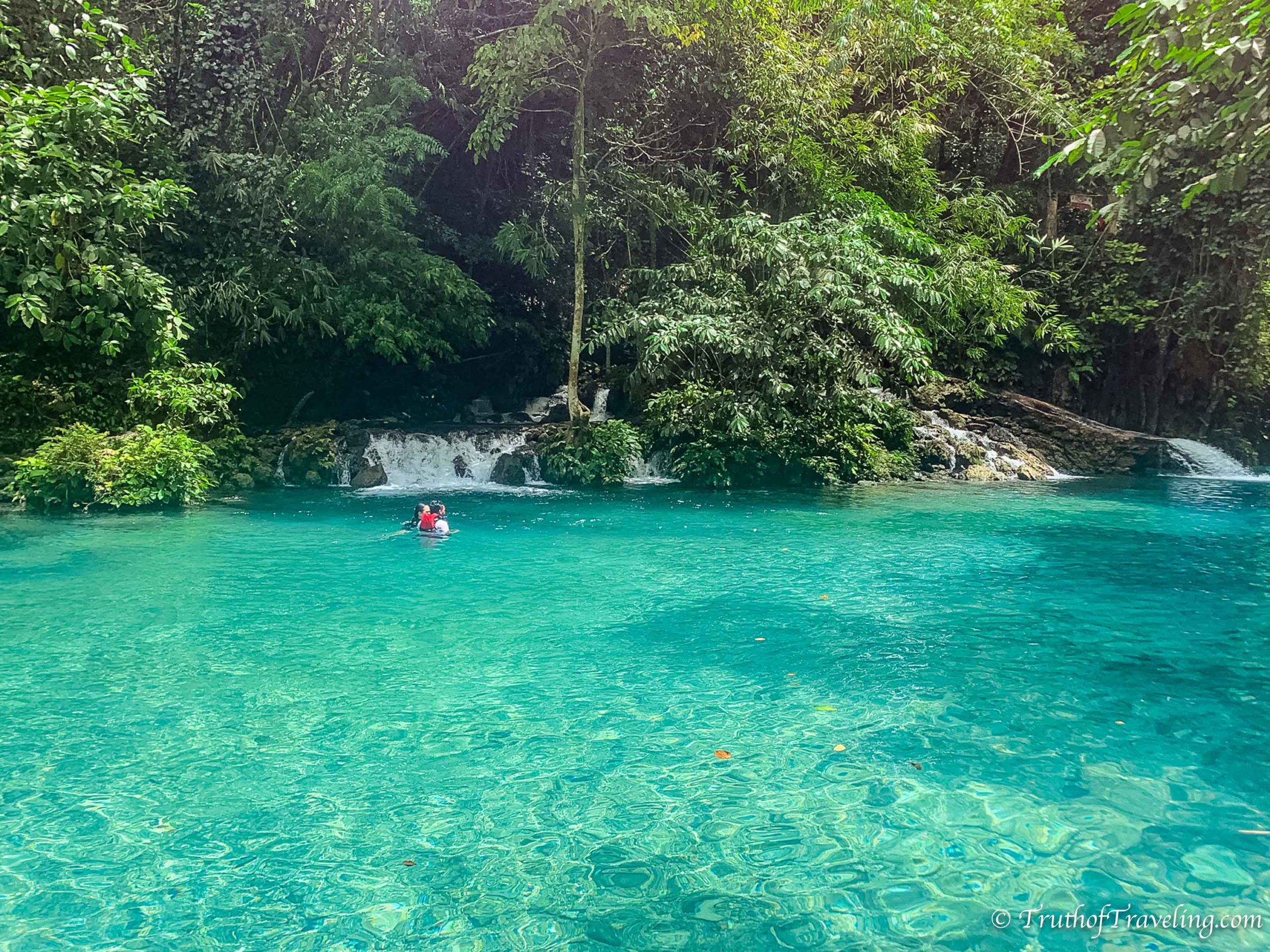 DSLR Camera
Don't bring your DSLR camera or other expensive camera equipment that is not fully waterproof. We went back and forth a lot before going because we wanted to bring our Sony A7iii camera to take pictures of Kawasan Falls. The unique color of the water makes it such a beautiful place. But there is literally no place to put it and it will most likely get ruined. We are actually really glad we didn't bring our camera because we feel like even if the dry bag had stayed dry the impact from jumping would have broken it. Also, everything that we had that was not in the waterproof phone case was completely soaked by the end of the day.
Passport or other Important Documents
You don't need your passport or wallet or anything else important like that. It's not worth the risk of it getting completely soaked. You can tuck some cash into your waterproof phone case if you want to have some money but that's all you will need.
Bag
You really don't need to bring a bag because you really don't need to bring anything. We really considered bringing a dry bag and are really glad we left it at the tour company's office. We didn't see a single other person who was canyoneering with a dry bag. It's just too much jumping to have something on your back.
Read More: Siargao Island Tour- Everything You Need to Know
What to Wear Canyoneering Kawasan Falls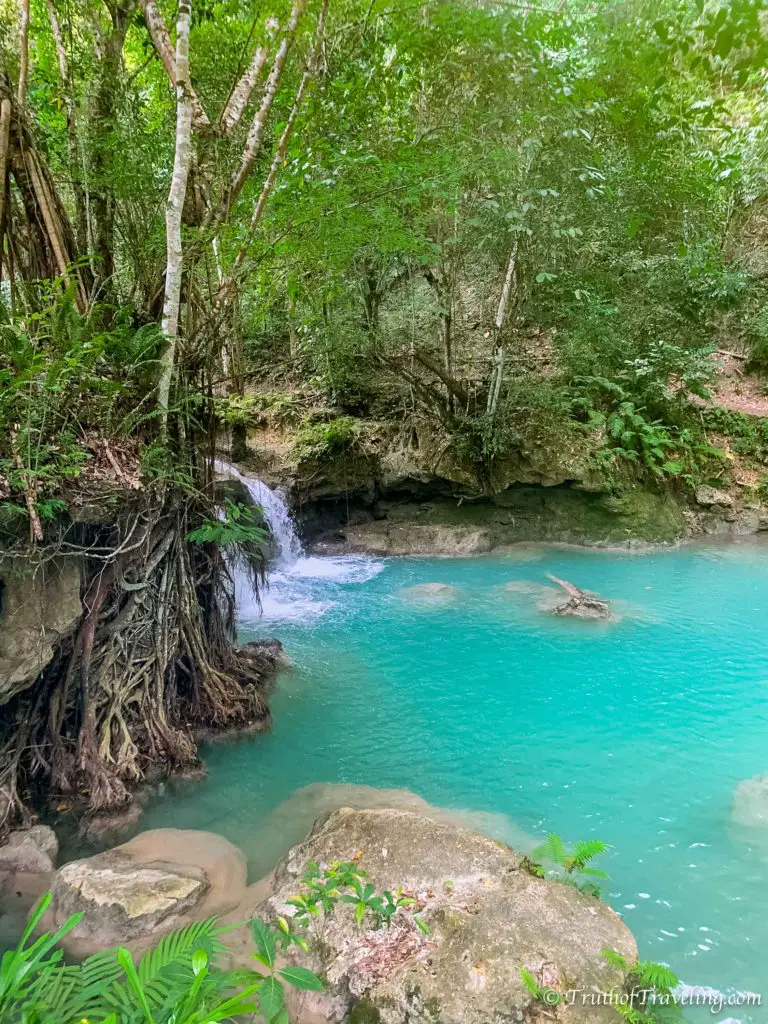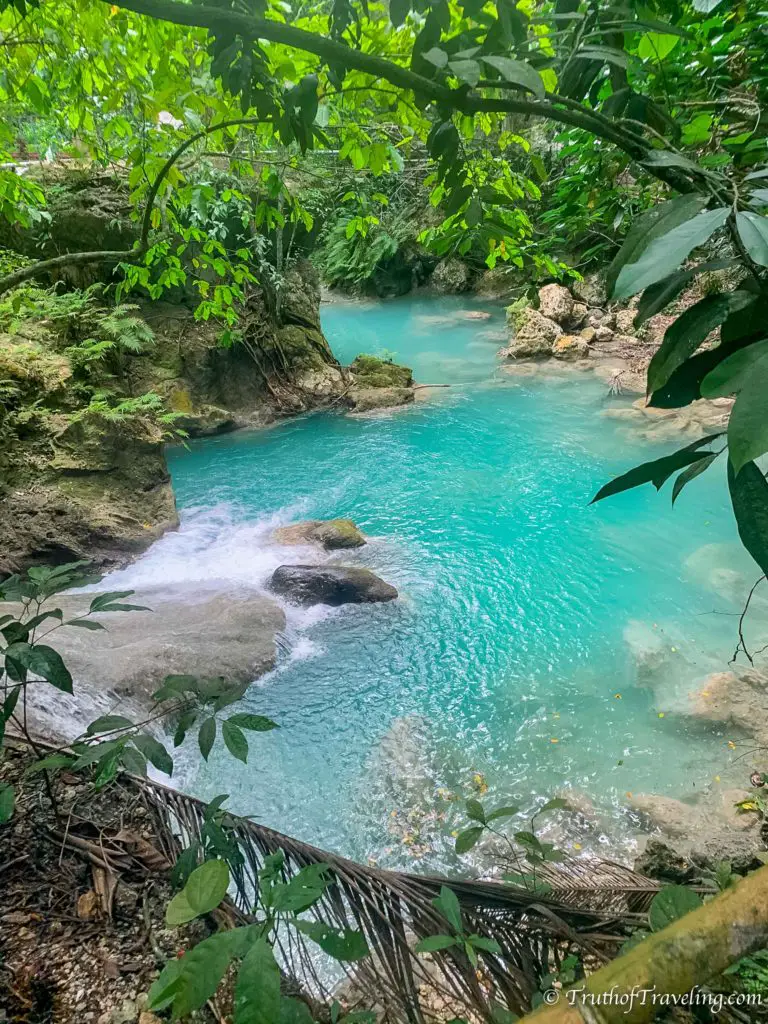 You have to wear shoes because you're climbing over rocks and it can get really slippery. You can choose to wear your own sneakers and just get them wet. Our tour company offered everyone water shoes once we got to their office. They weren't all water shoes though some people got just an old pair of sneakers but it was at least a pair of shoes that were fine to get wet.
Dave has these sandals and should have worn them because they would have been perfect. We thought you had to wear sneakers which is why he didn't bring them.
Bathing Suit
You're jumping in and out of the water all day so you definitely want to be in a bathing suit. Also remember you're jumping a lot so wear a bathing suit that will stay put especially for girls.
Read More: 3 Beaches to Visit in El Nido, Philippines
Shorts (ladies)
I wore shorts over my bathing suit along with almost all the other girls I saw the whole day. A couple of us weren't sure if we wanted to wear them at the beginning of the day but I was definitely glad to be wearing them. You just don't have to worry about your bottoms slipping off while jumping or anything like that.
I wore a pair of cotton, loose shorts I got at a market in Manila but running shorts or any pair will do.
Shirt (optional)
You will get a life jacket to wear that covers your whole top so you don't need to wear a shirt. Neither of us did and we were totally fine. I don't think anyone in our group wore one either but we did see a couple other people wearing them under their life jacket. It's up to you and what you will be most comfortable in. Keep in mind it will be soaking wet for those couple hours so make sure it's a shirt that will be comfortable once it's wet.
Interested in More Posts About the Philippines? Read Here!
Pin it for later: