Beautiful beaches and El Nido kind of go hand and hand with each other. There are hidden beaches in the islands off the coast of El Nido that you can visit by going on an island tour! But there are also so many right near the town of El Nido that you don't have to go far to find. Here are 3 beaches to visit in El Nido, Philippines that are worth visiting on your own!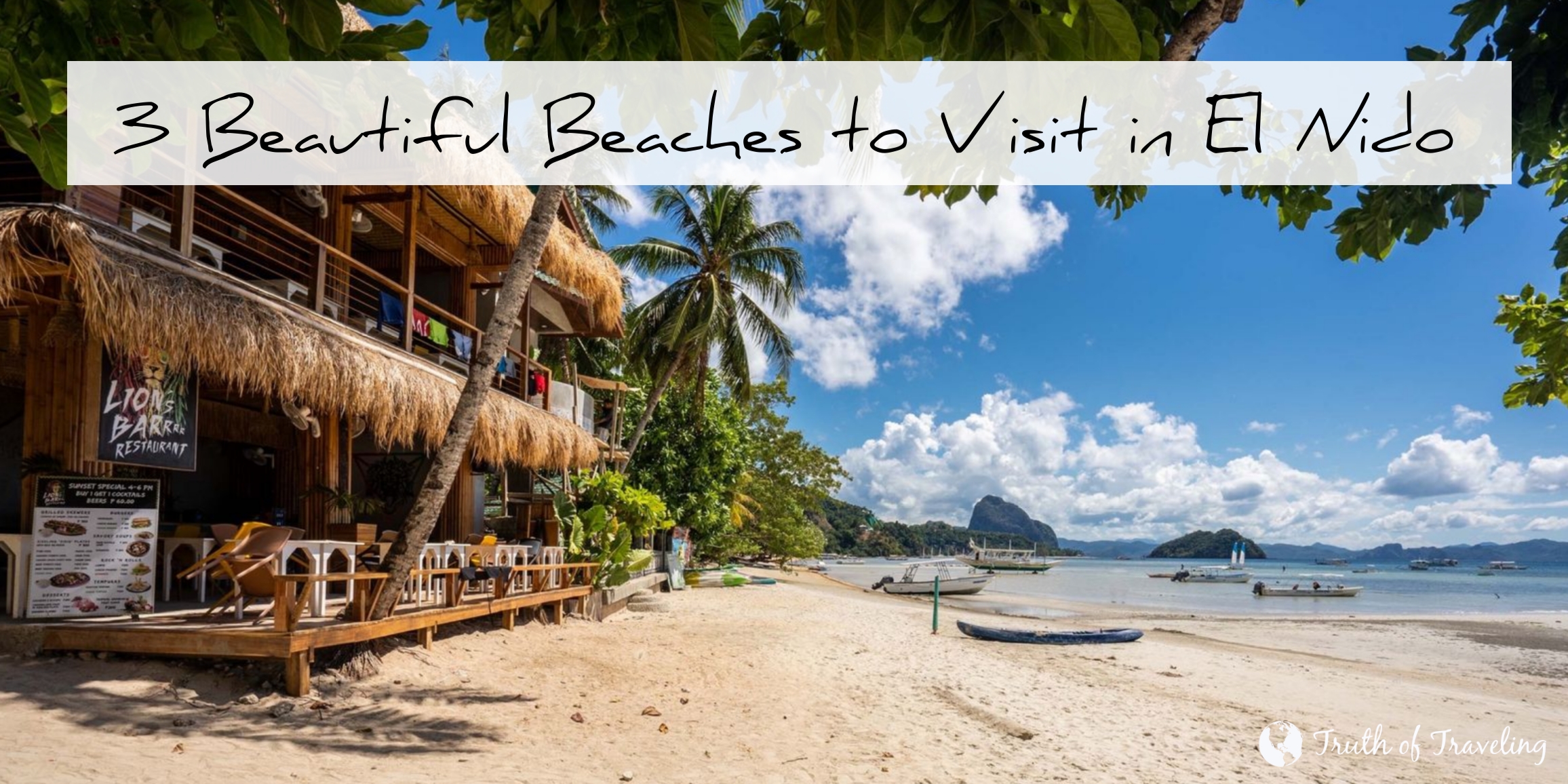 All three of these beaches are beautiful and should be on your list of places to go while in El Nido. While we stayed right in the town area of El Nido we would actually recommend to stay near either Corong Corong Beach and Las Cabanas Beach or to stay out near Nacpan Beach. The town of El Nido, in our opinion, just felt really built up for tourists and was more chaotic than we expected.
Nacpan Beach is farther and more remote with a few restaurant and store options if you're looking for a really quiet experience.
There are a lot of beach front options along Corong Corong Beach or Las Cabanas Beach that give you beach access while still being close to all the restaurants and tours in the town of El Nido.
Read More: 3 Week Philippines Itinerary
1. Corong Corong Beach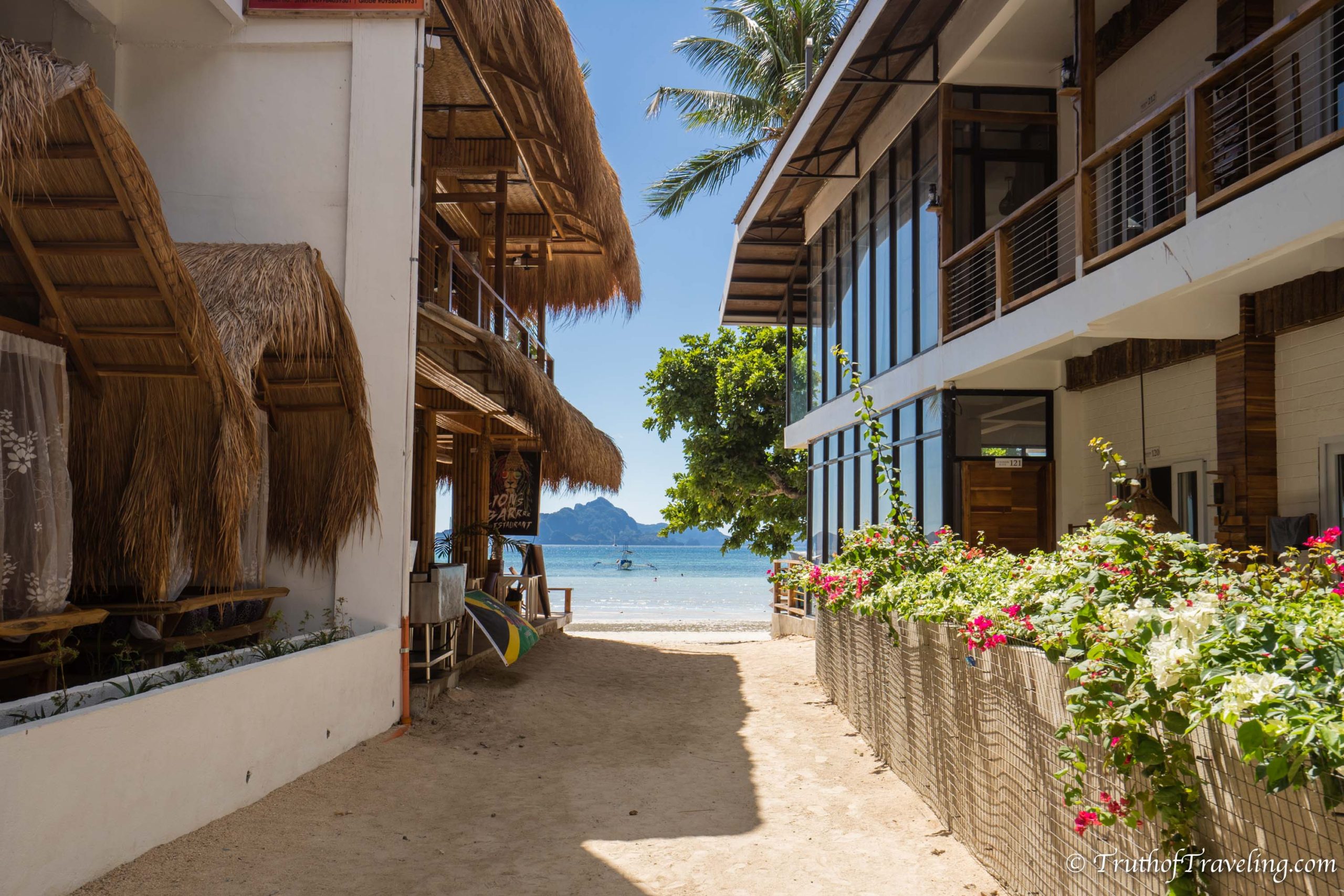 This beach is not as popular as the other ones on this list but it's still definitely worth visiting! Corong Corong Beach is really close to the town of El Nido. You can easily get a tricycle to Corong Corong Beach. It should take no more than 10 minutes and cost 100 PHP or $2 USD. Or you can rent a motorbike and drive yourself. It's an easy drive on a busy road and you can park right outside the walkway that leads to the beach area.
There are tricycles both in the town of El Nido as well as waiting on the street at Corong Corong Beach so you don't have to worry about not being able to get back.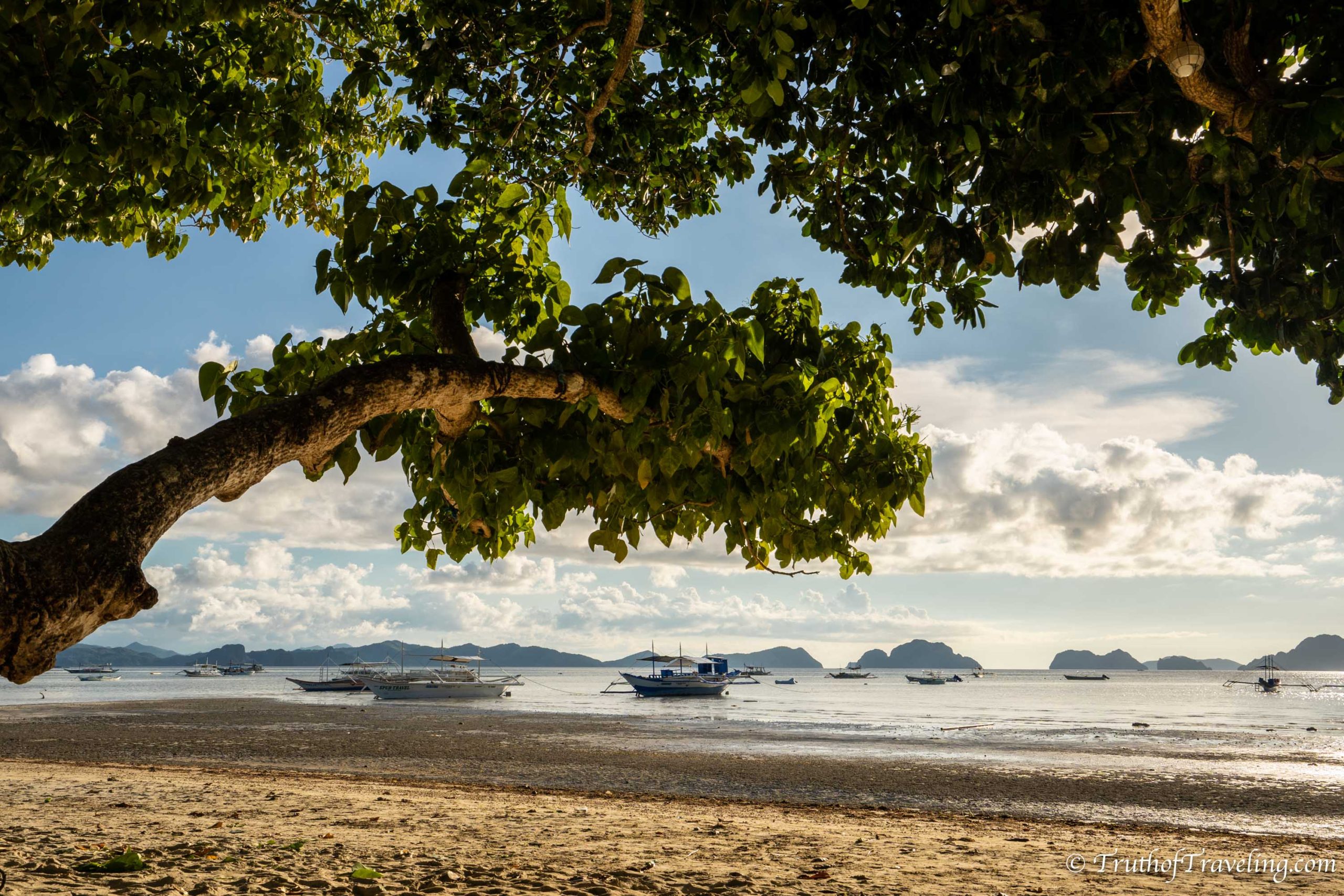 Corong Corong Beach was practically empty when we visited which is one of the reasons we enjoyed it so much! We found a shady spot under a palm tree and enjoyed a quiet couple of hours.
We don't think you're supposed to swim at Corong Corong Beach based on water regulations in the area. When we visited there were a few people swimming but the tide was really far out so it was fine for us!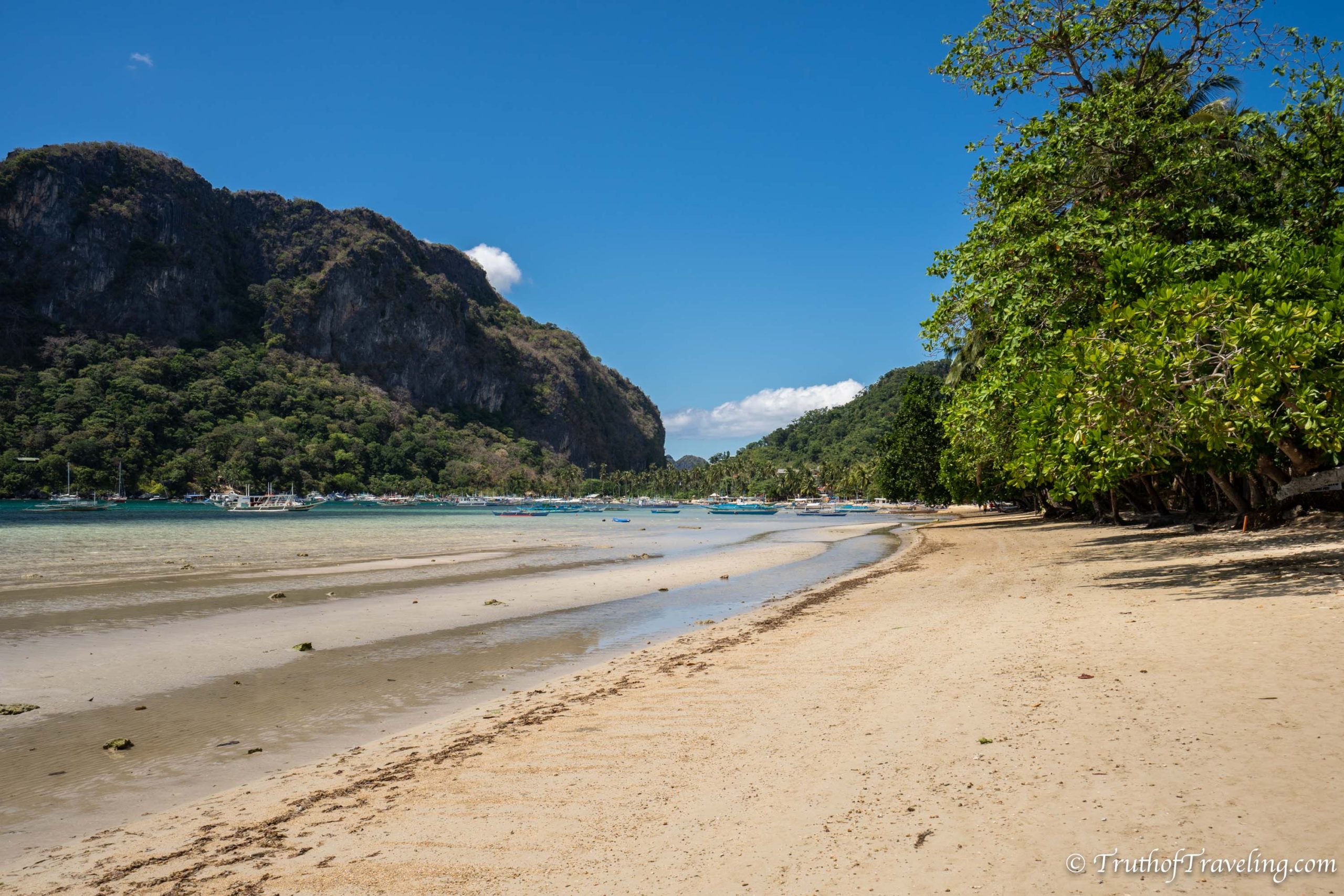 To reach the beach you have to walk down a walkway with shops and restaurants on either side until you hit the sandy beach. We really liked this area! There are quite a few restaurants and places to eat that seemed way quieter than ones in El Nido town. If you're looking for somewhere with a more laid back vibe this is a really good place!
Read More: How Long Should I Spend in Manila, Philippines?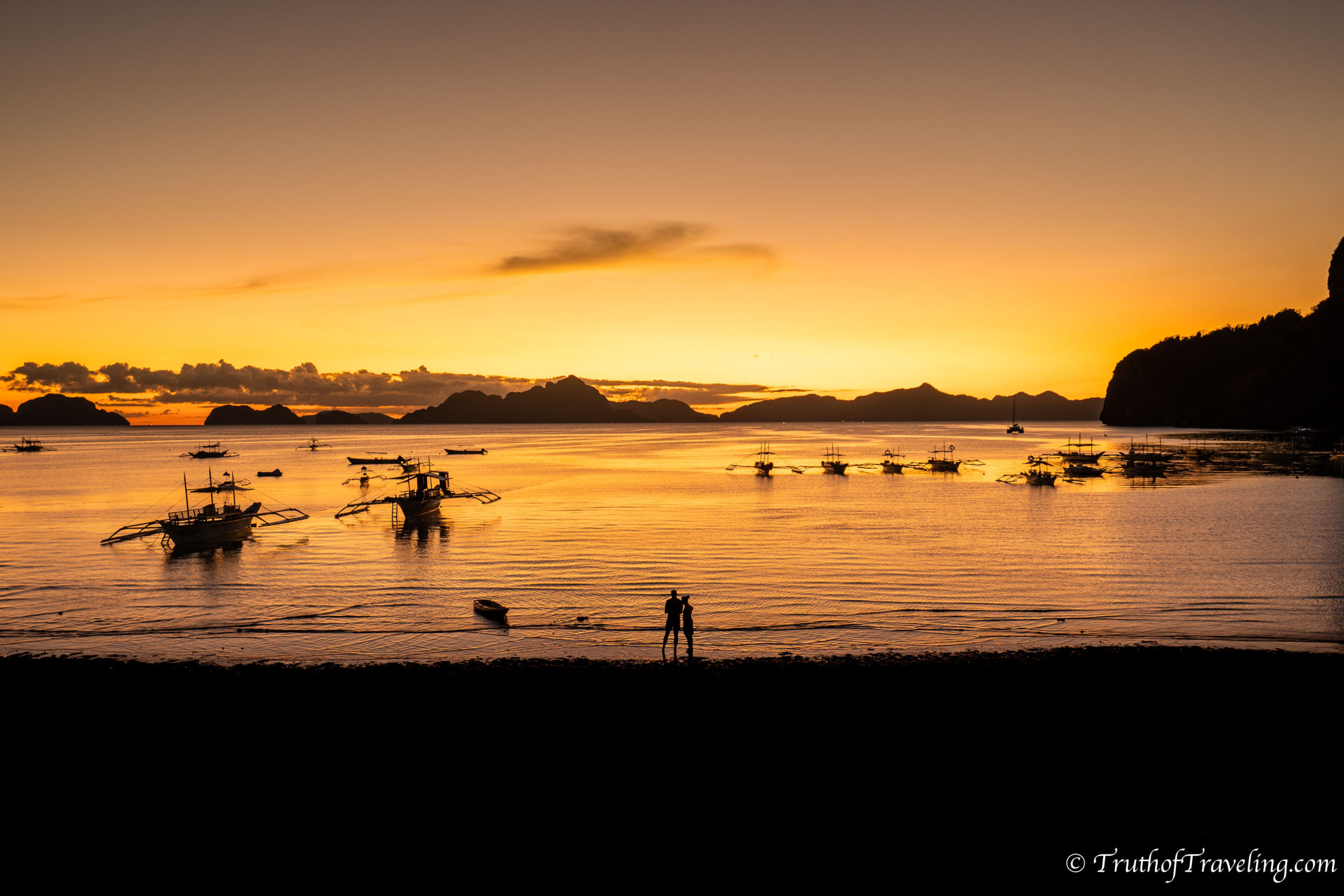 You have to stay at Corong Corong Beach for sunset because it is absolutely beautiful! Because of it's location the sun sets over the water in the distance making it one of the best places to watch the sunset!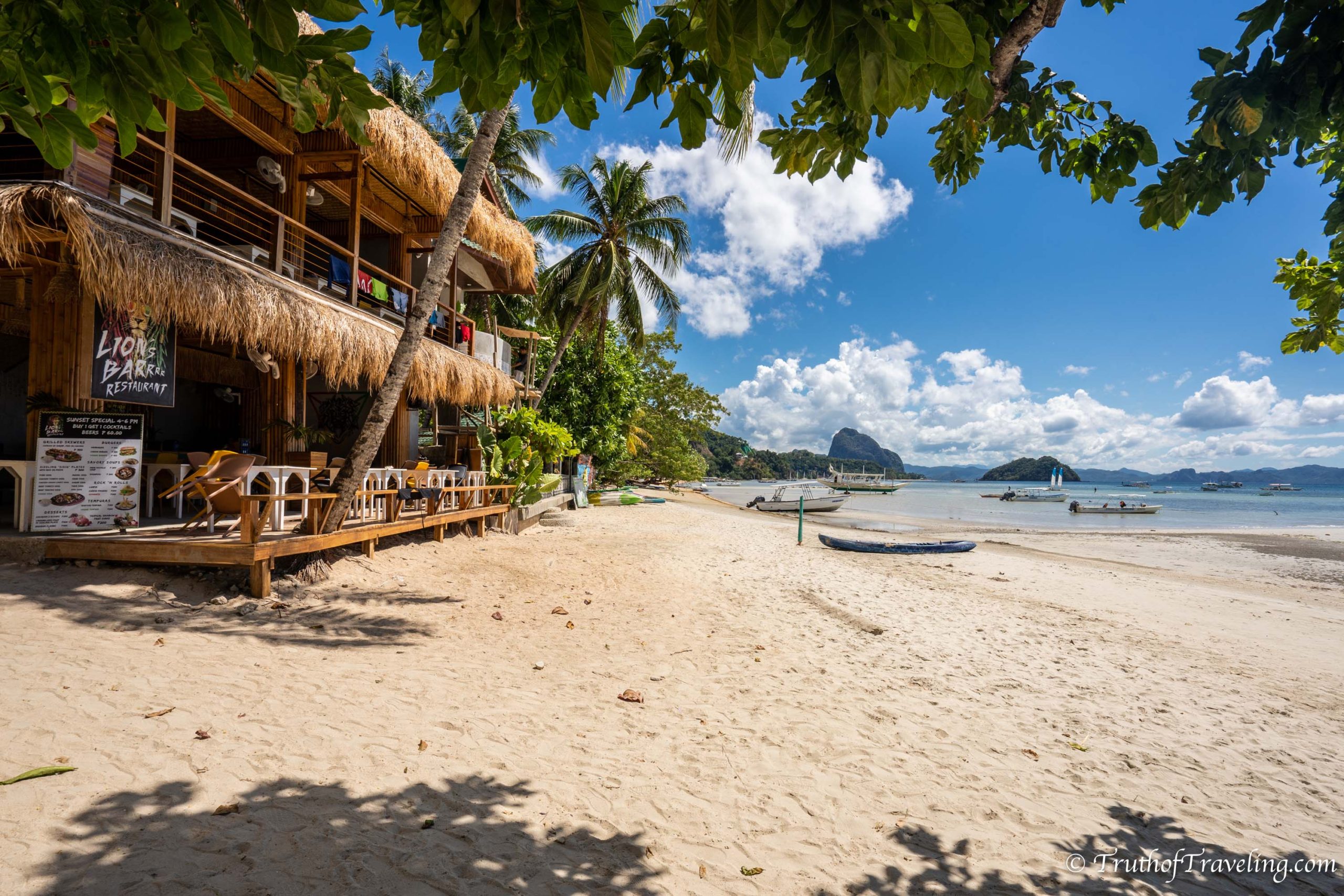 We got a seat on the upstairs patio at Lions Bar & Restaurant. During happy hour you can get 2 mixed drinks for 150 PHP or $3 USD which is a really good deal. We don't usually go out for drinks but it was so worth it to see such a beautiful sunset!
Afterwards we went and ate dinner at Trattoria Altrove which is just a few steps away. It is an Italian restaurant that has locations in Siargao, Moalboal as well as in El Nido. The food is delicious and completely satisfied our pizza fix!
Read More: El Nido Tour A Review- El Nido Island Tour
2. Nacpan Beach
Nacpan Beach is known as one of the most popular beaches to visit in El Nido. It is located about 20 kms north of the town of El Nido. It's a really easy ride on a motorbike. For 500 PHP or $10 USD you can rent a motorbike for the day from pretty much anywhere. We rented ours through our hostel and it was super easy!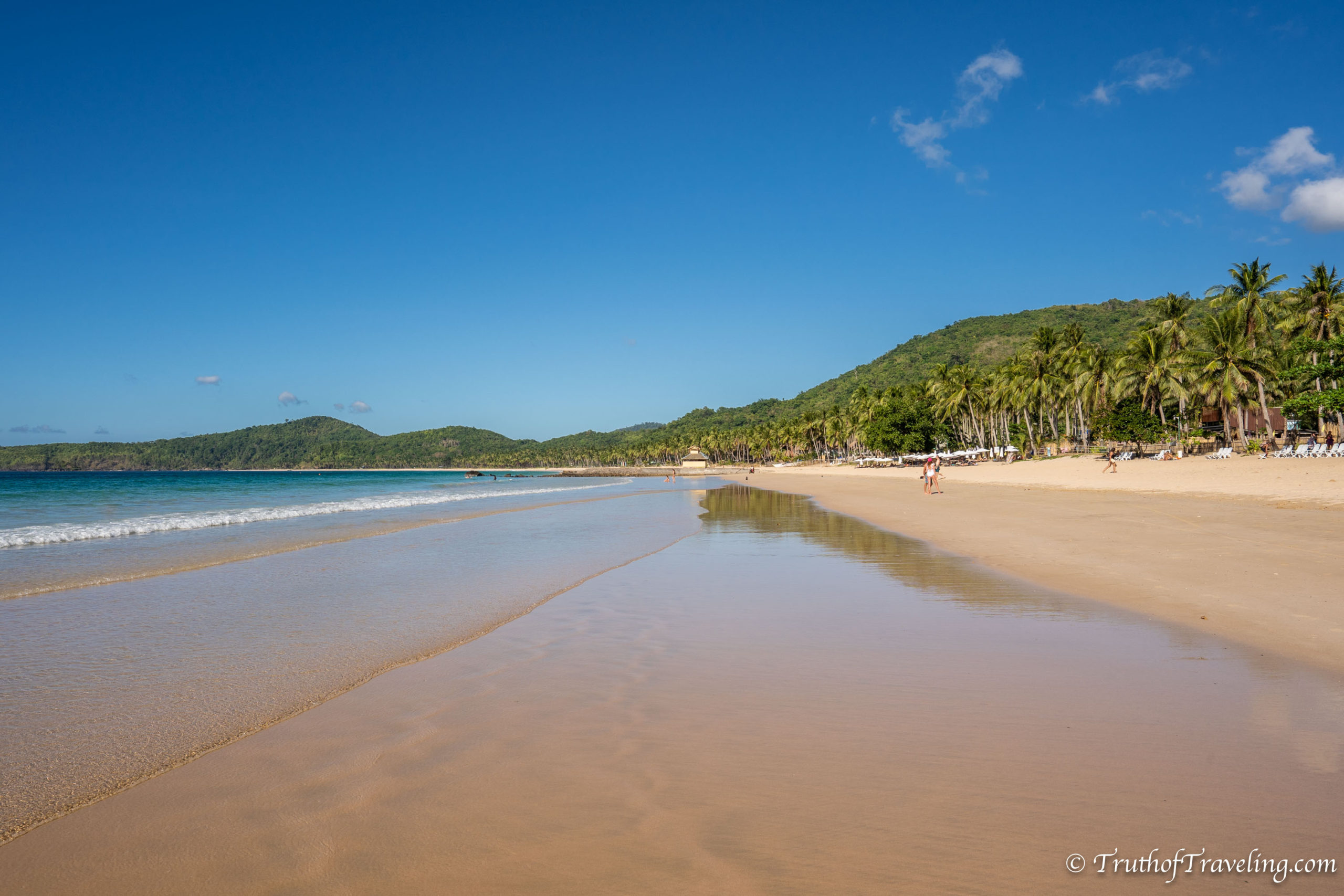 The drive from the town of El Nido to Nacpan Beach takes about 45 minutes depending on if you stop along the way. There is one section of the drive that becomes a really bumpy gravel road but it eventually becomes a paved road again that leads to the beach.
Before reaching the beach there is a Tourist Checkpoint that you are required to stop at. There you need to fill out your information as well as pay 50 PHP ($1 USD) per person.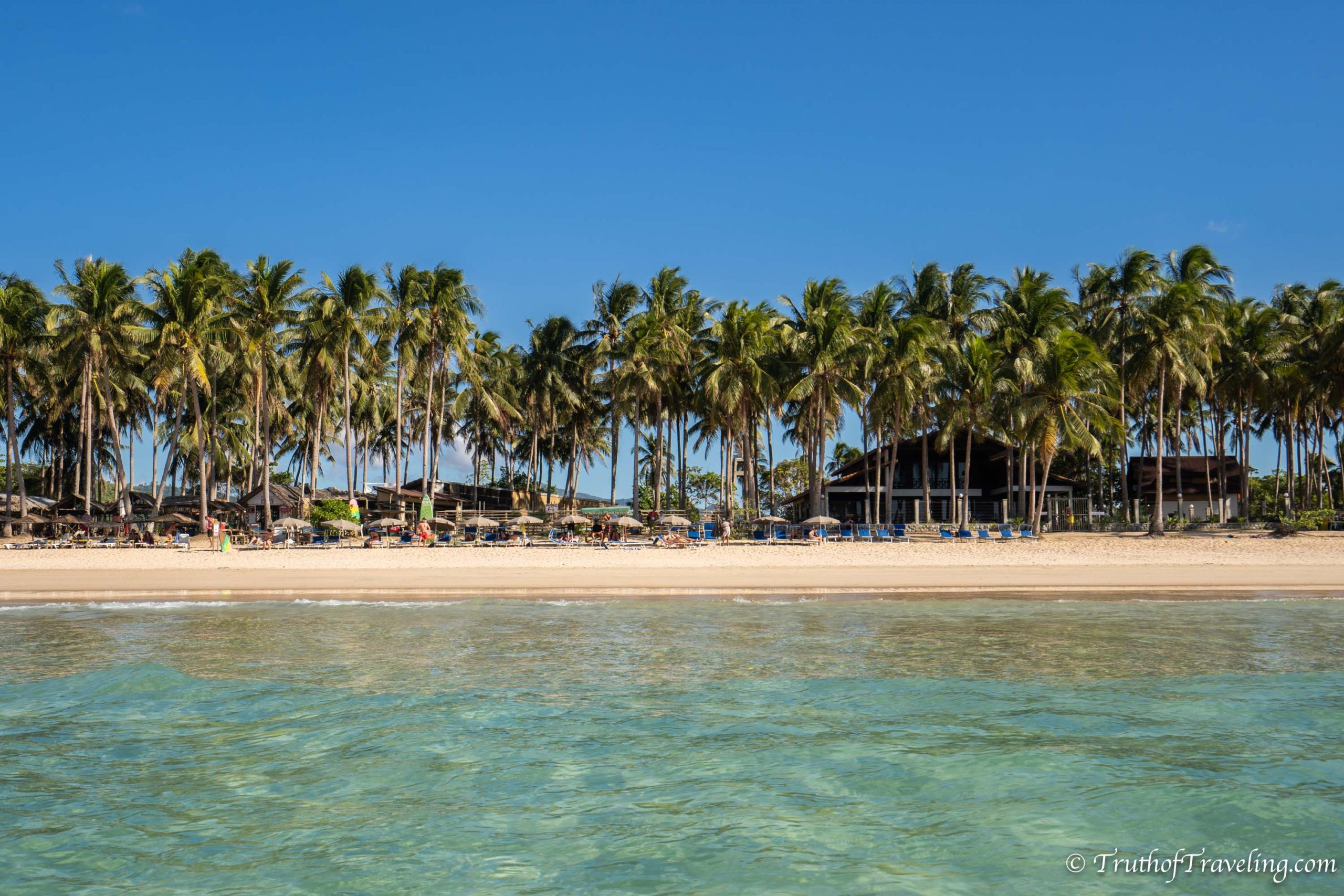 Read More: Everything You Need to Know About Canyoneering Kawasan Falls
We parked in a large parking area right behind Ranchos Beach restaurant. There were a bunch of other motorbikes and it felt totally safe to park there. From there we walked through the restaurant onto the beach. Nacpan Beach is a really beautiful beach!
You can rent an affordable beach chair for the day.
You also can get a massage as well as food and drinks right there on the beach!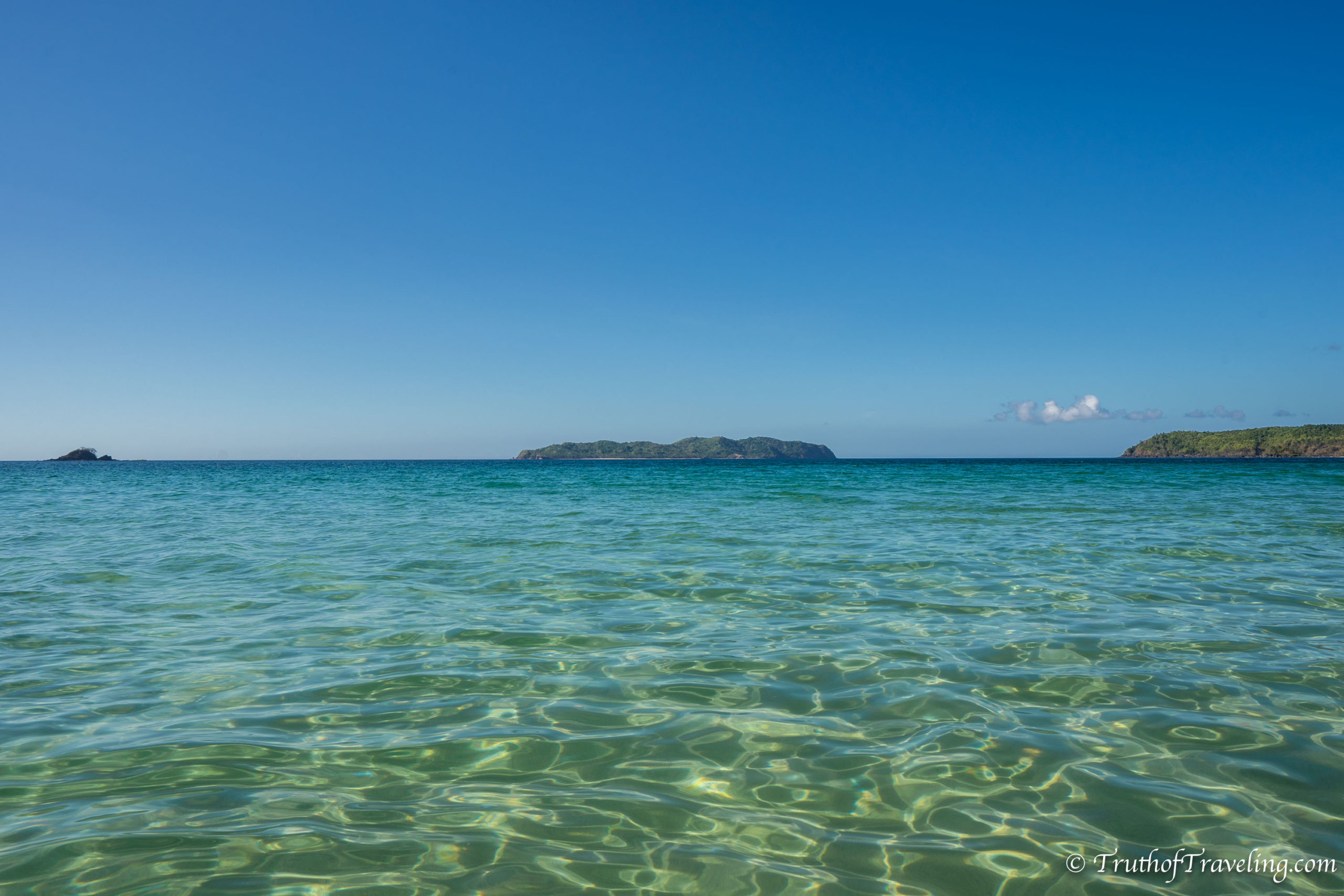 The water at Nacpan Beach was so incredibly refreshing! It is so clear and felt so good to jump in especially on a hot day!
Read More: 5 Tips for Visiting El Nido in the Philippines
3. Las Cabanas Beach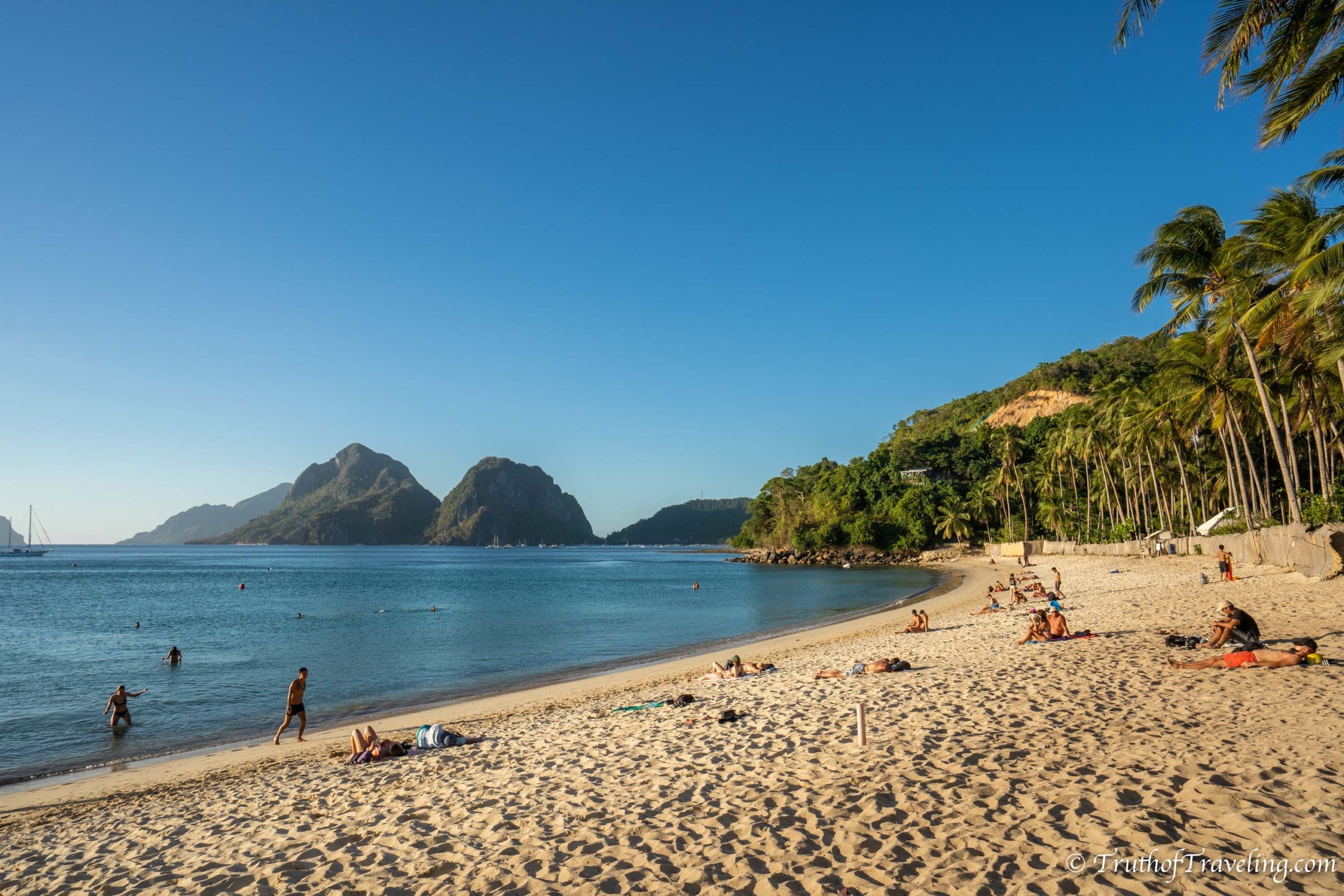 Las Cabanas Beach is another great beach that is close by to the town of El Nido! You can get there by tricycle from the town of El Nido for about 150 PHP or $3 USD. Our tricycle dropped us off near the McDonalds which you can walk down to get to Vanilla Beach or Marimegmeg Beach.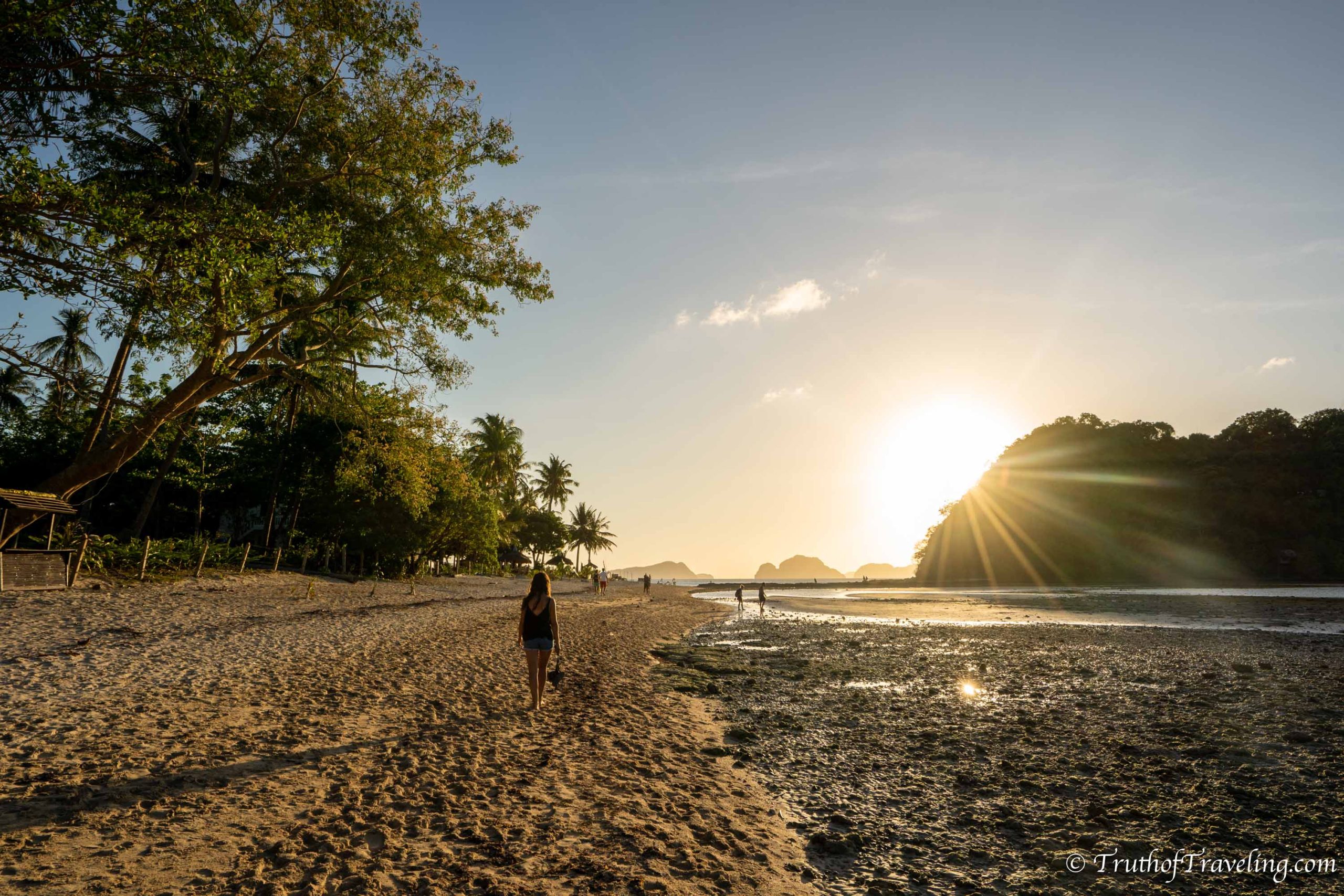 There you will find quite a few beach front bars offering really scenic spots to grab a drink and enjoy the view!
If you continue walking down the beach you will get to Las Cabanas Beach. We found it a lot less crowded than Vanilla Beach.
Read More: Complete Guide to Visiting Siargao Island in the Philippines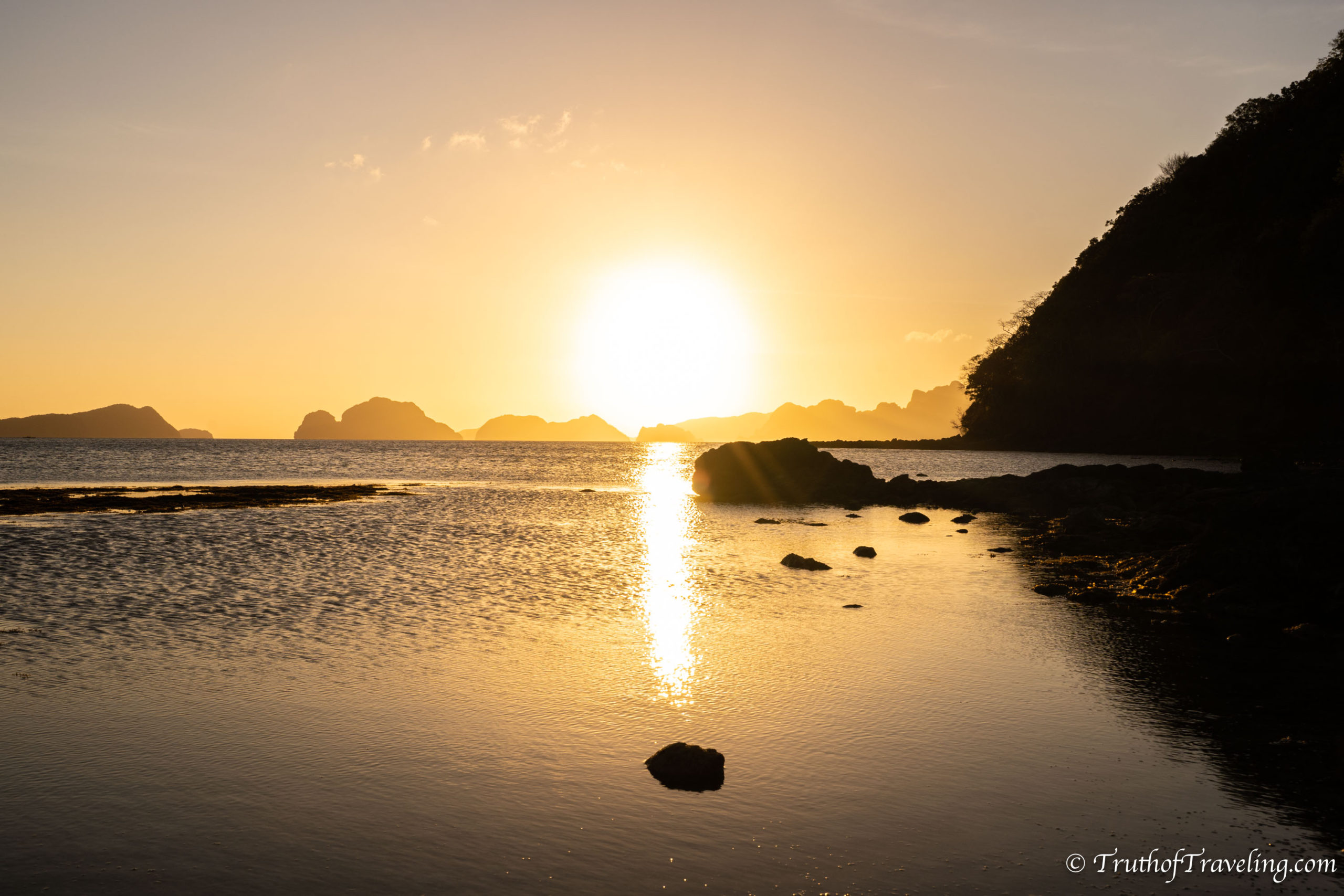 Watching the sunset at Las Cabanas Beach was definitely one of the most beautiful sunsets we have ever seen! Make sure to get there before the sunset because the closer it got the more people came over to take pictures. The sky just got more and more colorful though. We couldn't believe how long it stayed looking like that even after the sun had fully set!
We grabbed a drink at the Shed Beach Bar because we honestly didn't want to leave. It was just too picturesque of a spot to leave too quickly!
Interested in More Posts About the Philippines? Read Here!
Pin it for later: