Dubrovnik is one of the most popular destinations in Croatia and is located along a very narrow strip of land in the south. It's become famous in recent years because so many scenes were filmed there for Game of Thrones. It has a very unique walled old town situated along a beautiful coastline with some of the clearest water we have ever seen! Here is our guide for how to spend 4 days in Dubrovnik including where to stay and what to do!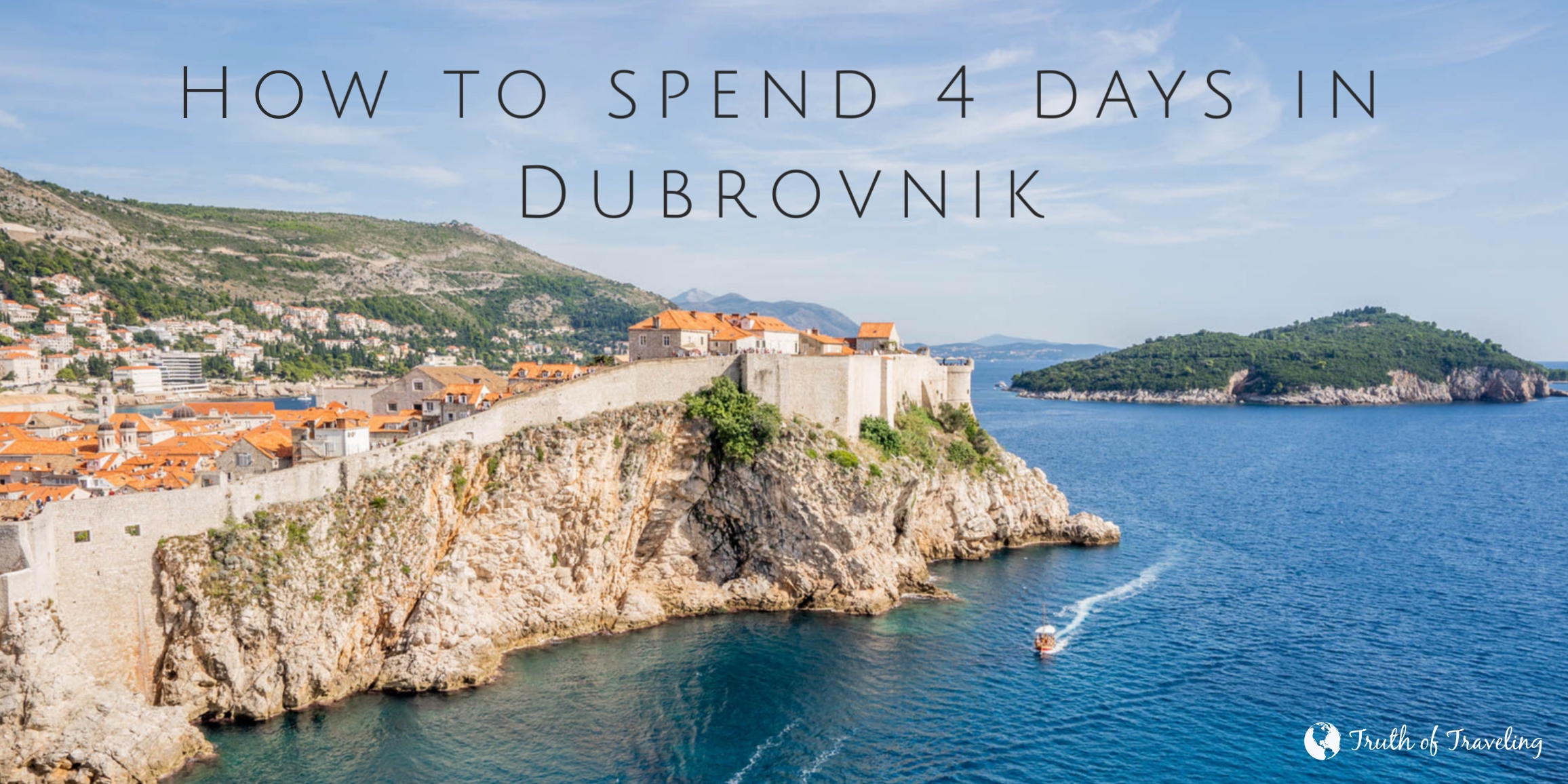 *Disclosure: This post contains Amazon affiliate links. As an Amazon Associate we earn from qualifying purchases. This means at no additional cost to you, we will earn a commission if you click through a link and make a purchase. This post may also contain other affiliate links and non-affiliate links to products and websites.
First, Dubrovnik Can Get Really Crowded!
Before we even begin we have to say that Dubrovnik was one of the busiest cities we went to in Europe. We visited at the end of September and there were so many people. After talking to some locals we learned that every day there is at least one cruise ship docked nearby bringing large groups of people into the city. Some days there are as many as 5 cruise ships!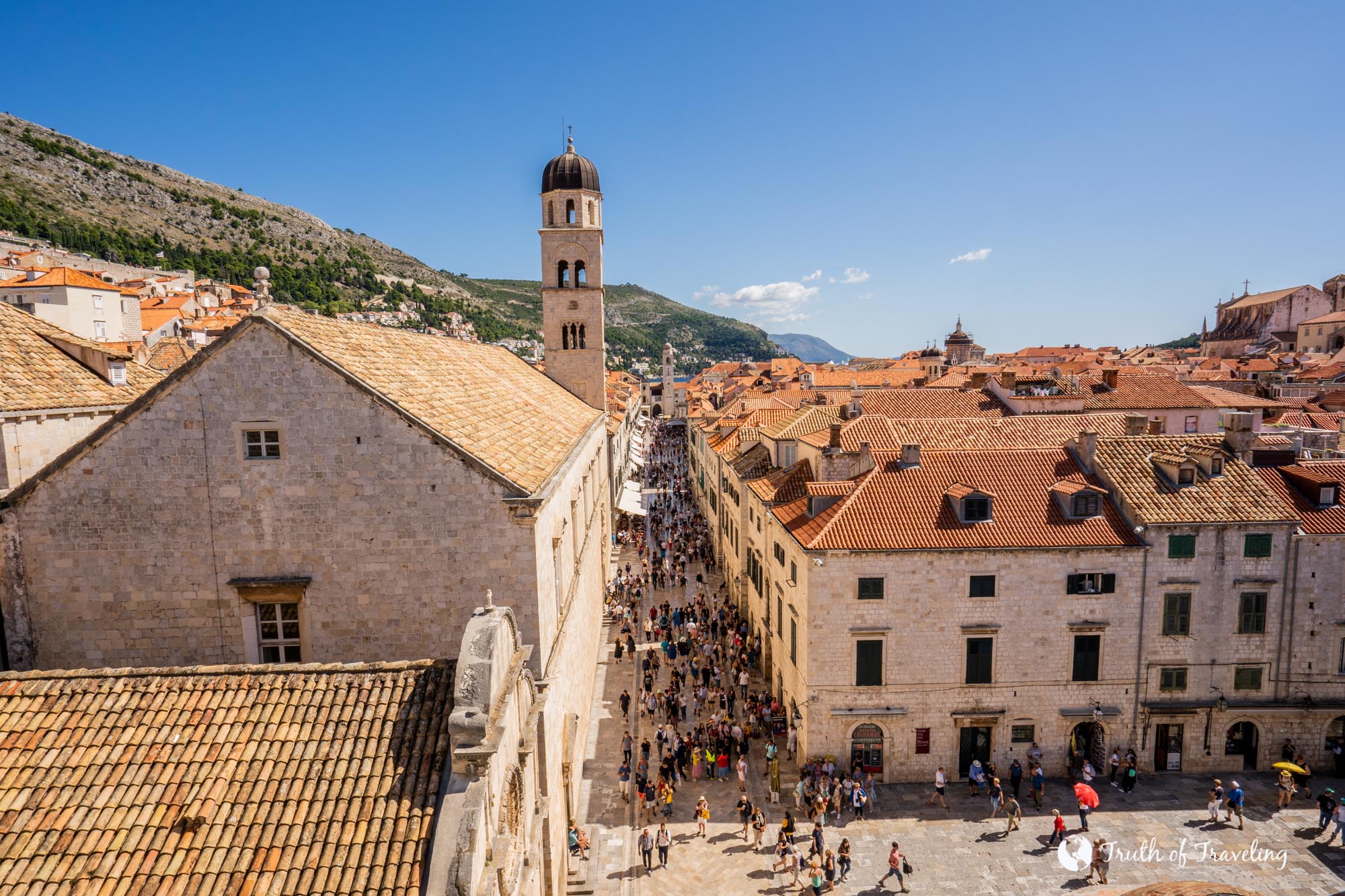 Outside the walled area there are buses and buses of cruise ship transfers and organized tours. It's very chaotic when large groups are either coming in or getting ready to leave. Then inside the walled city when the crowds come in it can get very crowded!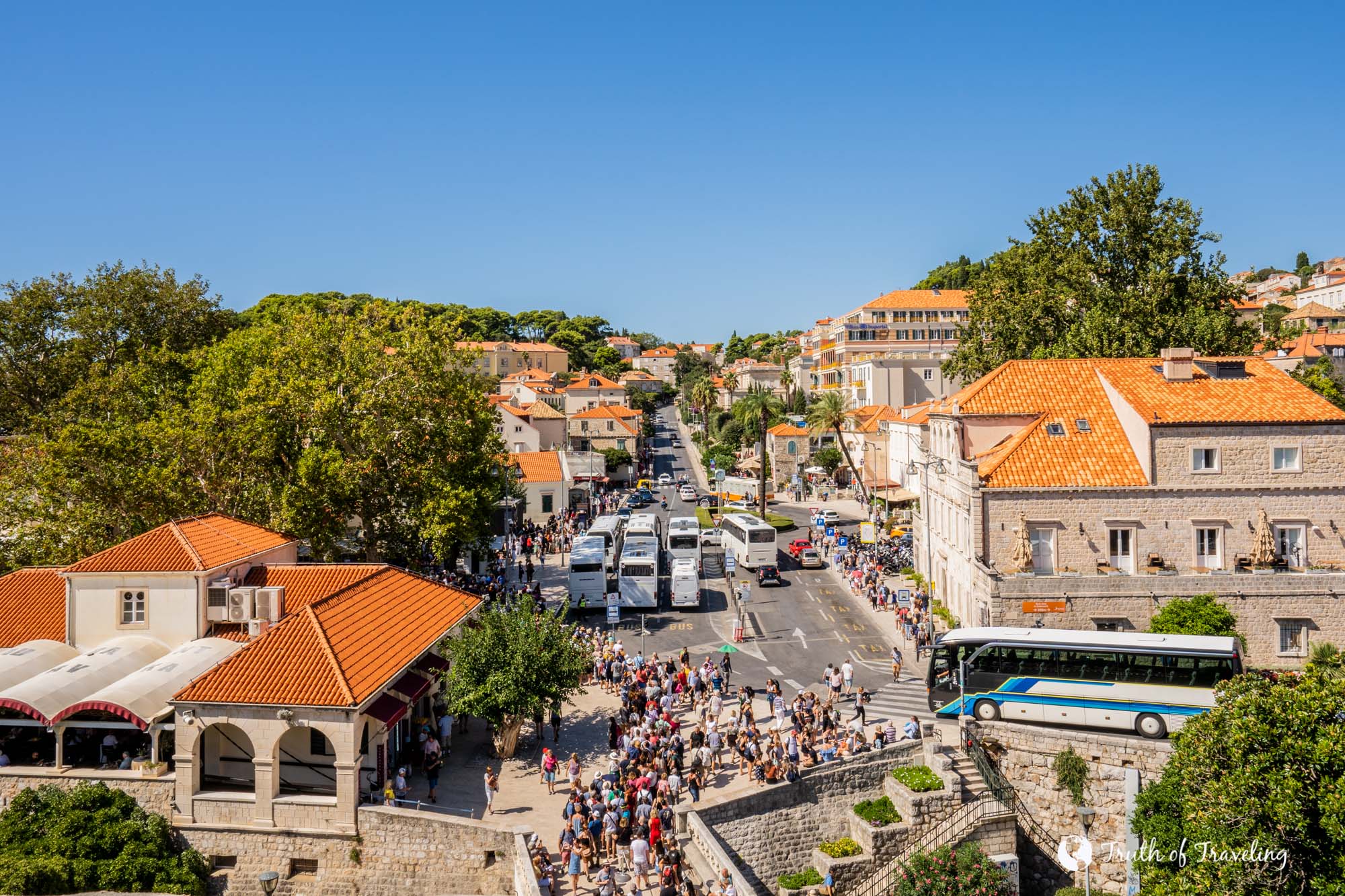 We don't say that to discourage you from visiting because it's a beautiful city and the old town is so unique. But we want to be 100% honest in our experience and this was something that stood out to us so much in Dubrovnik. We think a lot of it has to do with the recent increase in tourism (especially from Game of Thrones) in a place that just isn't physically that big. I think if we were to do it again we would go even more in the off season when hopefully there would be less people.
Getting to Dubrovnik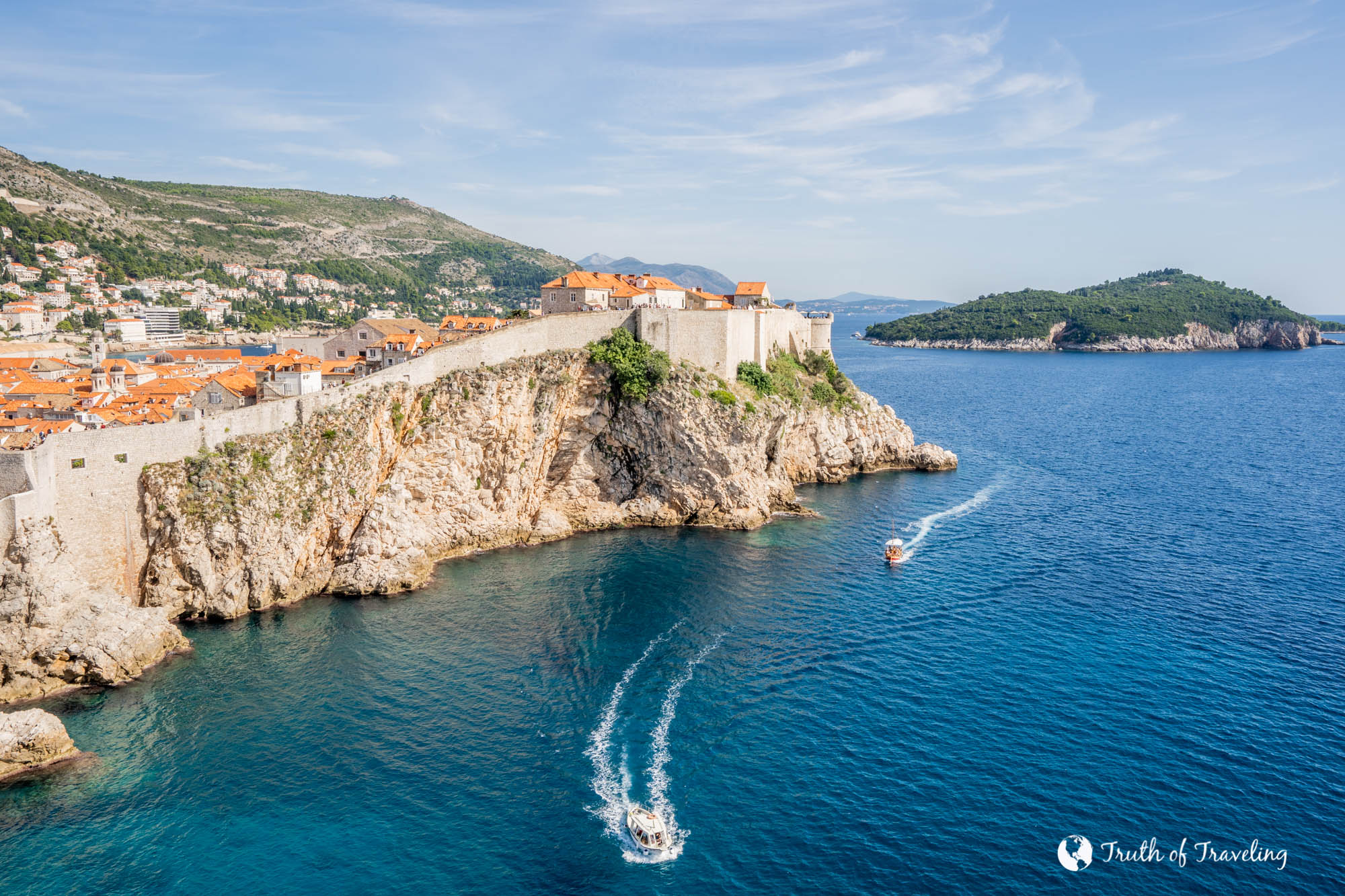 We loved traveling around Europe using our Eurail Global Pass, however, Dubrovnik posed a problem for us because there is no train station.
There is a very small airport in Dubrovnik and when we say small we mean it! The Dubrovnik airport is so small they don't let you go through security until 2 hours before your flight departs. To most people this won't be a huge issue but it's the first airport that we've been told we can't go through as early as we want. So we had to sit in the one very small café before security for like 5 hours until we could finally go through security for our international flight.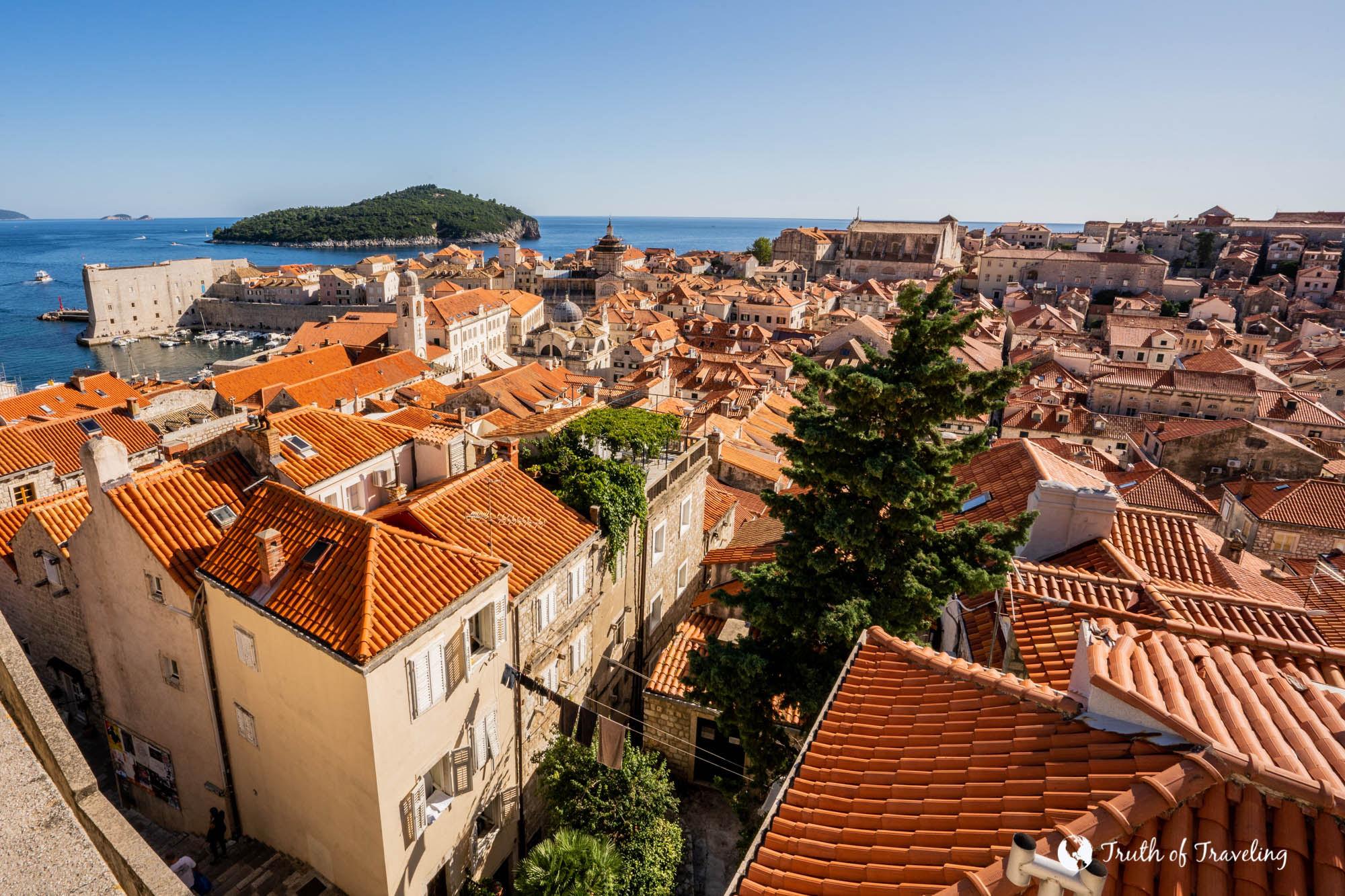 If you're driving from Split or anywhere in northern Croatia you will actually have to drive through Bosnia & Herzegovina. There's a small strip of the coast that doesn't belong to Croatia meaning you will need to drive out of Croatia, drive in and out of Bosnia & Herzegovina and then come back into Croatia. It's really simple and easy! We did it the first time on a public bus and the second time in our rental car.
Read More: How to Spend 4 Days in Split, Croatia
Where to Stay in Dubrovnik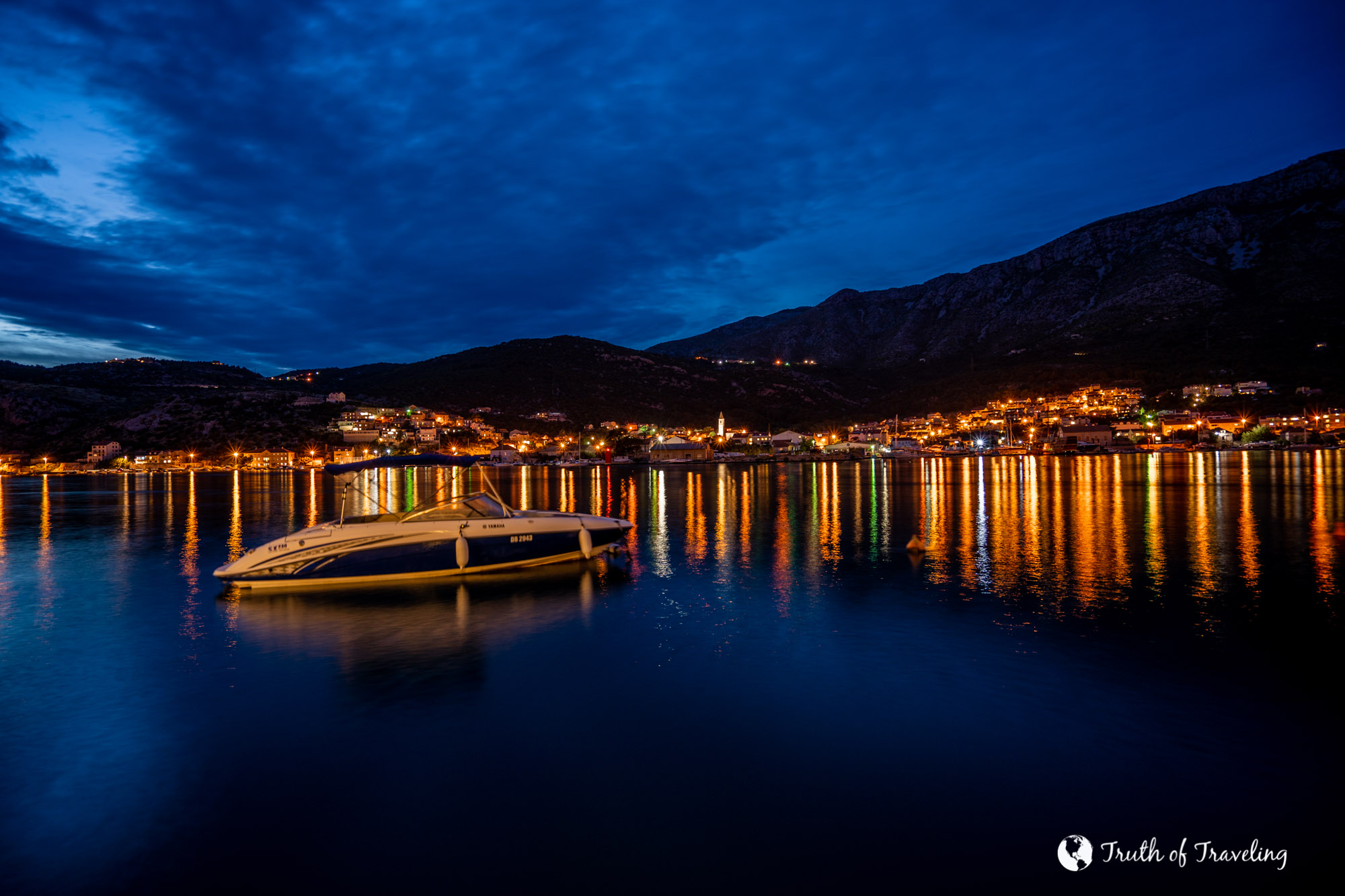 We actually stayed in two different areas in Dubrovnik. We spent a few nights in Lapad which is within walking distance to the old town. It is about a 25 minute walk from the walled area and is actually a really beautiful walk along the coast. We liked that this area was far enough away from the old town but close enough to go in for the day or even just for dinner.
Then we spent a few nights in Sustjepan, an area on the inlet a bit farther from the old town. We got the most incredible 2 bedroom Airbnb for under $50 USD a night. The best part of it was the unobstructed view looking out onto the water. It was so quiet and such a nice place to spend a few days! We would highly recommend Sustjepan to those looking for a more affordable and quiet place to stay in Dubrovnik. You can easily take the bus from Sustjepan to the bus stop right at the entrance to the Pile Gate.
Is the Dubrovnik Card Worth it?
The Dubrovnik card is a card that gives you access to the Dubrovnik city wall, 6 museums, 2 galleries and a specific number of bus rides within the area. You can purchase it for 1 day, 3 days or 7 days. You can buy it at the tourist office right before the Pile Gate entrance. There is a 10% discount for buying it online instead of in person so thats what we did!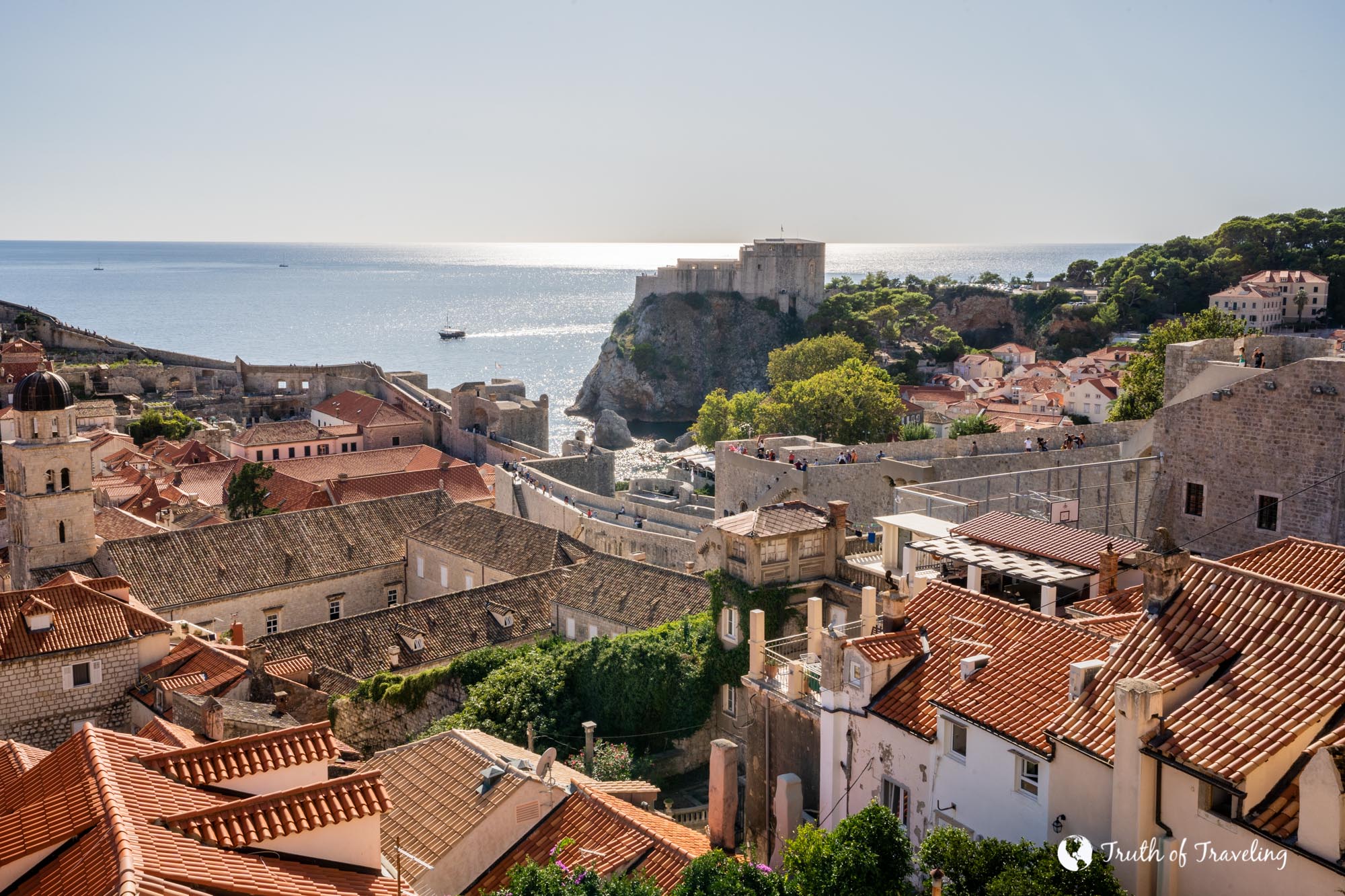 We don't usually buy cards like that because it doesn't always end up saving money but for Dubrovnik it actually did. We bought the 3 day card for 270 Kuna or $40 USD. The Dubrovnik city wall ticket is 200 Kuna ($30 USD) so for 70 Kuna or about $10 USD we got 8 bus rides. If you're going to use the bus and walk the wall it might also work for you! However, if you're not planning to use the bus it likely won't save you any money. It really just depends on your plans while in the area.
Day 1: Walk around Old Town Dubrovnik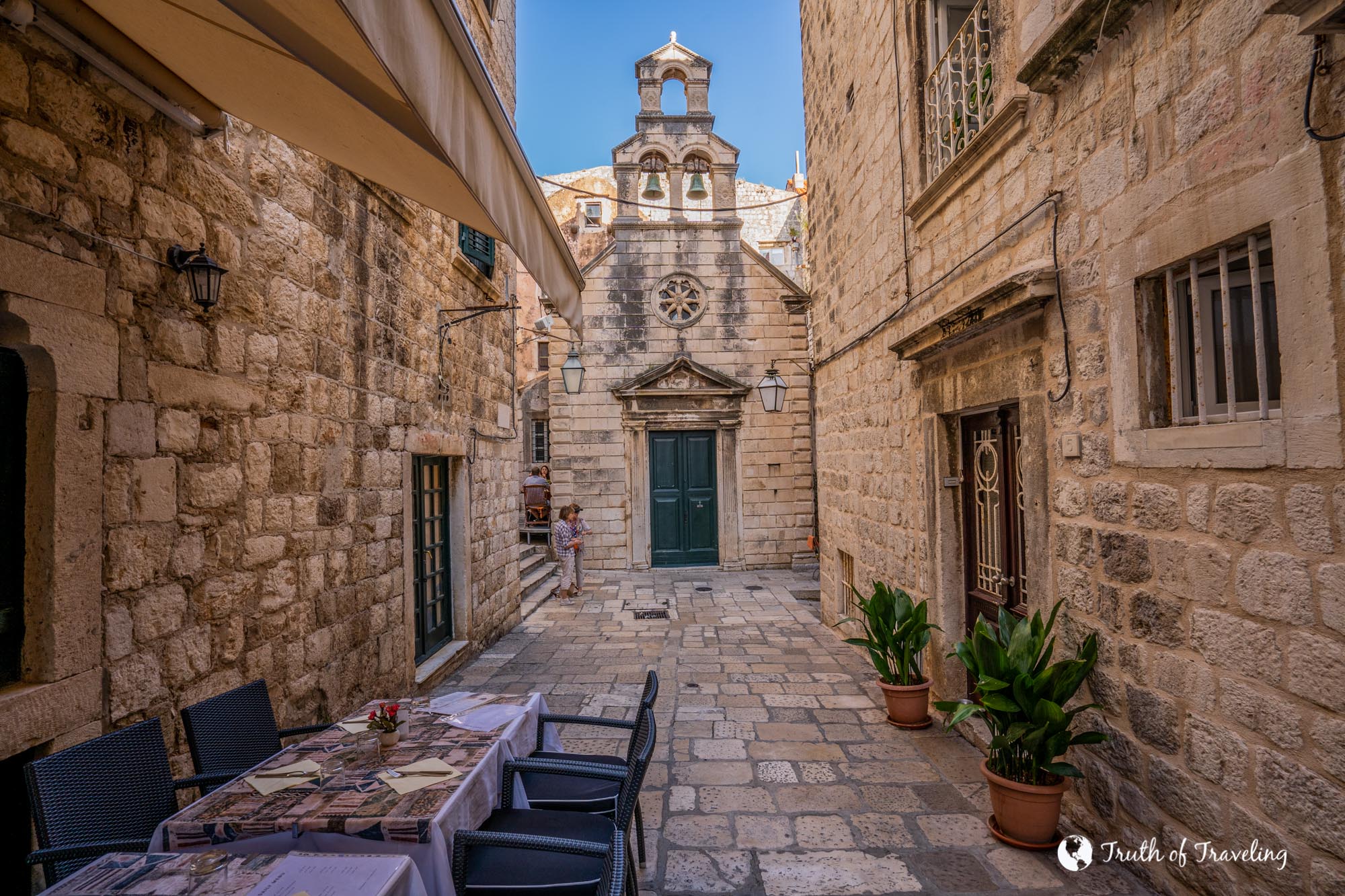 However you are getting to Dubrovnik make sure to make time on your first afternoon to walk around the old town area. Our first early evening there we saw the least amount of people in the city which was so nice! Head to Porat (the harbor area) where you can walk along the water, see the boats in the harbor and the beautiful architecture beside you.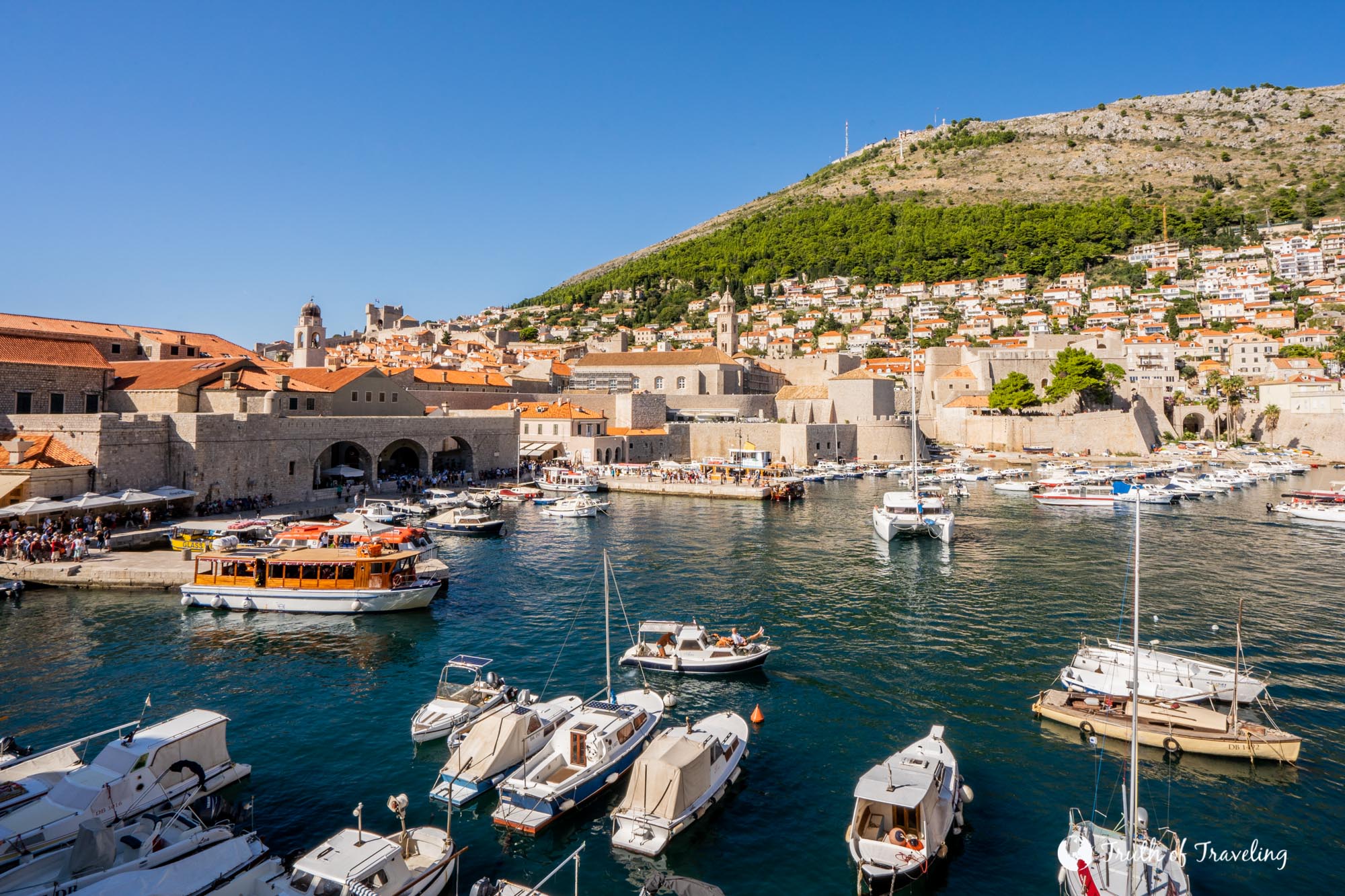 There are so many restaurants within the old town. On the menus you will find a lot of seafood, traditional black ink risotto, and pasta dishes. Our recommendation would be to venture to some of the streets on either direction of the main street. There we found quieter areas with more authentic restaurants.
Read More: Day Trip to Krka National Park
Day 2: Walk the Dubrovnik City Wall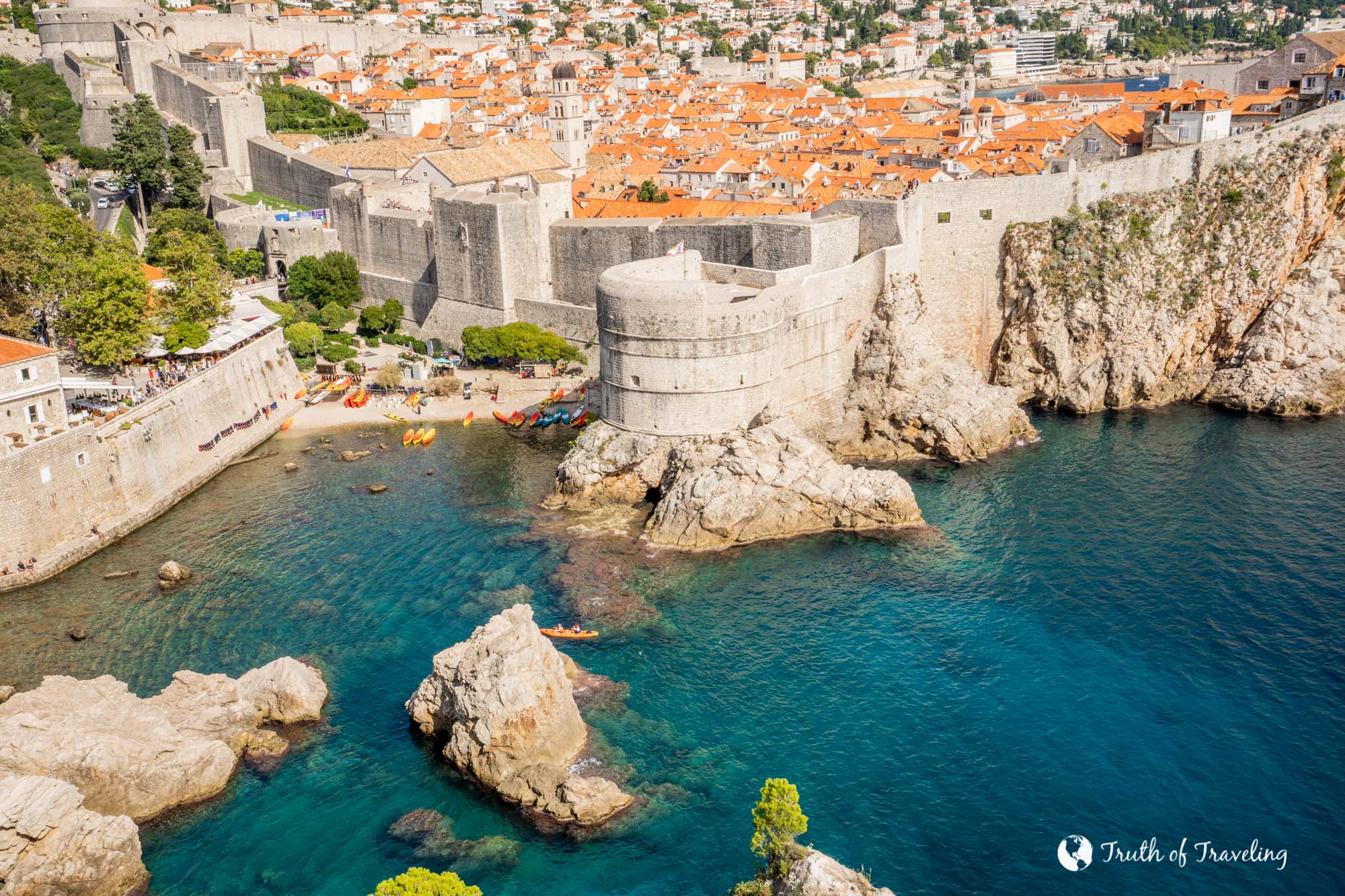 The Dubrovnik city wall is one of the most unique aspects of this city. The medieval wall stands high completely surrounding the old town. The wall has been incredibly well preserved so you can walk around the entire thing on a well constructed pathway.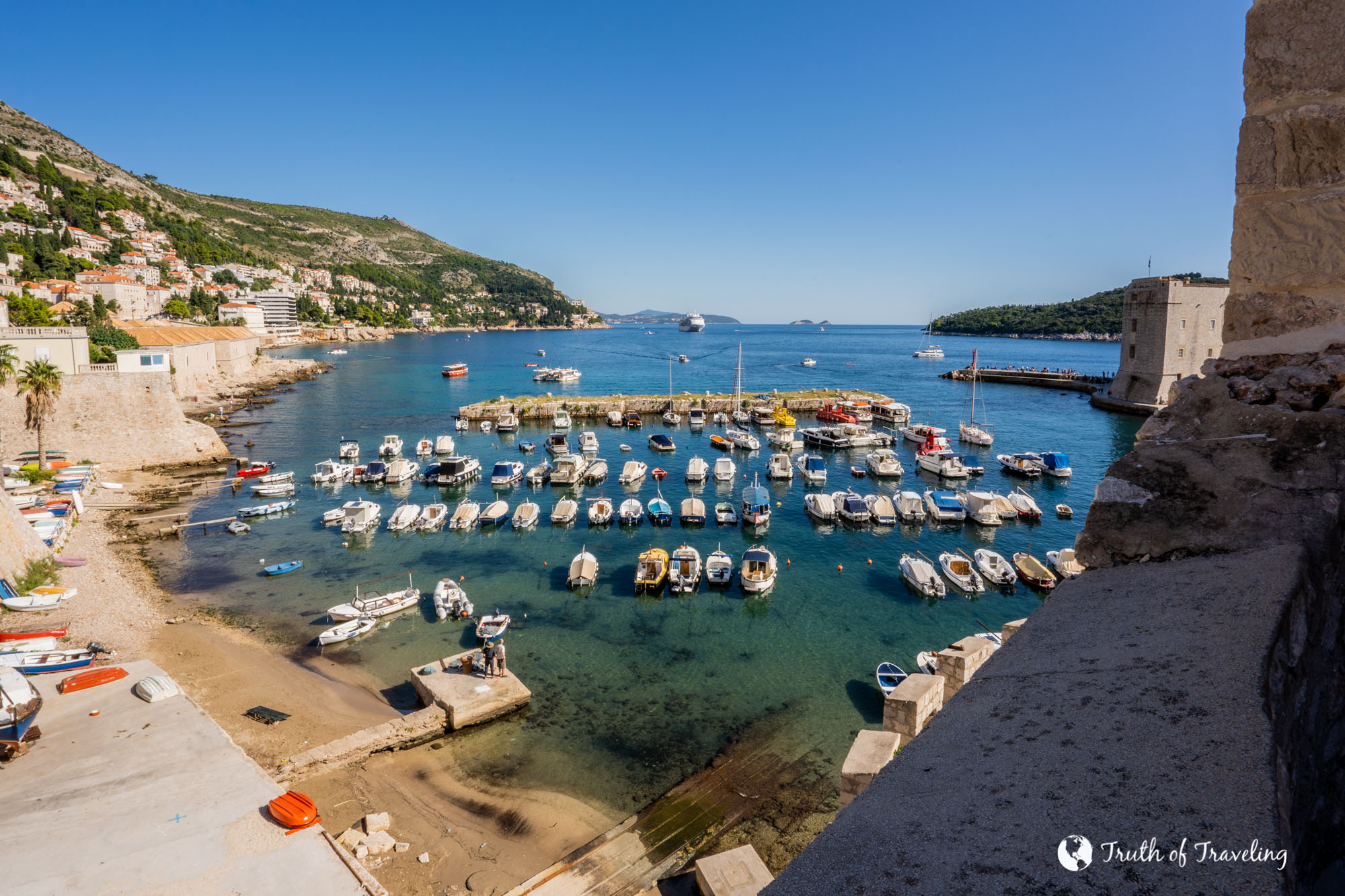 While the ticket price initially made us contemplate, we are so glad we did it! Walking the Dubrovnik city wall was one of the highlights of our visit!
Tickets to the Dubrovnik city wall cost 200 Kuna or about $30 USD. It's one of the most expensive activities we have paid for. It's a lot of money but we enjoyed it so much! You can buy tickets in the walled city at the ticket office or you can buy the Dubrovnik card which includes entry to the wall.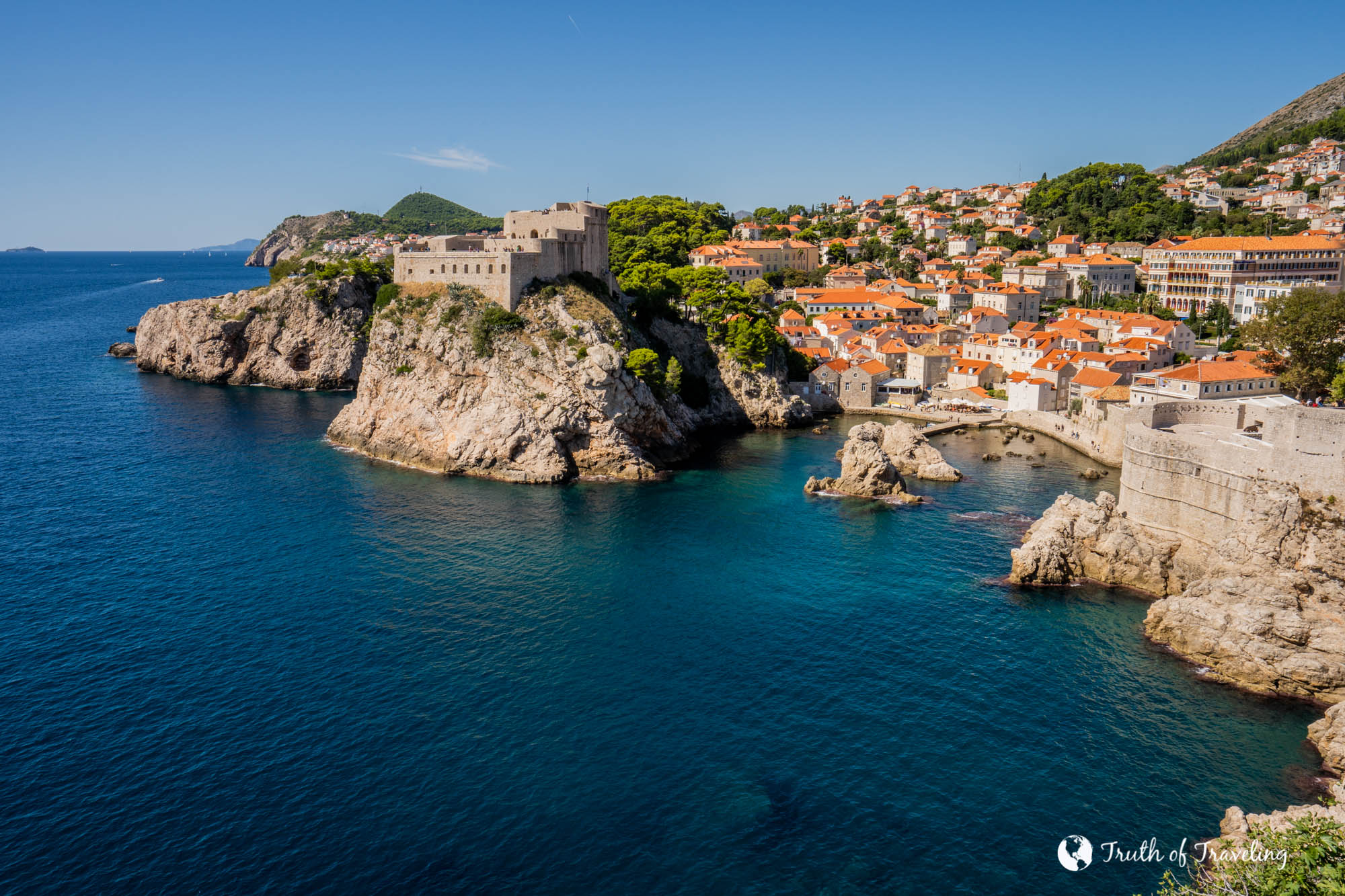 We spent from about 12:30 pm to 4:00 pm walking around the entire thing. You can definitely do it quicker than 3 1/2 hours but it's large and the views from each different section look different so it was nice to take our time!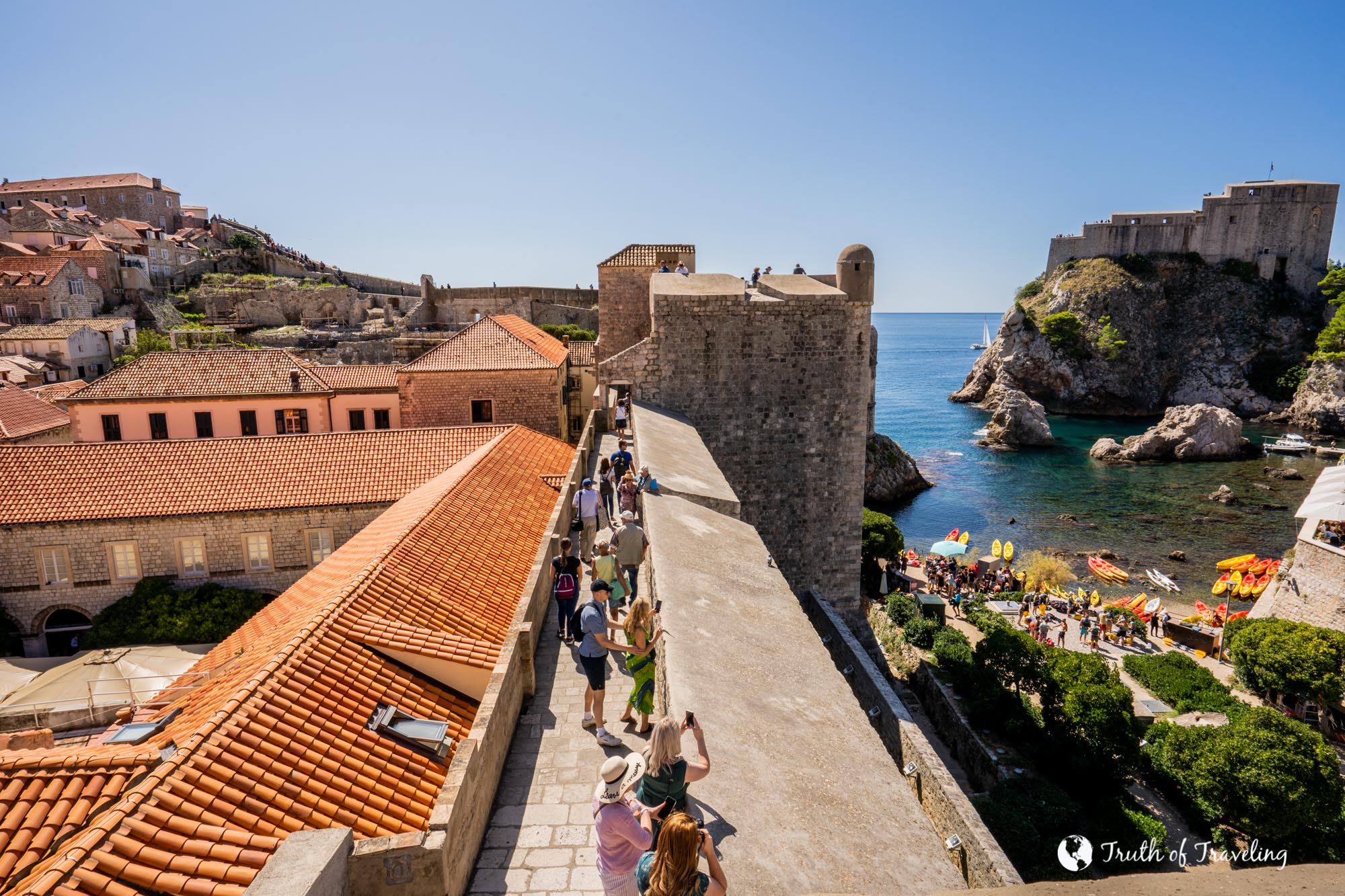 There are three staircase entrances to get up on the wall. We climbed up the entrance at the Pile Gate. During that first stretch was where we walked past the most people. After that it emptied out significantly until we got back there to exit.
Close to the Pile Gate the wall continues facing the Lovrijenac Fortress which is a beautiful photo spot. From the edge you can look along the wall as it curves around the city along the water. It is stunning and makes you appreciate the construction of the wall so much more! Those are some of our favorite pictures from the day!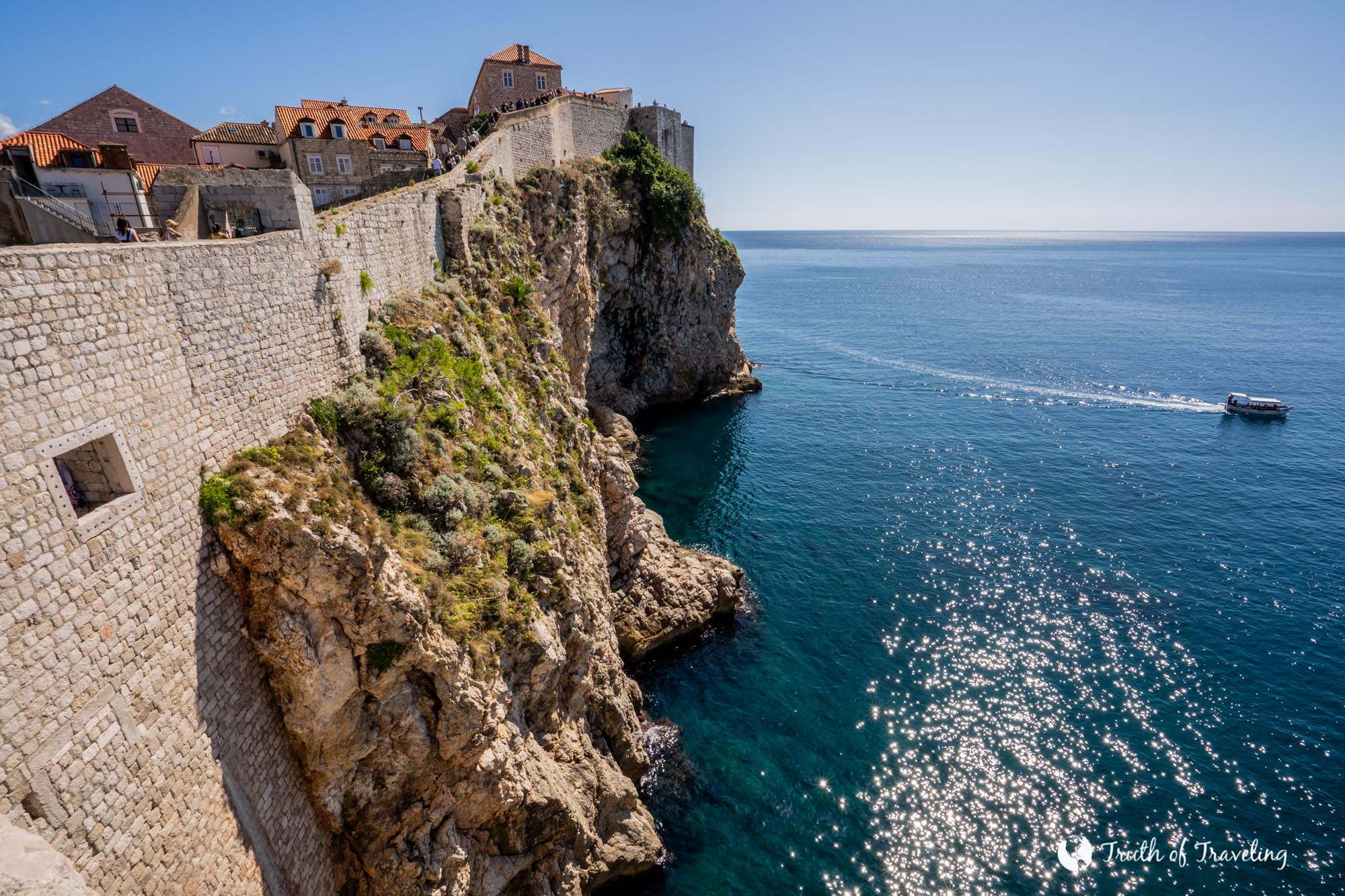 It gets hotter while you're up on the wall so plan ahead and definitely bring water! We brought our day pack with water bottles, snacks and an external battery just in case and had no problem bringing it up. Because we spent so much time walking around (and took so many pictures), all 4 of us took turns charging our phones by the end.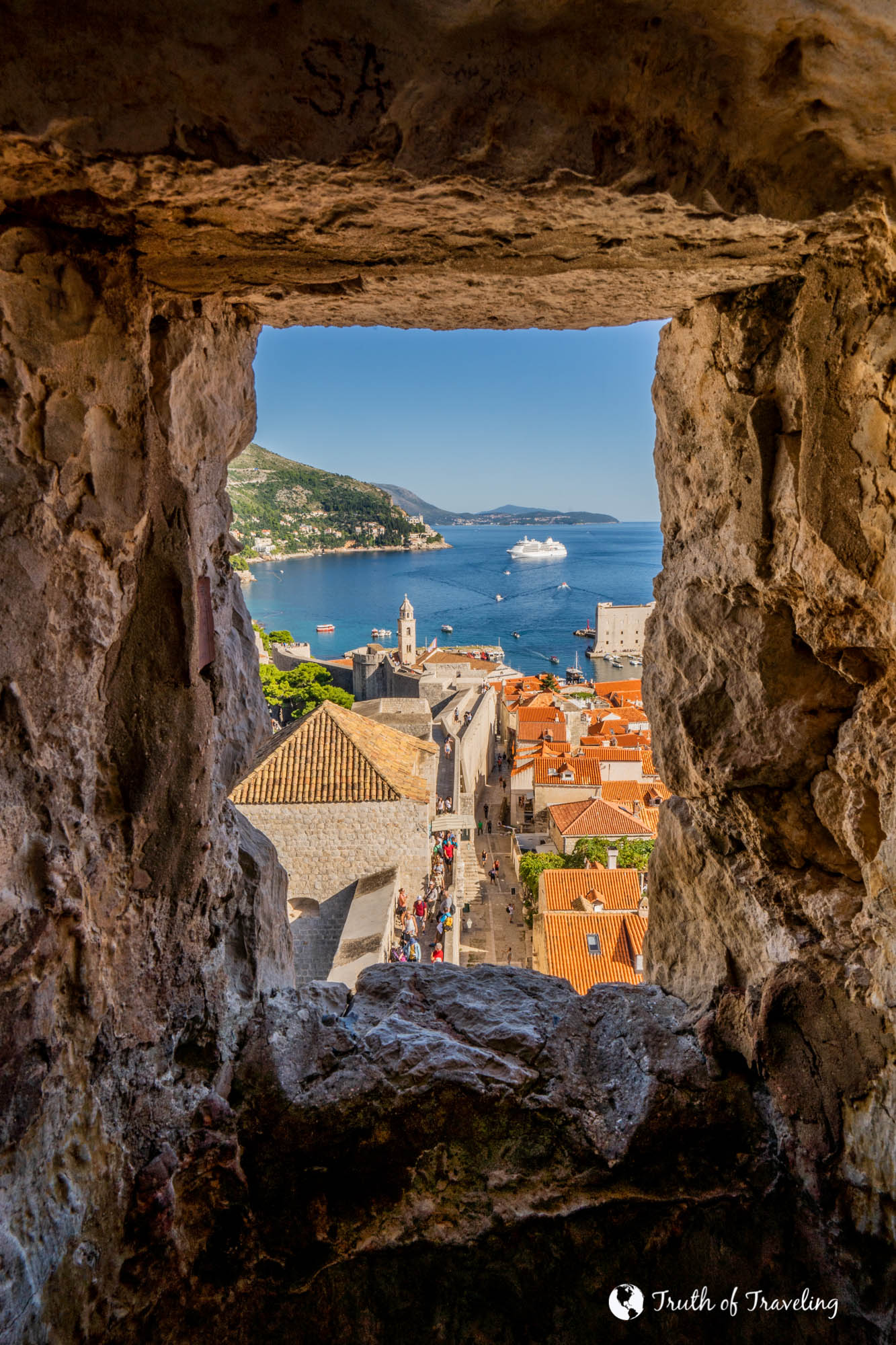 Our recommendation would be to go earlier in the morning if you're looking for the least amount of people! As well make sure to give yourself a few hours. It's absolutely beautiful the entire way and not something you want to have to rush. You can walk as quick or as slow as you want. 
Read More: Day Trip to Brac Island in Croatia
Day 3: Explore Lapad & Sunset Beach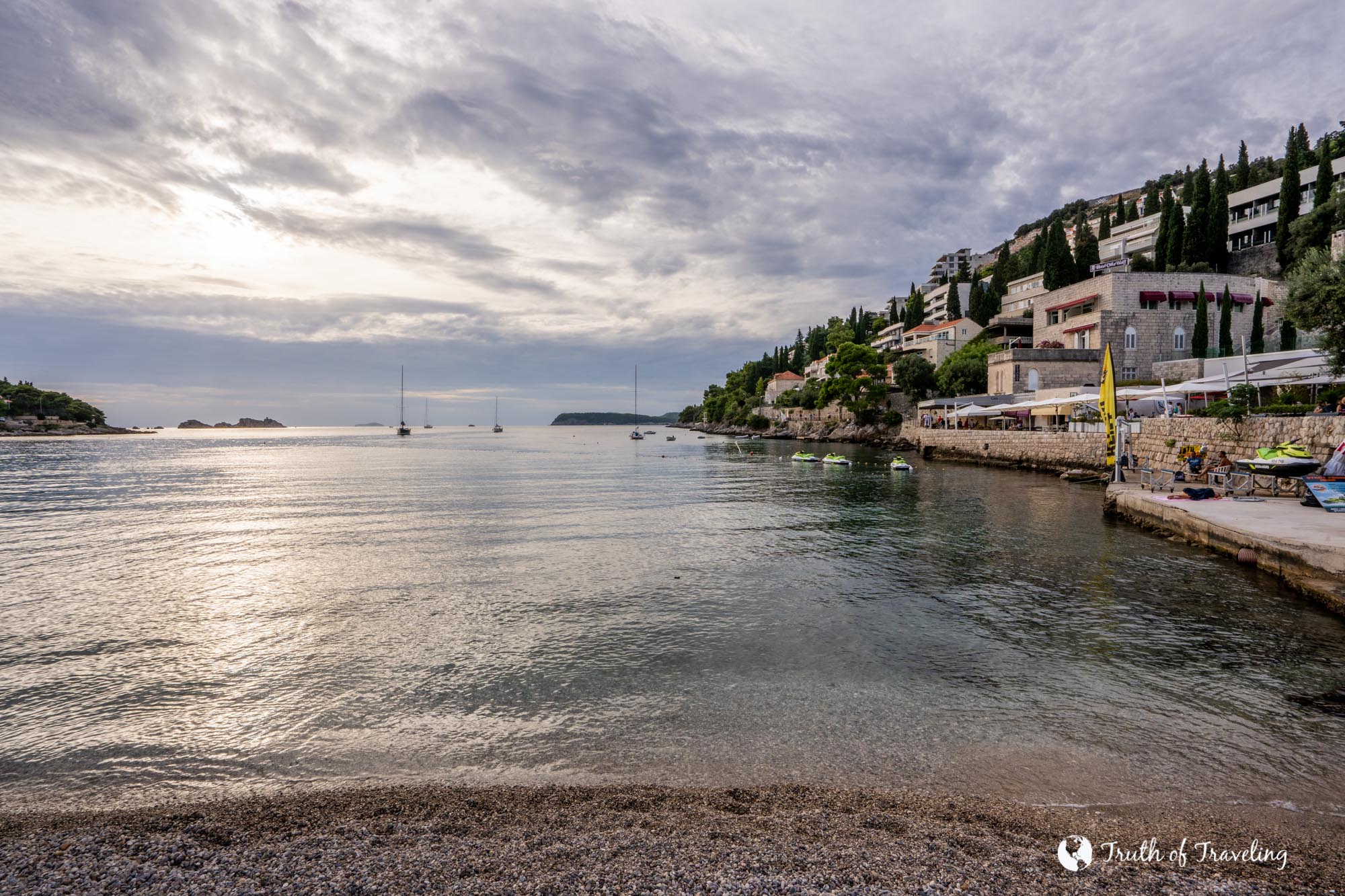 By now you've spent some time in the old town so why not explore a different area. The Lapad peninsula is west of the old town and is easily accessible from the old town via public bus. We took the bus and walked down Šetalište kralja Zvonimira which is a pedestrian only street that has a lot of restaurants and bars towards Sunset Beach.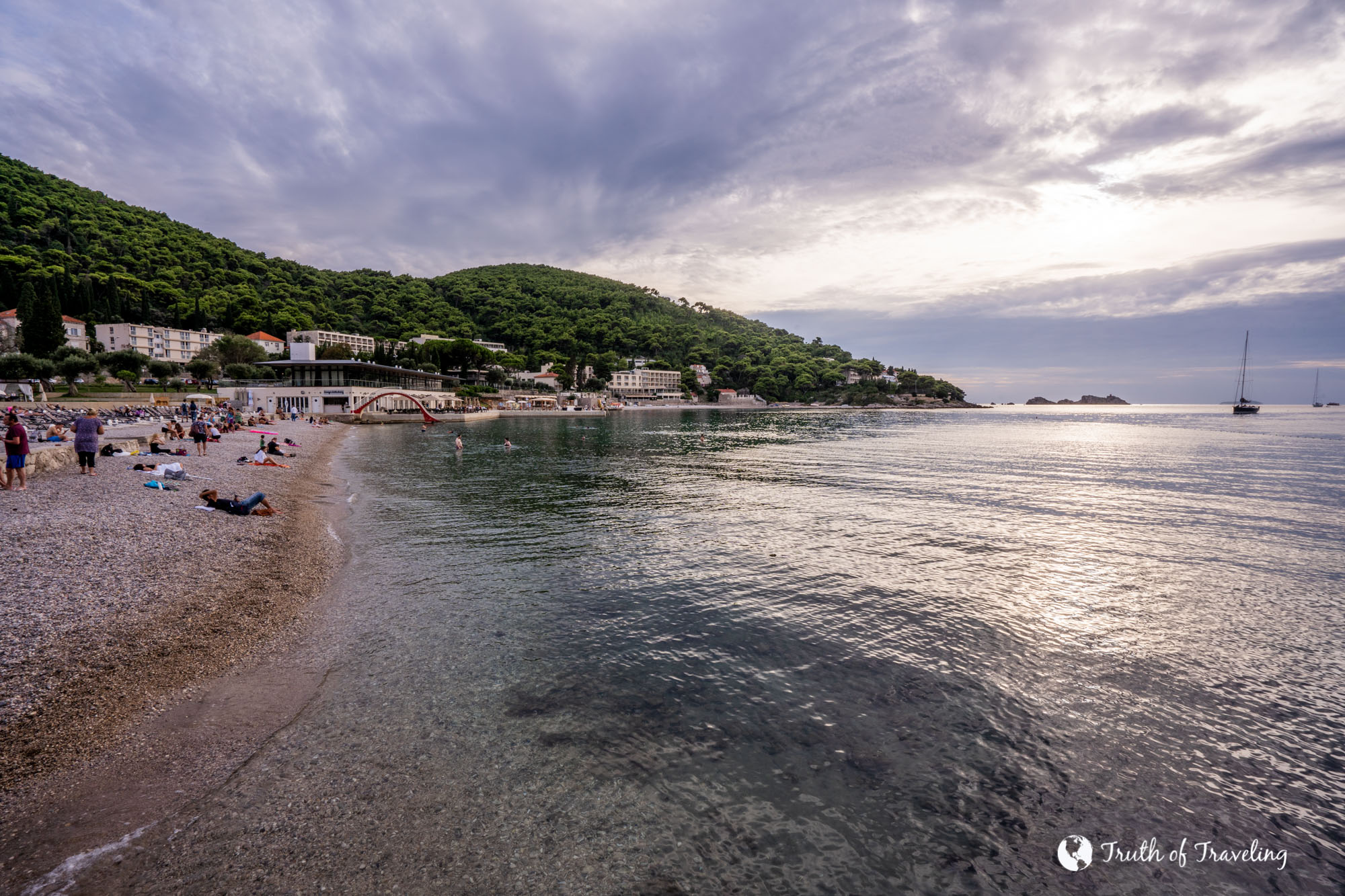 After a few minutes you should arrive to Sunset Beach. There is an area of the beach where you can rent chairs or you can throw a towel down and just lay out. With the nearby boats it's a great spot to be around sunset!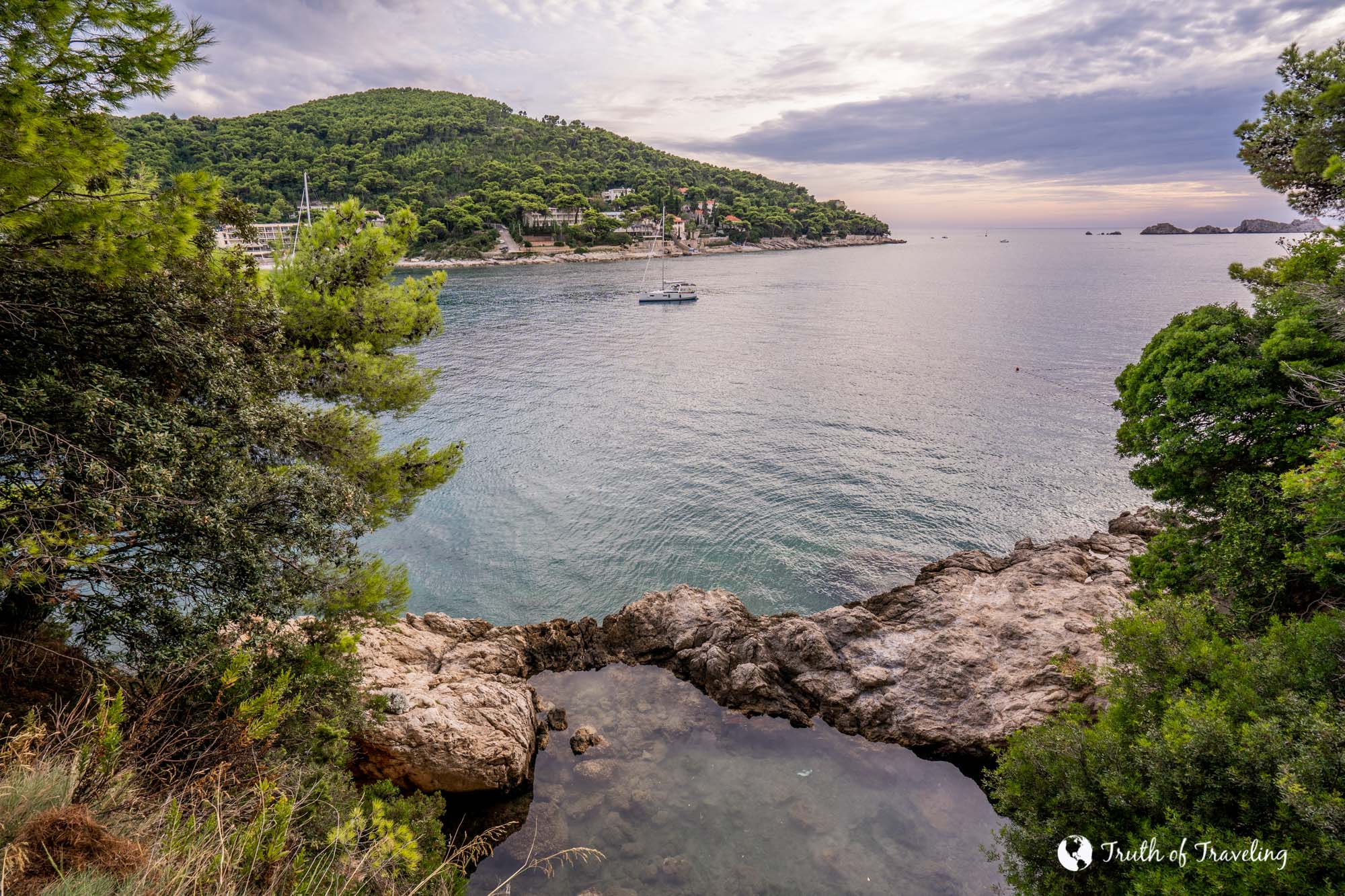 We loved the coastal walk from Sunset Beach along the coast! It reminded us a lot of the coastal walks we did in France. It's a paved pathway that lets you easily get down to the water and jump in. If you're looking for a quieter (and free) spot to swim, any of these small swimming spots would be good!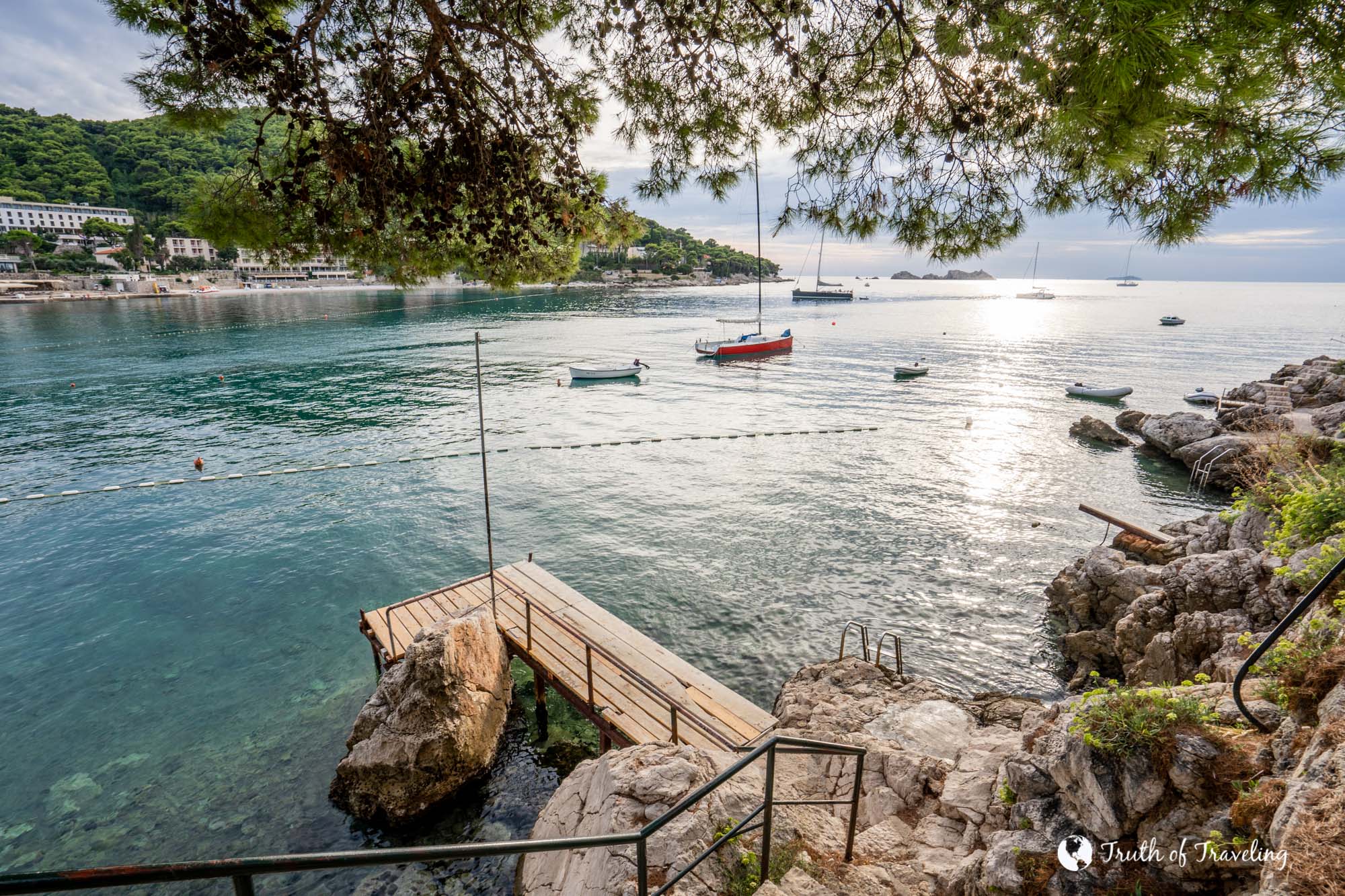 Travel Truth: We enjoyed this coastal path area much more than the street we walked in on with all the restaurants. The coastal path is beautiful and definitely worth spending some time walking on! There also were not as many people as the old town!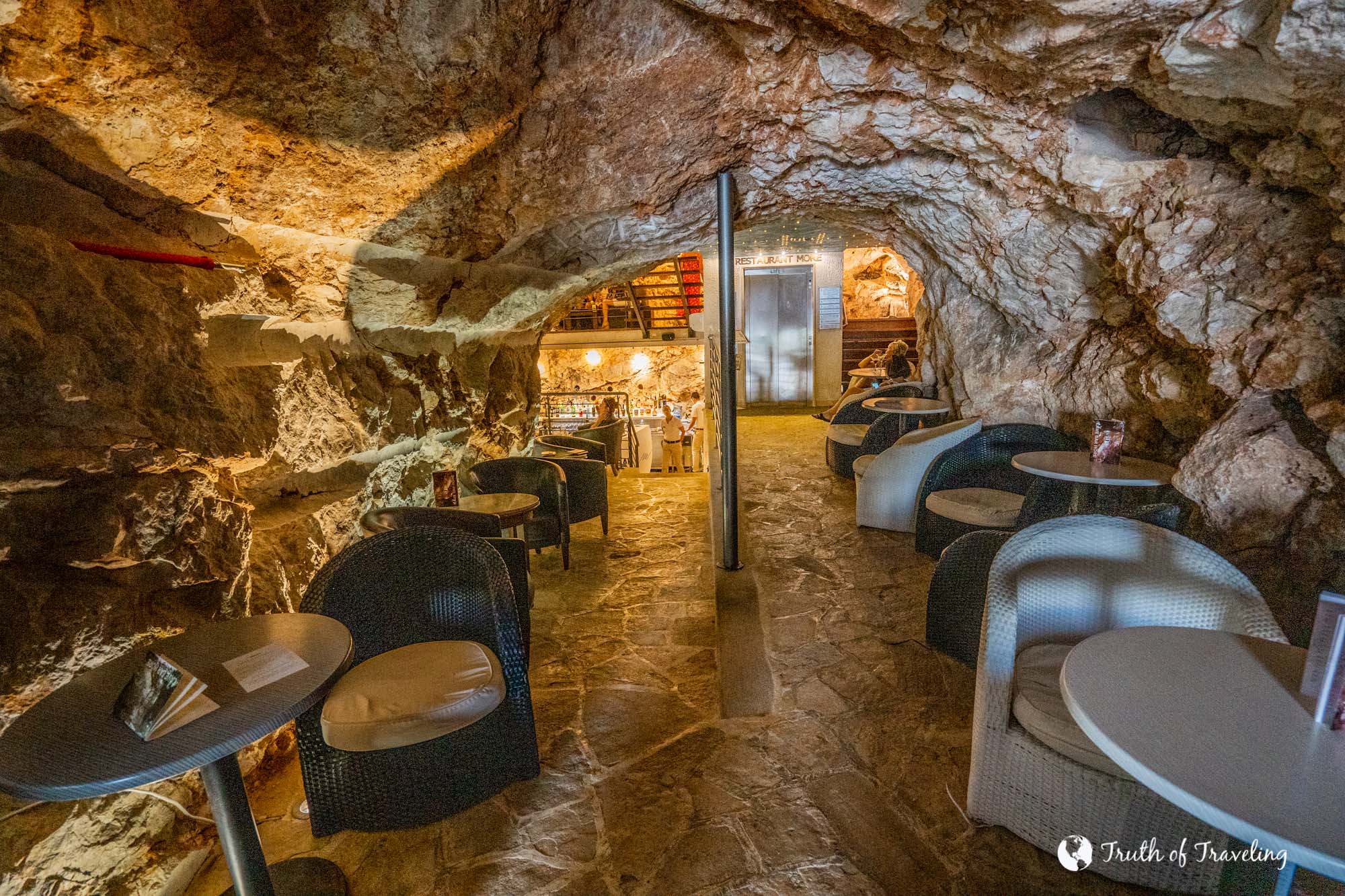 Along the coastal path is Spilja bar More which is a bar built in to the cliffs. There is an outdoor patio area along the water and a bar built inside of a cave which is really unique! The drinks are a little on the pricier side (because of the venue) but either spot is really cool! If you not looking for a drink walk back to Sunset Beach to watch the sunset!
Day 4: Visit Lovrijenac Fortress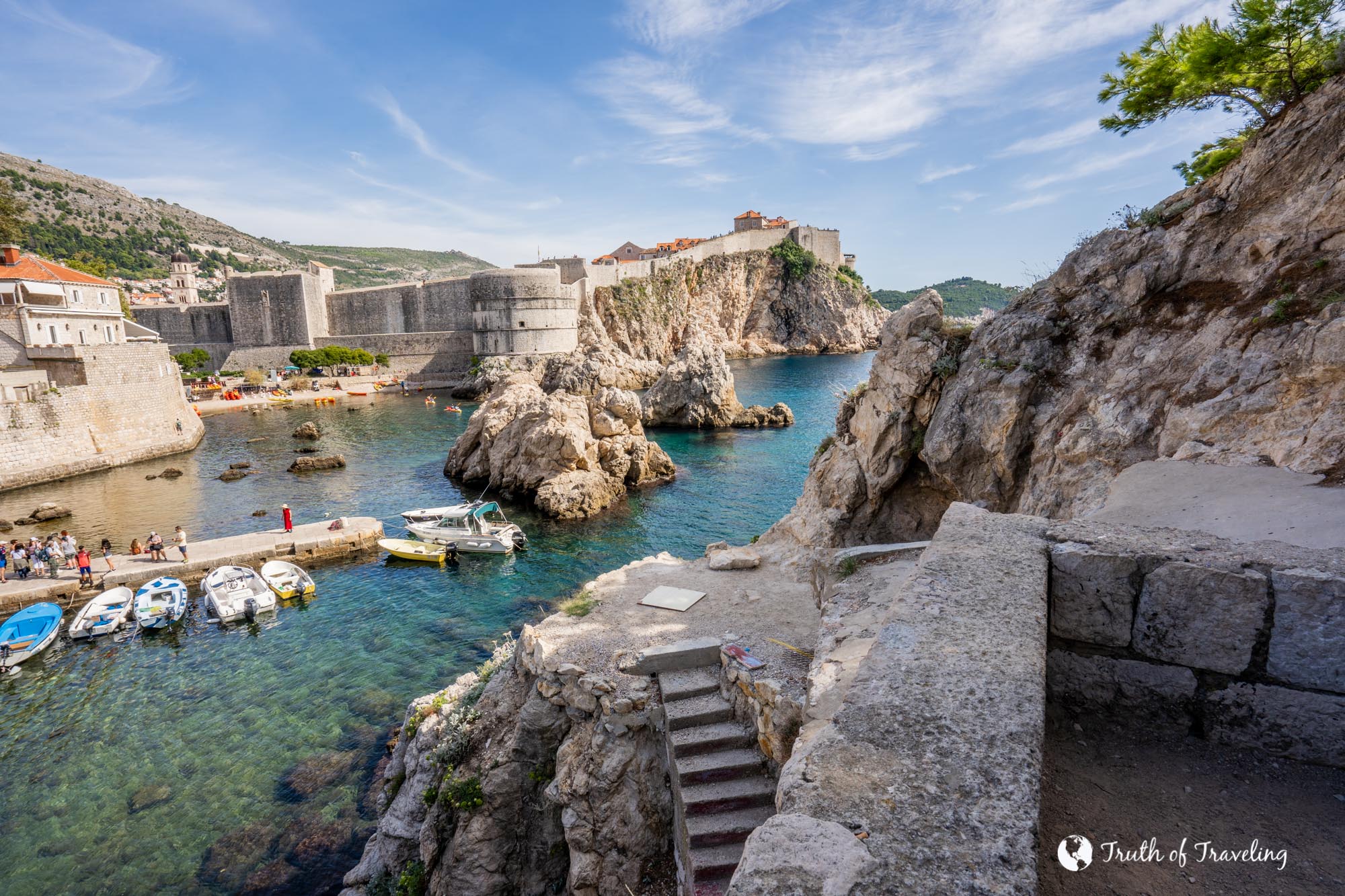 With your Dubrovnik wall ticket is also admission to Lovrijenac Fortress. So before leaving make sure to check it out! It's much smaller than the Dubrovnik wall but it gives you amazing views of the actual wall because it's located opposite looking to the old town.
Travel Truth: If you're not looking to pay the high ticket price for the Dubrovnik wall, consider buying a ticket just to the Lovrijenac Fortress. Just visiting the Lovrijenac Fortress is 50 Kuna or $8 USD which is substantially less than the $30 ticket for the Dubrovnik wall. It gives you beautiful views of the old town of Dubrovnik and the wall.
Lovrijenac Fortress was actually used in Game of Thrones as the filming location of the Red Keep so if you've seen the show you will recognize a few areas. It was really cool to walk through where some actual scenes took place.
You can easily spend an hour walking around Lovrijenac Fortress. Beware you do have to visit within 72 hours of buying your Dubrovnik wall ticket for it to still be valid so just plan accordingly!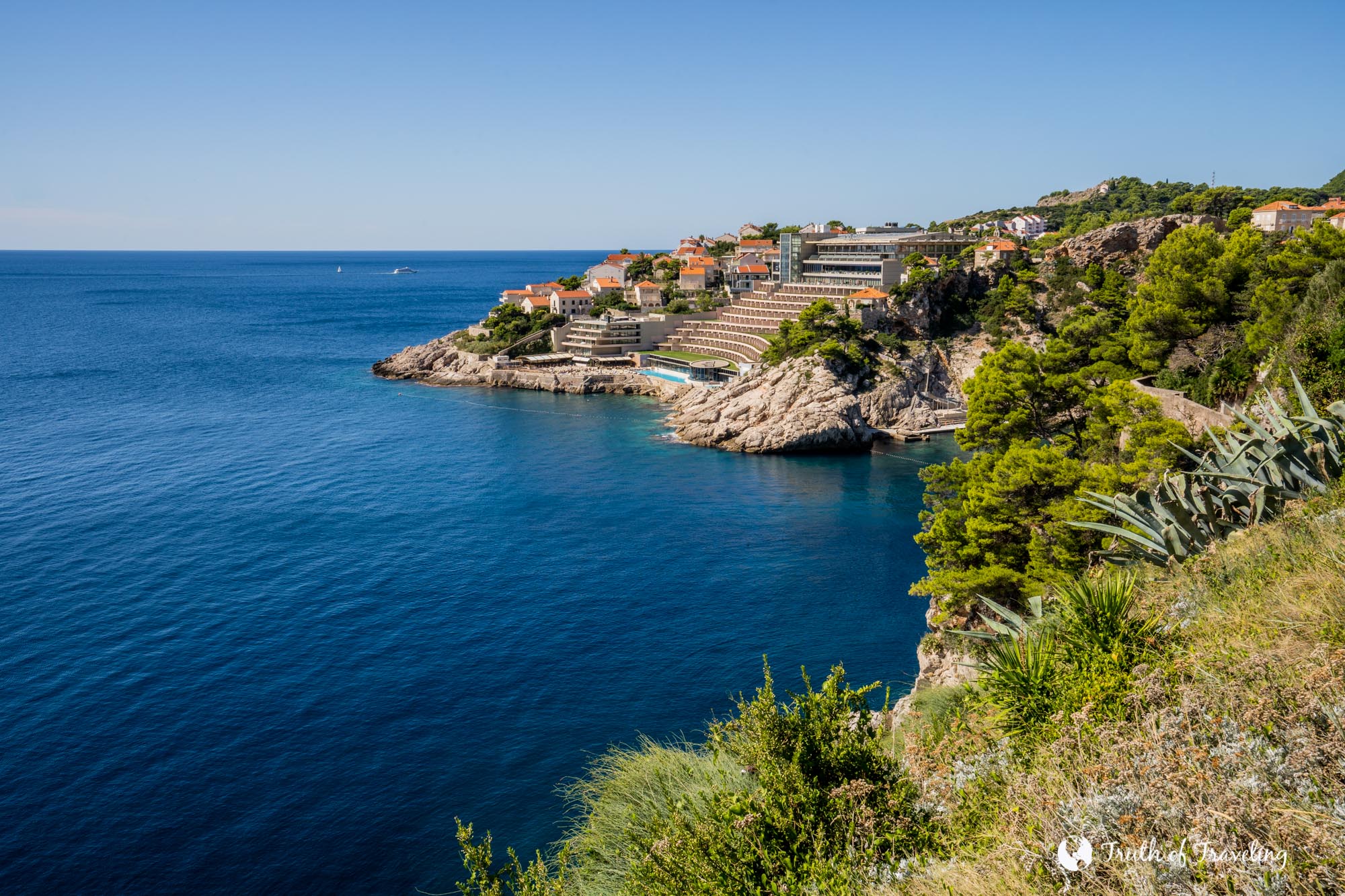 If you have extra time while in Dubrovnik the walk along the water heading towards Sunset Beach from Pile Gate is a really nice walk. There's a small hill right outside the old town but then it opens up and you get amazing views looking out over the water. Croatia still has the clearest water we have ever seen!
Interested in More Posts about Croatia? Read Here!
Pin it for later: