Brussels is the capital city of Belgium and is located in the center of this small country. We spent a few days exploring this city and had more waffles, chocolate, and french fries than ever before! In this post we go through 8 things to do in Brussels, Belgium that you can easily do with a short amount of time!
*Disclosure: This post contains Amazon affiliate links. As an Amazon Associate we earn from qualifying purchases. This means at no additional cost to you, we will earn a commission if you click through a link and make a purchase. This post may also contain other affiliate links and non-affiliate links to products and websites.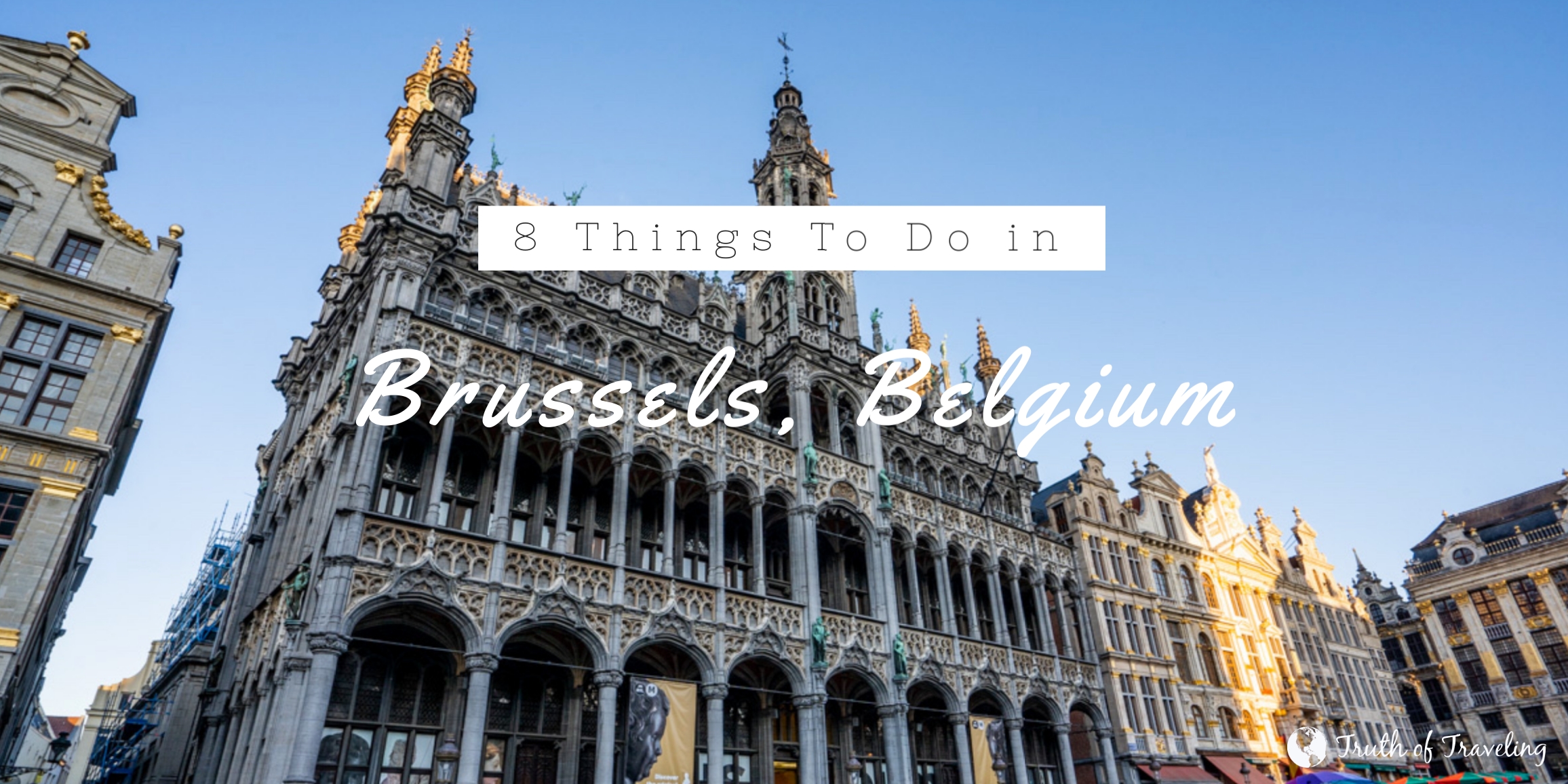 One thing we quickly noticed about Brussels was the amount of French we saw on signs and also heard being spoken. We expected to hear more Dutch as we were coming from the Netherlands but we heard much more French as we were walking around the city.
For example, you will probably see Brussels-Zuid and Bruxelles-Midi as the name of the train station. They both refer to the same station just in different languages!
Getting to Brussels
We took the train from Amsterdam to Brussels in under 2 hours. It's a direct train so it's really quick and easy. Because of it's central location it's easy to get to Brussels from other major cities within Europe. You get take the train from Paris in an hour and a half and London in under 3 hours.
Make sure to check out all the different Eurail Passes if you're traveling by train through Europe. We used ours for 3 months and loved the flexibility and ease it gave us to get around!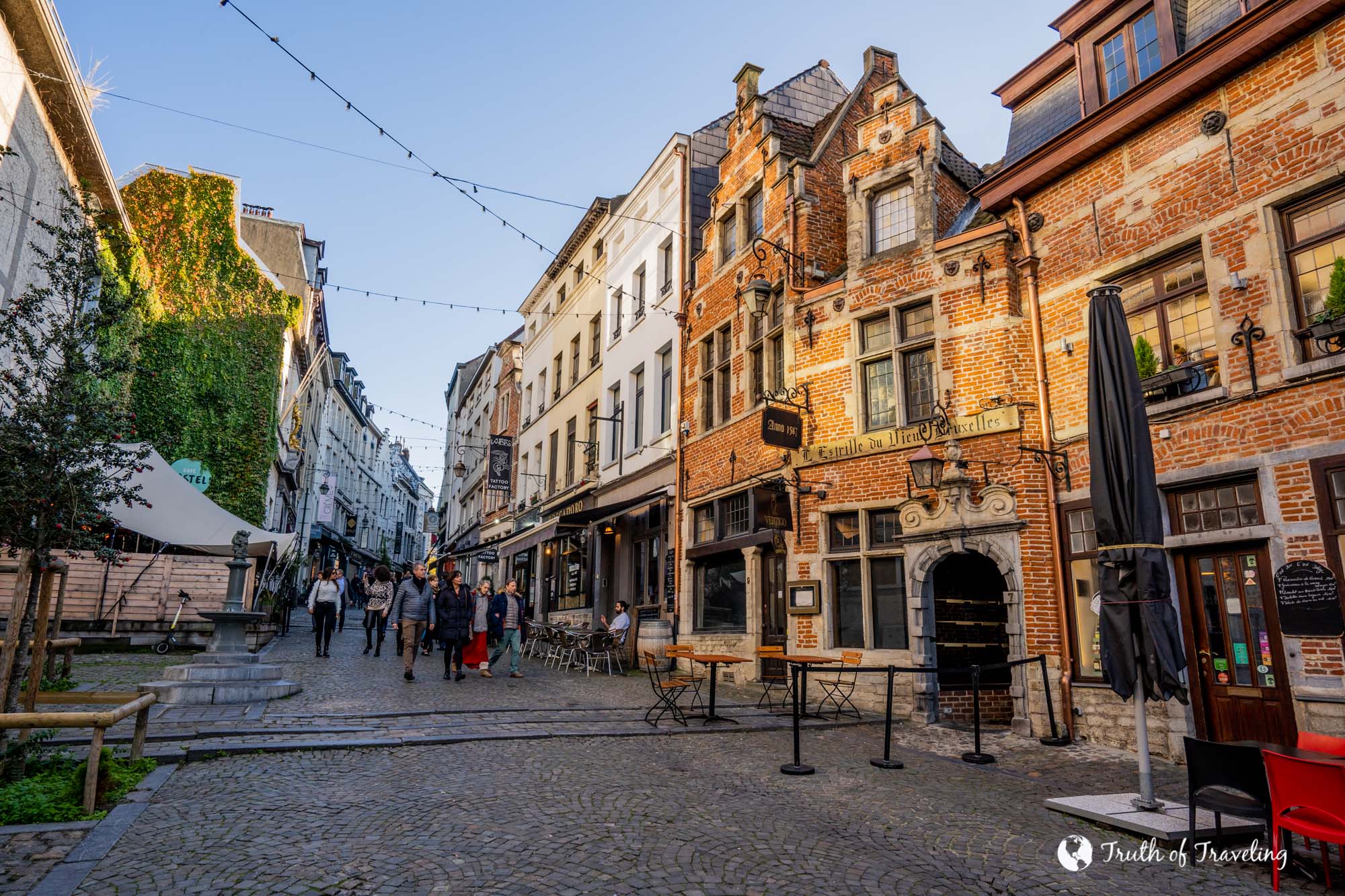 If you're coming by plane you will most likely fly into Brussels Airport. You can get to the center of Brussels by taking the train from the airport in about 25 minutes. 
Where to Stay in Brussels
We stayed in the Saint-Gilles neighborhood of Brussels. It's in the southern part of the city near Porte de Halle. It's considered one of the trendier neighborhoods in the city and we really liked the overall feel. There was a large market on Sunday and lots of restaurants and cafes to enjoy.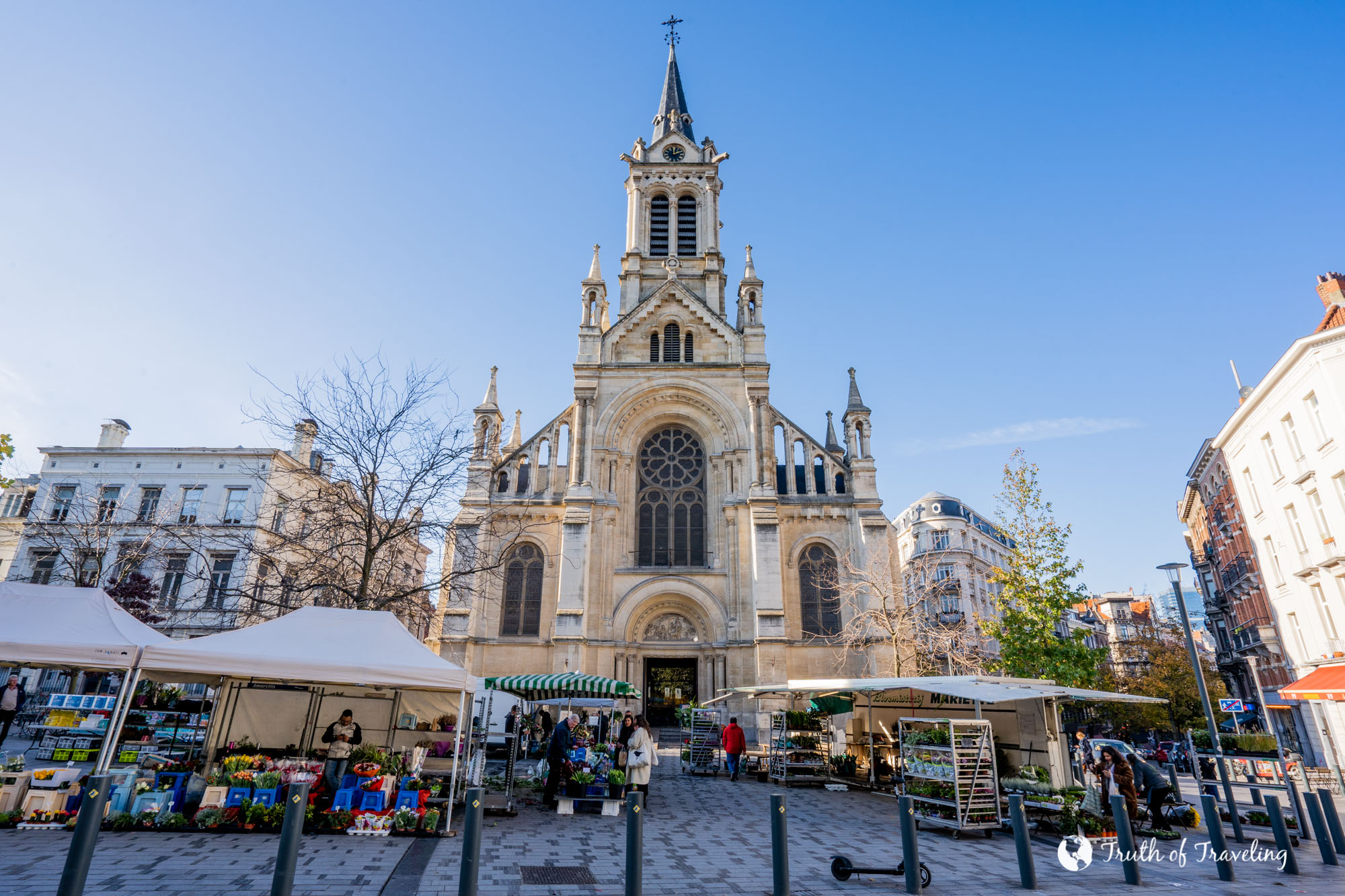 It's far enough away from all the tourist sites so it's quiet and relaxing but close enough to walk everywhere. We leisurely walked to the center of the city and it was a really nice walk. We passed so many pretty pedestrian only streets filled with people eating and drinking. 
1. Eat a Belgium Waffle
You can't come to Belgium and not eat a Belgium waffle! They are fluffy and delicious and so worth trying at least a few times during your trip. You can find them pretty much everywhere throughout the city center.
We loved how there is a such a street food culture in Brussels. Most of the waffle places (as well as French fry places) are take-away style stands. You will see people all over walking around with waffles, French fries and all kinds of snacks.
We got our first waffle from a yellow waffle truck that said Gaufres Chaudes on it. It was parked at these GPS coordinates 50°50'44.2″N 4°21'20.2″E. The waffles cost 2 Euros each or $2 USD. They were so delicious! I'm not sure if it's because it was our first one but it was definitely my favorite!
We also got waffles from Los Churros & Waffle which were also good. The location we went to was a little disorganized and it took a while to get them. But they were running a deal for a plain waffle and a coffee or hot chocolate for 2 Euros which was worth waiting for!
Read More: Guide to Visiting Amsterdam
2. Walk through the Grand Place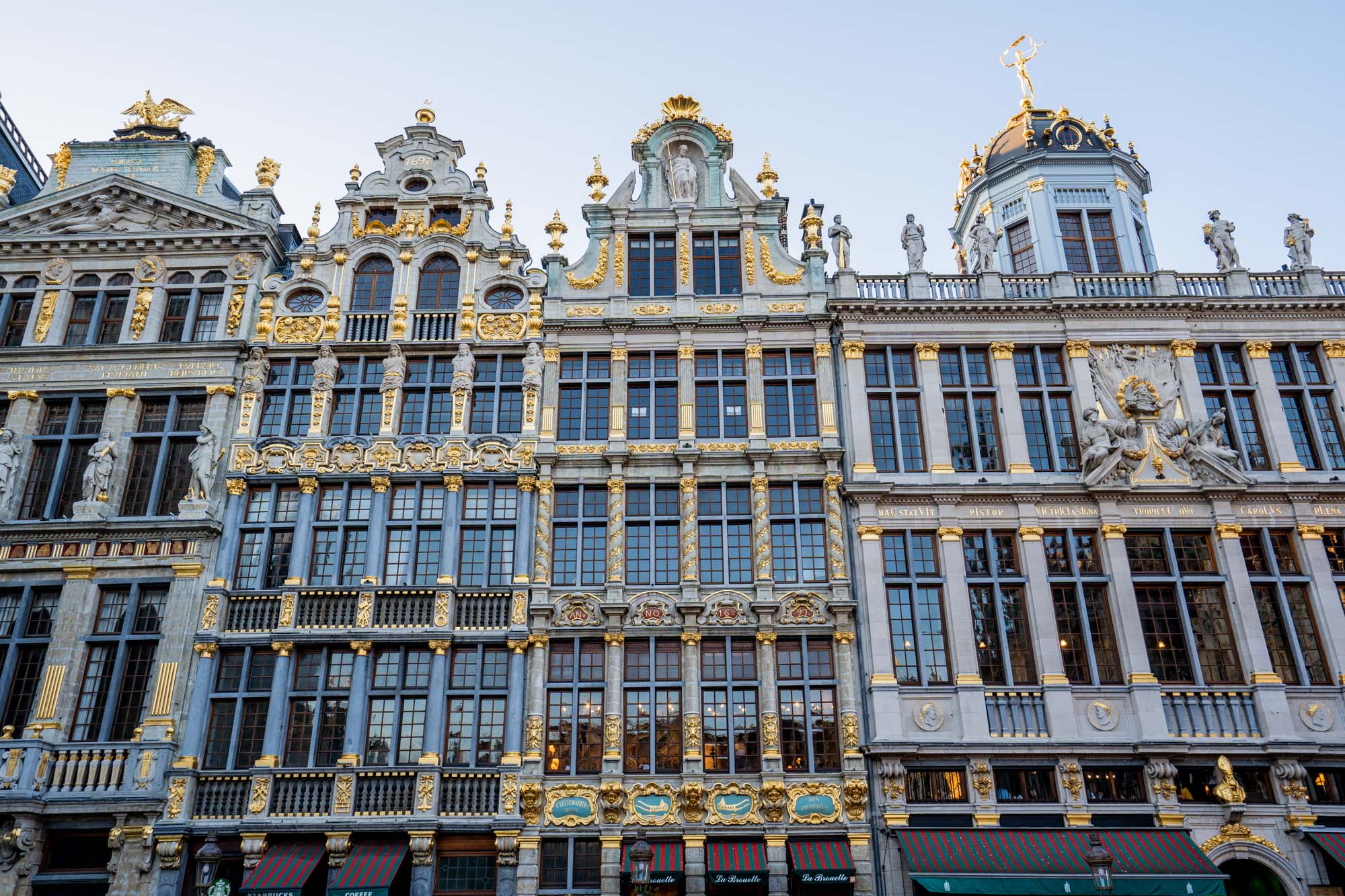 The Grand Place is the central square in Brussels. Impressive buildings such as City Hall surround this UNESCO World Heritage site.
It's a beautiful area with incredibly detailed buildings but beware it does get very crowded! If you're looking to take pictures here without groups and groups of people you definitely need to get there early in the morning.
3. Look at the ceilings in the Galeries Royales Saint-Hubert
Galeries Royales Saint-Hubert is a large building with high end stores inside. The building itself is impressive with high, detailed ceilings. Just like the Grand Place it can get really crowded inside so it's worth poking your head in to look at the ceilings before moving on. Otherwise it's best to be there first thing in the morning before the stores open and people start coming in.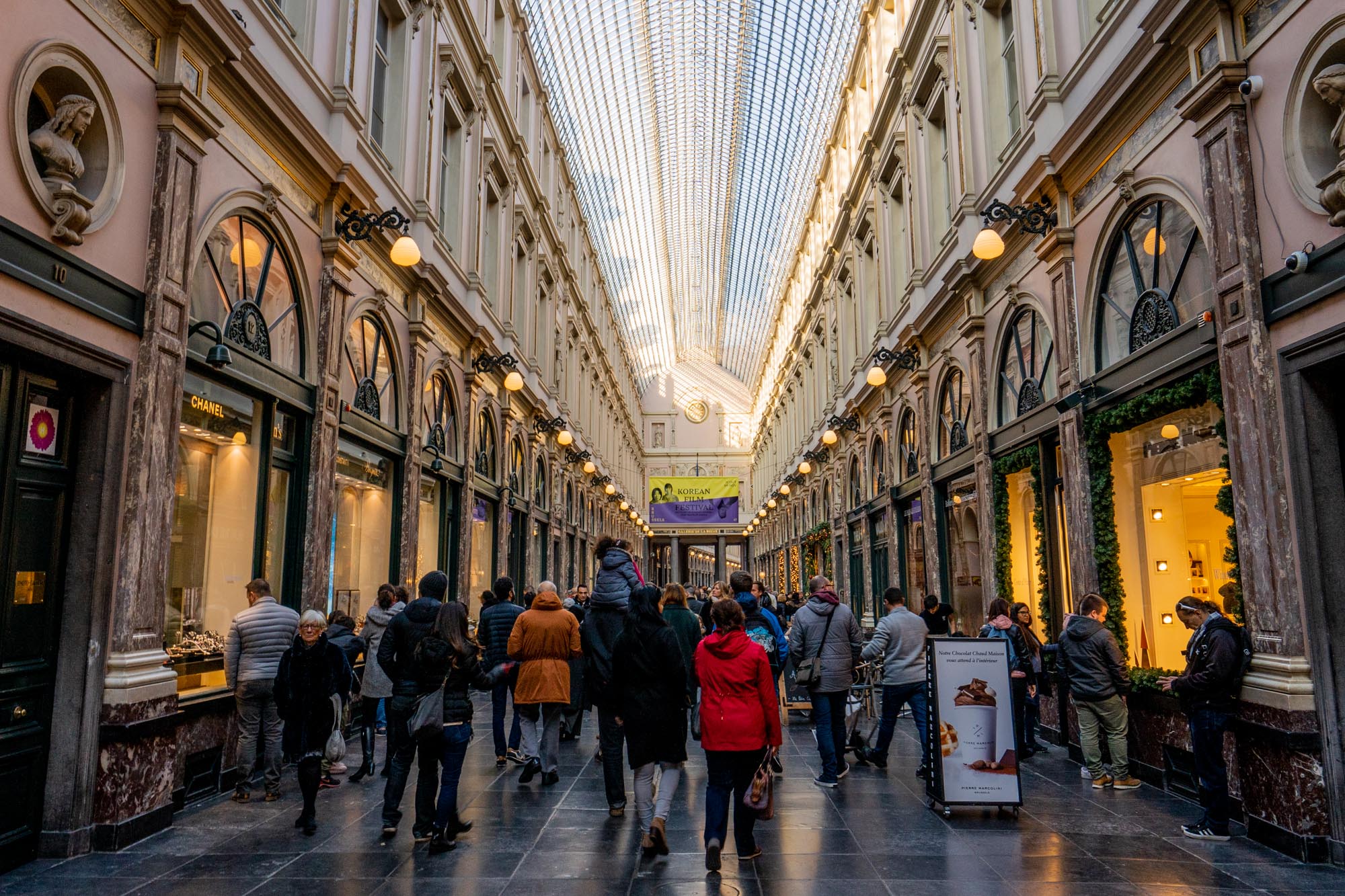 Travel Truth: There is a Los Churros & Waffle location right across the street from the Galeries Royales Saint-Hubert. You could easily enjoy your waffle inside while escaping the rain or even trying to get some shade on a really hot day.
Read More: Travel Guide to Paris, France
4. Sit and relax in the park at the Porte de Halle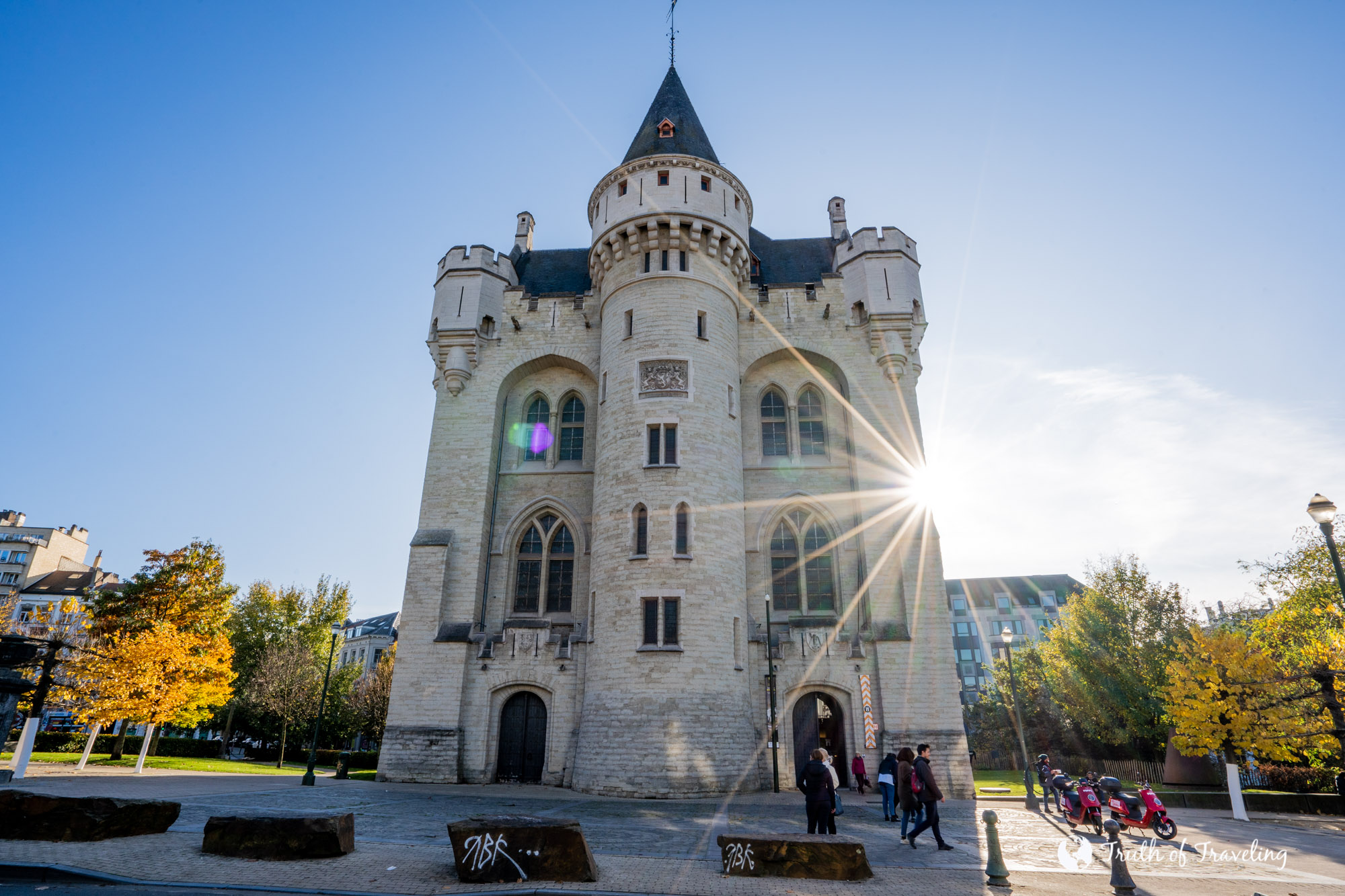 We stayed right near Porte de Halle (or Halle Gate) so we sat in the park around it for a little before walking into the city center. The Halle Gate is a gate that stood as part of the wall built to protect the city of Brussels. The Halle Gate dates back all the way to the 14th century. It's located in the Saint-Gilles neighborhood so it's easy to do while exploring this really cool area of the city!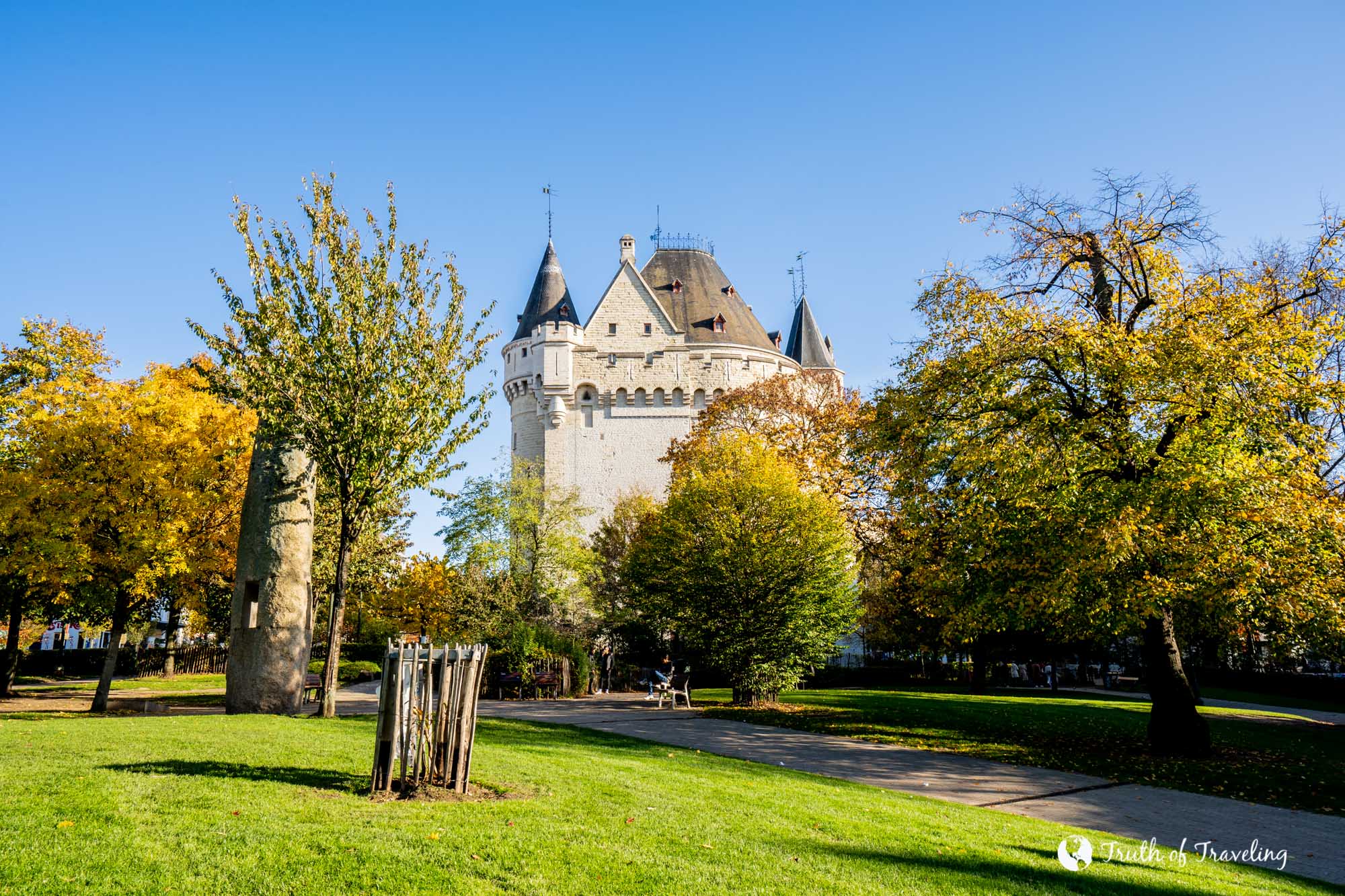 You can go inside and tour Halle Gate where you can learn about the history of the city and go up to the top to get views looking out over Brussels. An adult ticket costs 7 Euros or $7 USD.
5. Go to the Royal Palace of Brussels
The Royal Palace of Brussels is one of the top things to do in the city. It's located near the city center so it's easy to do along with everything on this list in a day or two. The Palace is not used for residence anymore but as the Kings main place of work.
The Royal Palace of Brussels is open to the public during the summer from July through September. Of course you can always see it from the outside while exploring the rest of the city!
Read More: 8 Things to do in Prague
6. Walk through the Mont des Arts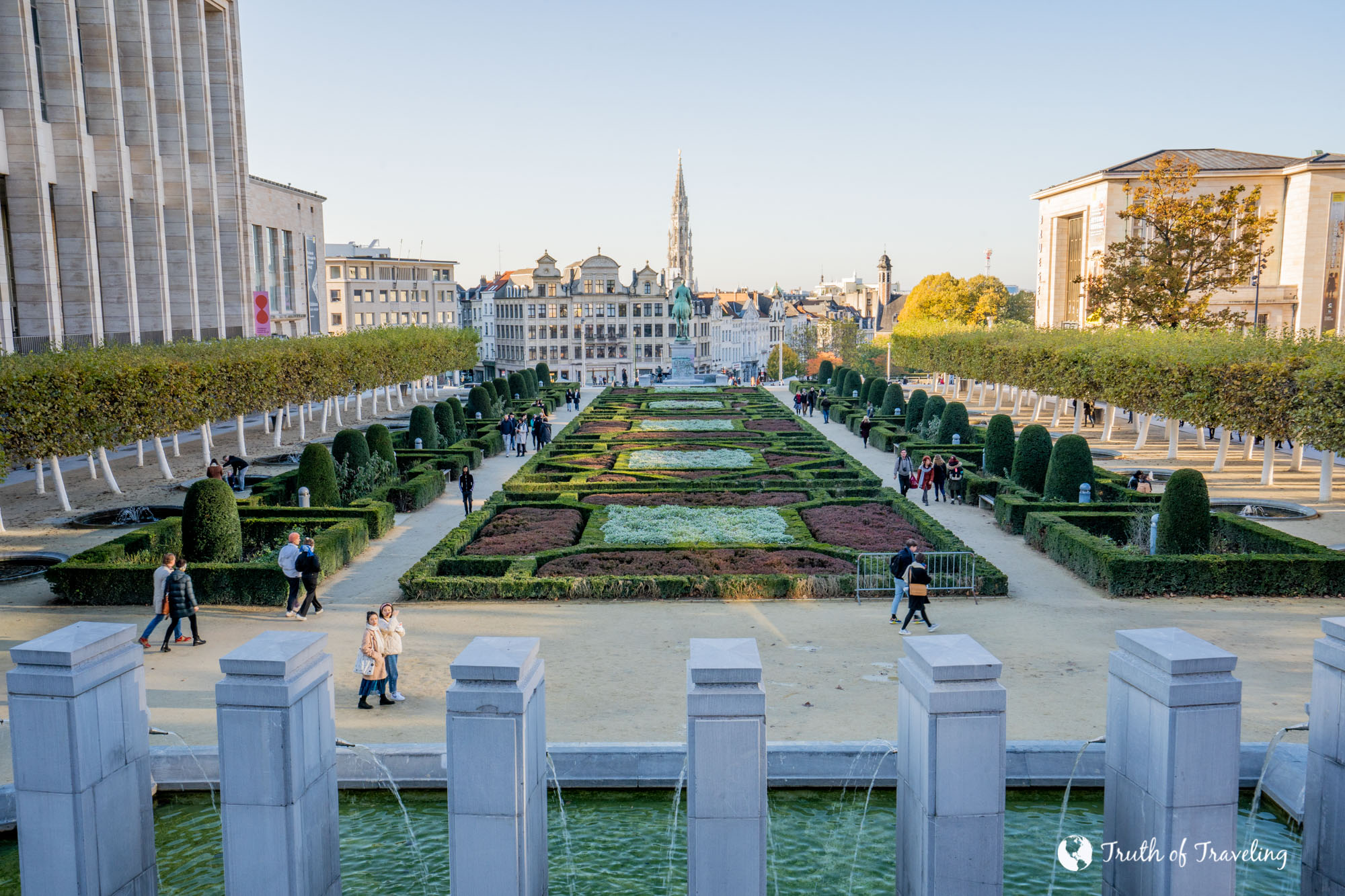 Mont des Arts features a large park area with well maintained gardens and a viewpoint at the top looking over. Surrounding the park you will find important buildings such as the Royal Library of Belgium. While visiting there was an amazing violinist playing music that was so nice to stop and listen to for a few minutes.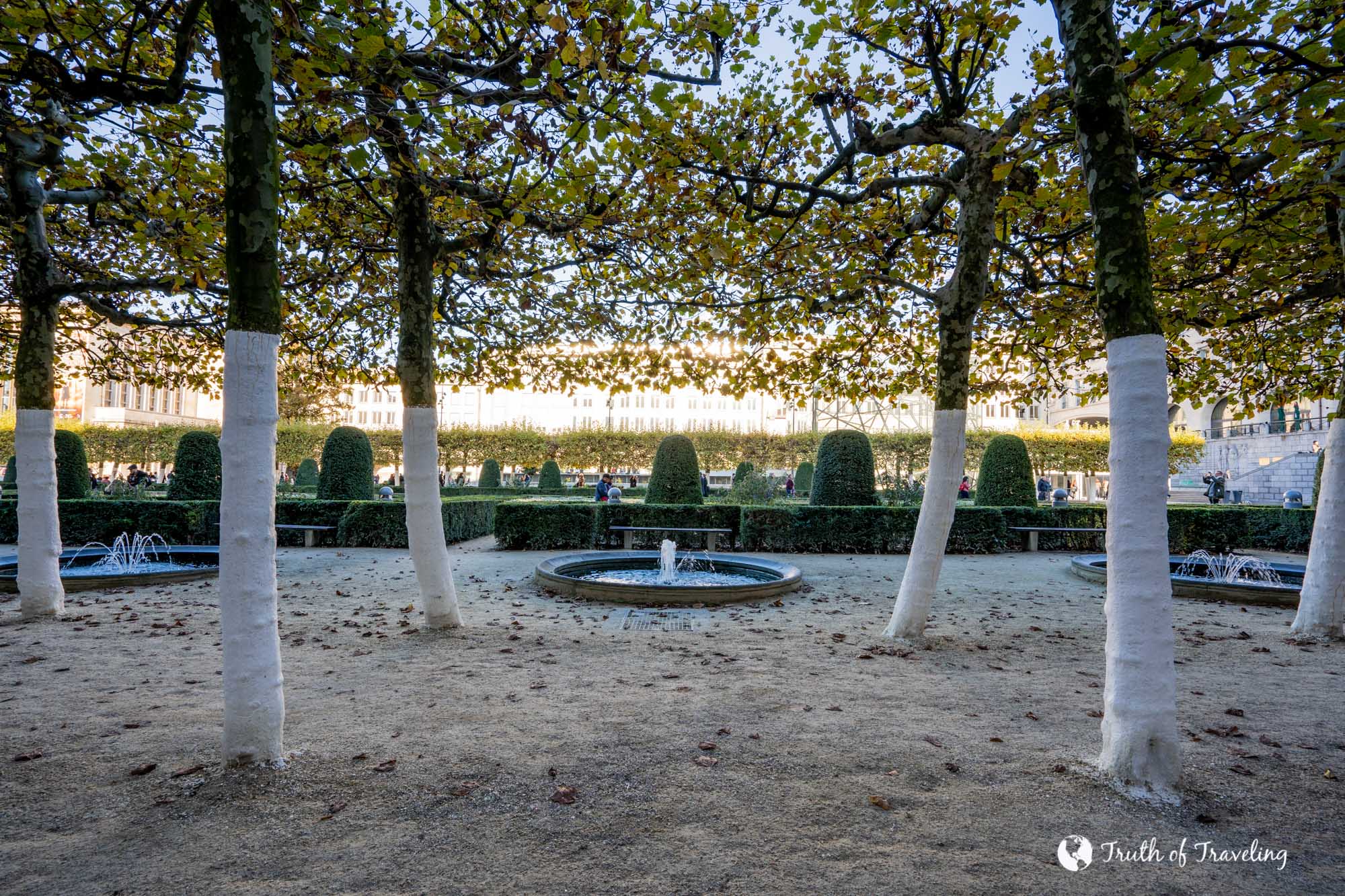 If you're looking for a nice green area to walk around this is such a good option! You also can get some cool pictures from the top looking out over the gardens.
We always bring our daypack with us for times like that! We threw some snacks and water bottle in so we could take our time and enjoy the area.
7. Try French fries with a dipping sauce
Just like a Belgium waffle, you have to try French fries with a dipping sauce while you're in Brussels. You will see so many people walking by eating them so even if you're not usually a fry person you'll be easily swayed to give them a try.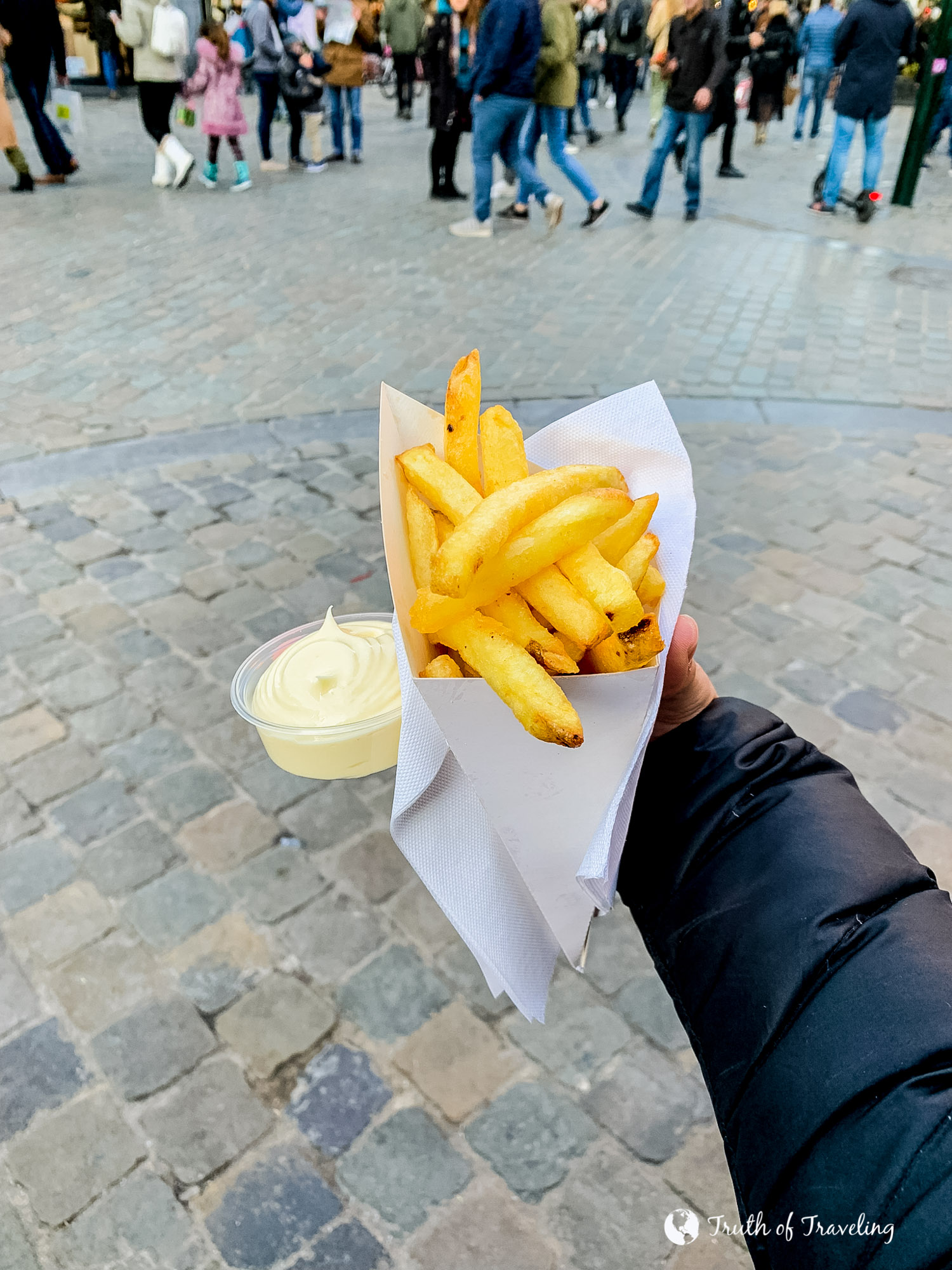 If you asked us a few months ago about our preferred dipping sauce for French fries we both would have 100% said ketchup. But I think we're both fully obsessed with French fries and mayonnaise after spending 3 months in Europe. It's so delicious and even if you're not fully convinced I promise give it a try!
But don't worry at Friterie Tabora in Brussels you have your choice of any kind of dipping sauce you could imagine. Some people argue they are the best fries in Brussels. They're crispy and thick and delicious. Just like in Amsterdam you buy the French fries and then pay additionally for the dipping sauce.
Read More: Where to Stay in Paris, France
8. Walk through the Saint-Gilles neighborhood
We stayed in the Saint-Gilles neighborhood and can't recommend it enough! It was really charming and quiet. There were people out enjoying the park near our Airbnb and eating in all the restaurants we walked past. You can have your pick of places to grab a Belgium beer or sit down and enjoy a nice meal.
It felt really authentic and not just an area where it's primarily tourists staying. We really like staying in neighborhoods where you get a feel for what it's like to live in that area.
Interested in More Posts About Belgium? Read Here!
Pin it for later: