Switzerland is a beautiful country with impressive mountains and gorgeous views everywhere you look. We spent 7 days exploring different areas in this amazing country and couldn't believe what we saw! Here is our 7 day Switzerland itinerary including transportation and everything we were able to do in only a week!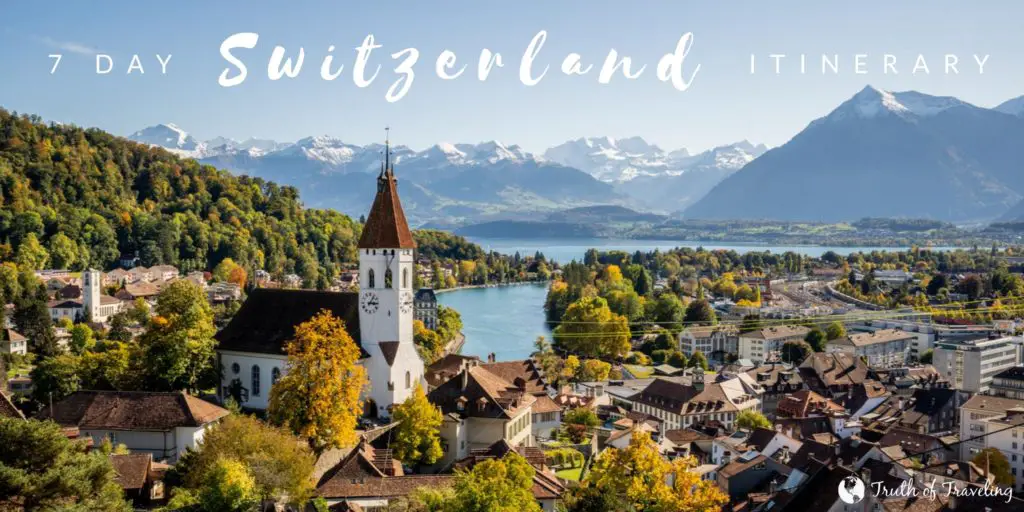 *Disclosure: This post contains Amazon affiliate links. As an Amazon Associate we earn from qualifying purchases. This means at no additional cost to you, we will earn a commission if you click through a link and make a purchase. This post may also contain other affiliate links and non-affiliate links to products and websites.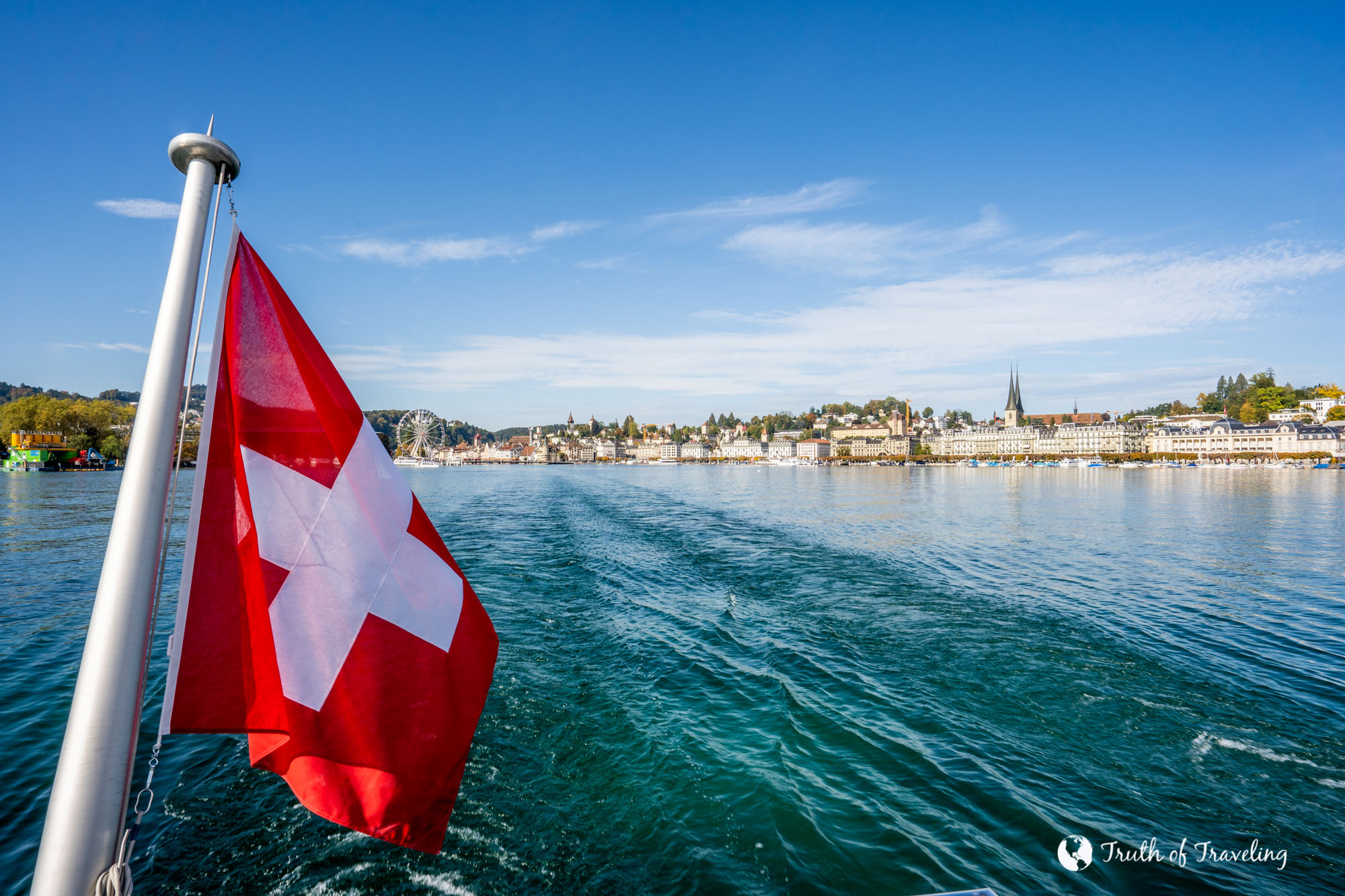 Switzerland is known for its beauty but also for being one of the most expensive cities in Europe. It doesn't use the Euro like many other European countries but instead uses the Swiss Franc. We found prices of everything to be higher including grocery items, restaurant menu items and entrance ticket prices. So while it's not impossible if you're traveling on a budget, Switzerland might make you get a little more creative with your money!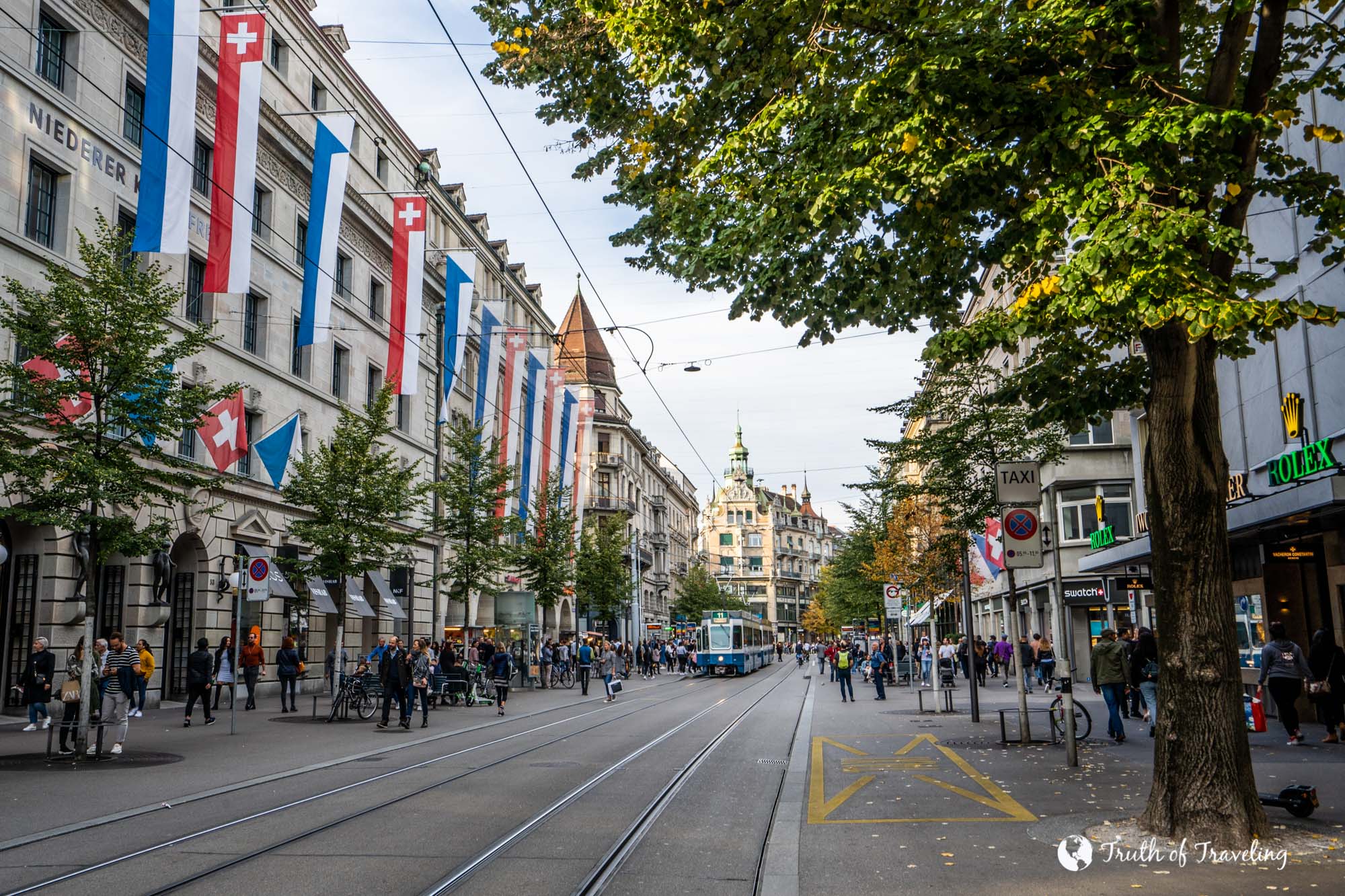 This itinerary is of course not the only way to spend a week in Switzerland but it's a really good way to see a lot of different places in a short amount of time. If you have more or less days you can adapt it as necessary. If we had more time (and a bigger budget) we strongly considered continuing further south to Zermatt. It's a beautiful area with the famous Matterhorn mountain but accommodation costs can be pretty steep.
Day 1 -2 : Zurich
If you're flying into Switzerland then you will likely come into Zurich Airport. The airport is about 10 kms from the Zurich old town area. You can take the train from the airport to the Zurich main train station in about 10 minutes so you don't need to worry about renting a car or catching a taxi. The trains in Switzerland are very clean, modern, and always seem to run on time.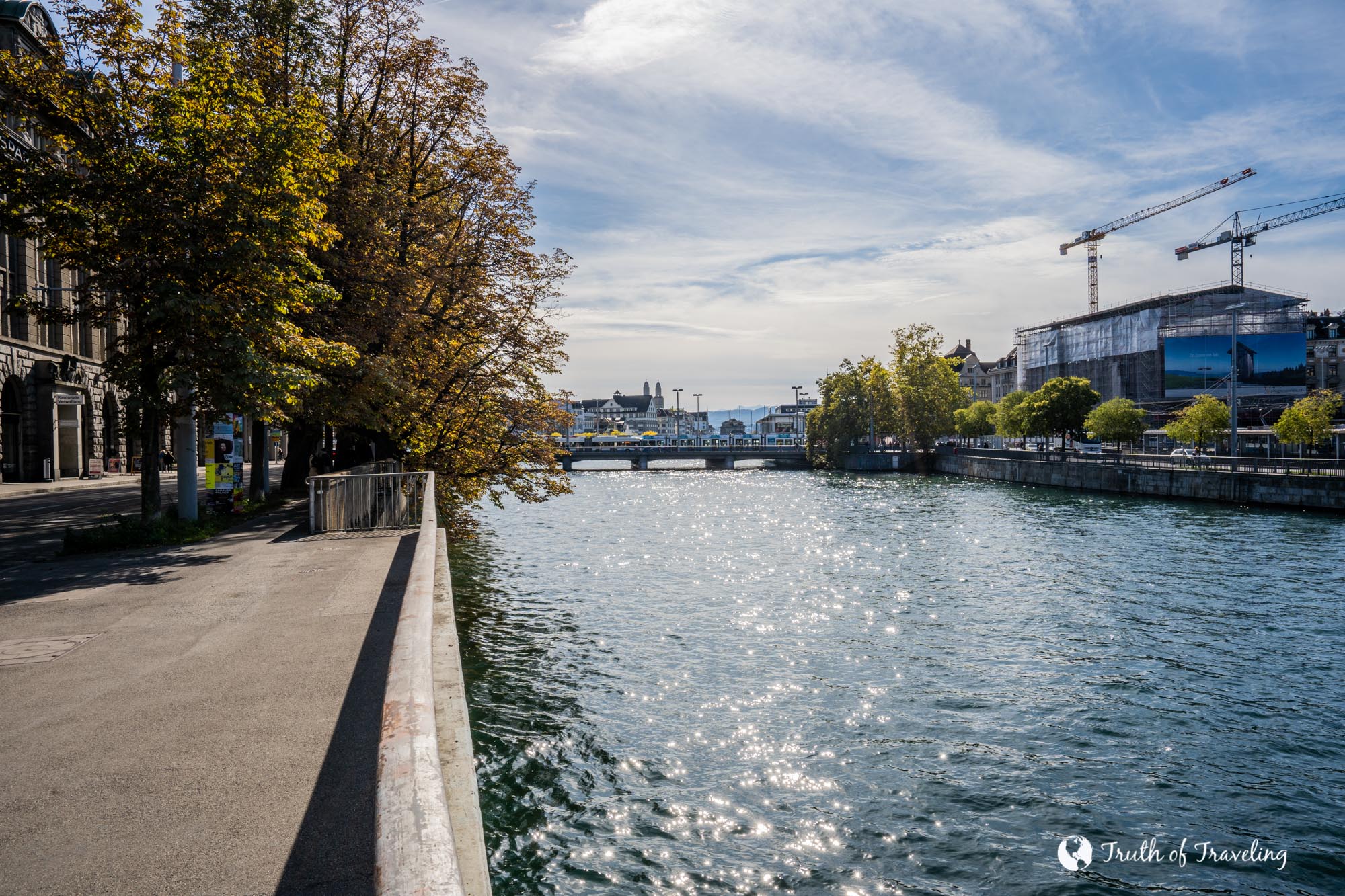 We took the train from Munich, Germany to Zurich in about 5 hours using our Eurail Global Pass. It's easy to navigate using the free Rail Planner App where you can look up the timetables of trains all throughout Europe.
With a week to see as much of Switzerland as we could, we only had a short time in Zurich before leaving to get out to the Alps. We saw as much as we could of this colorful city before taking the train to Lucerne and then Interlaken.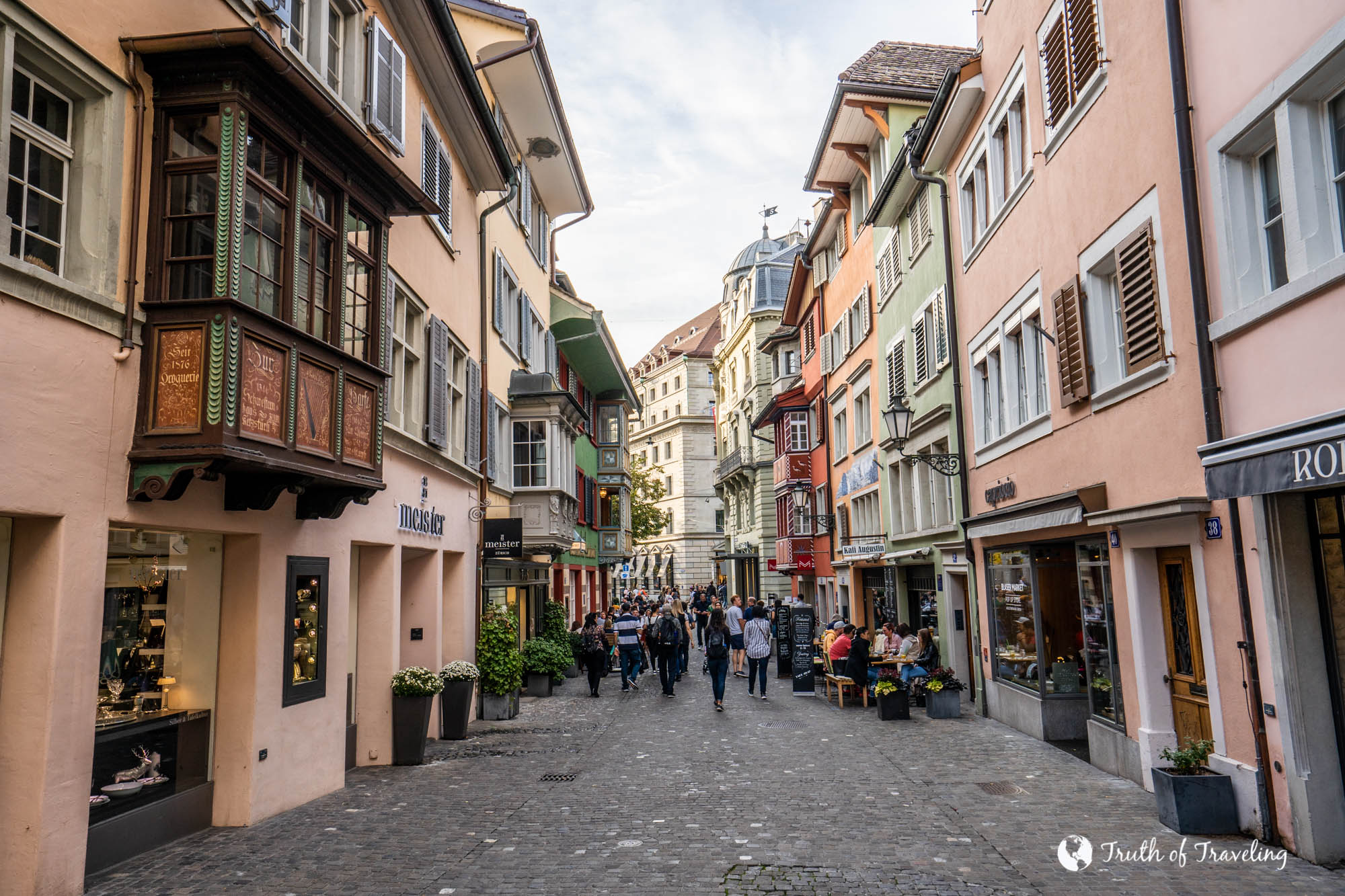 We had dinner at a really delicious Italian restaurant called Cucina our first night. It was close to our Airbnb and the pasta and pizzas were really good! We also tried Johanniter and all enjoyed the schnitzel and beers although the area is a little busier!
What To Do in Zurich
Wander around Zurich Lake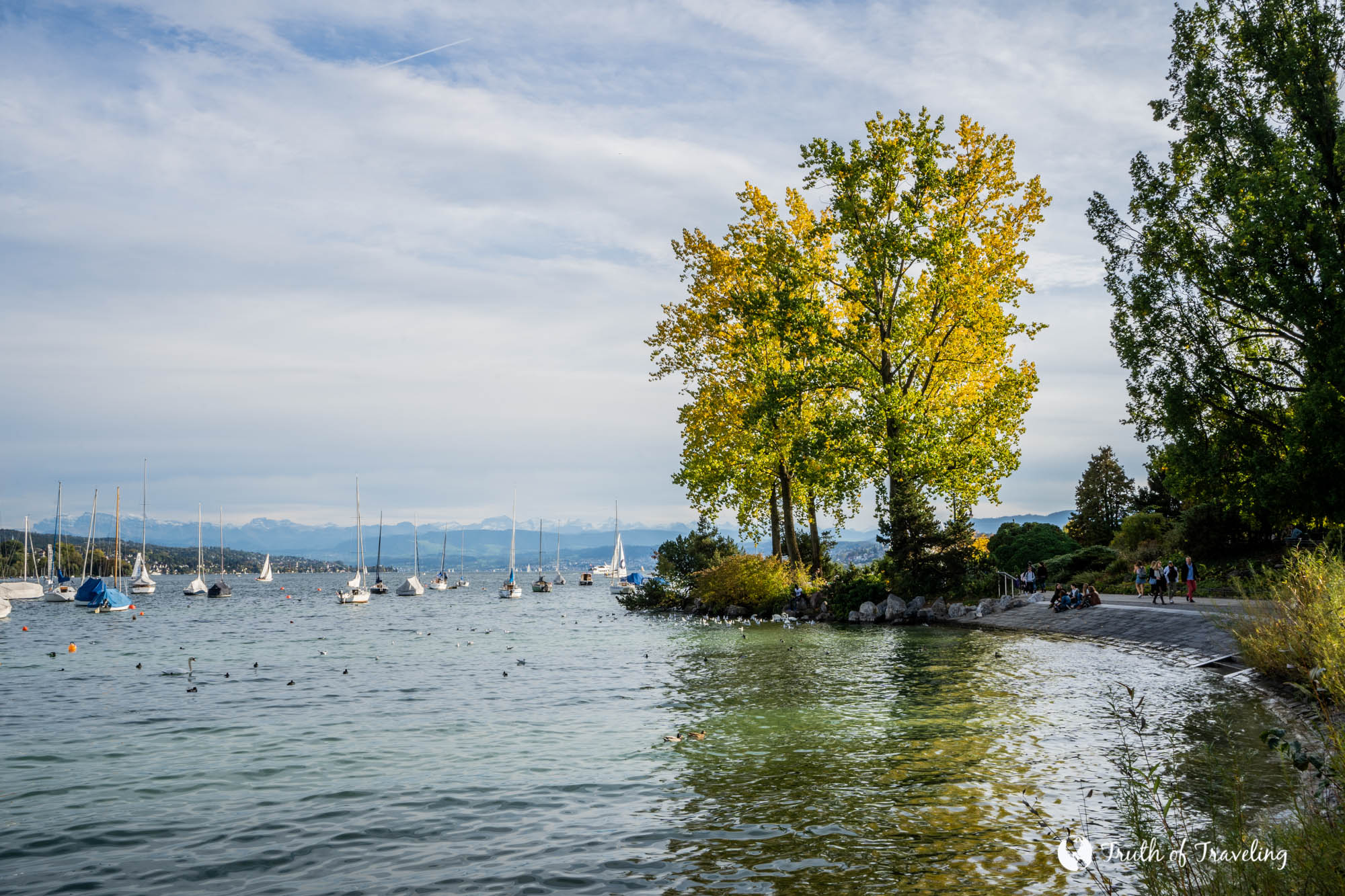 The city of Zurich sits on the northwestern edge of Zurich Lake. It's proximity to the city makes it really easy to enjoy. We easily walked over to the lake and spent time seeing all the boats. You can walk around the lake on a nice path while enjoying views of the mountains in the distance.
You can take a boat ride in the lake to get a different perspective or we saw Enge Swimming Area Bar where you can sit out on a deck and swim in a contained swimming area. Even in the cooler weather you are bound to see people walking and enjoying the lake.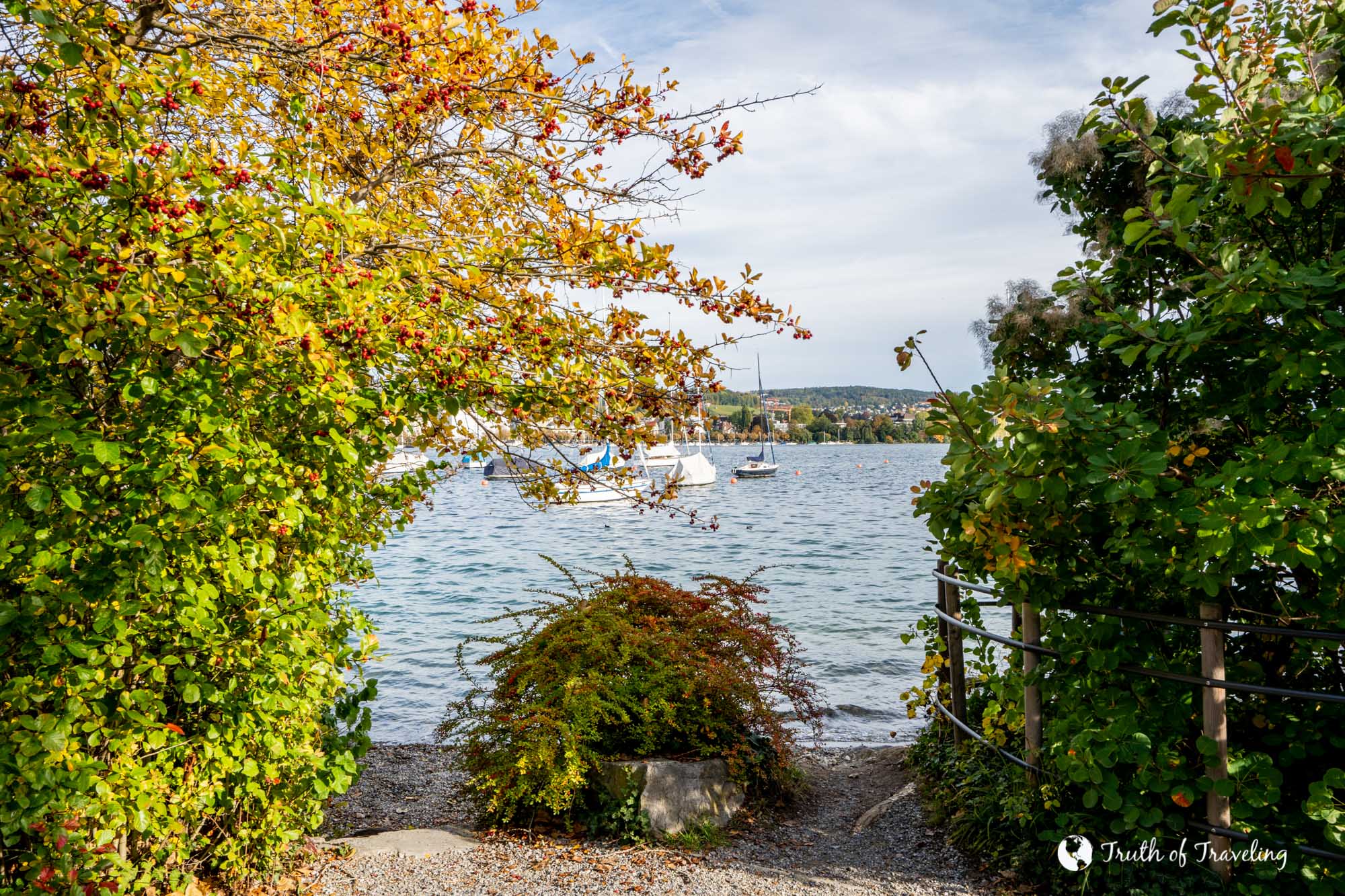 Explore Zurich Old Town
This area reminded us a lot of Germany and Austria. Colorful buildings along cobblestone streets made up so much of the area. It's easy to walk around and take a bunch of pictures. It was so pretty especially with the fall trees!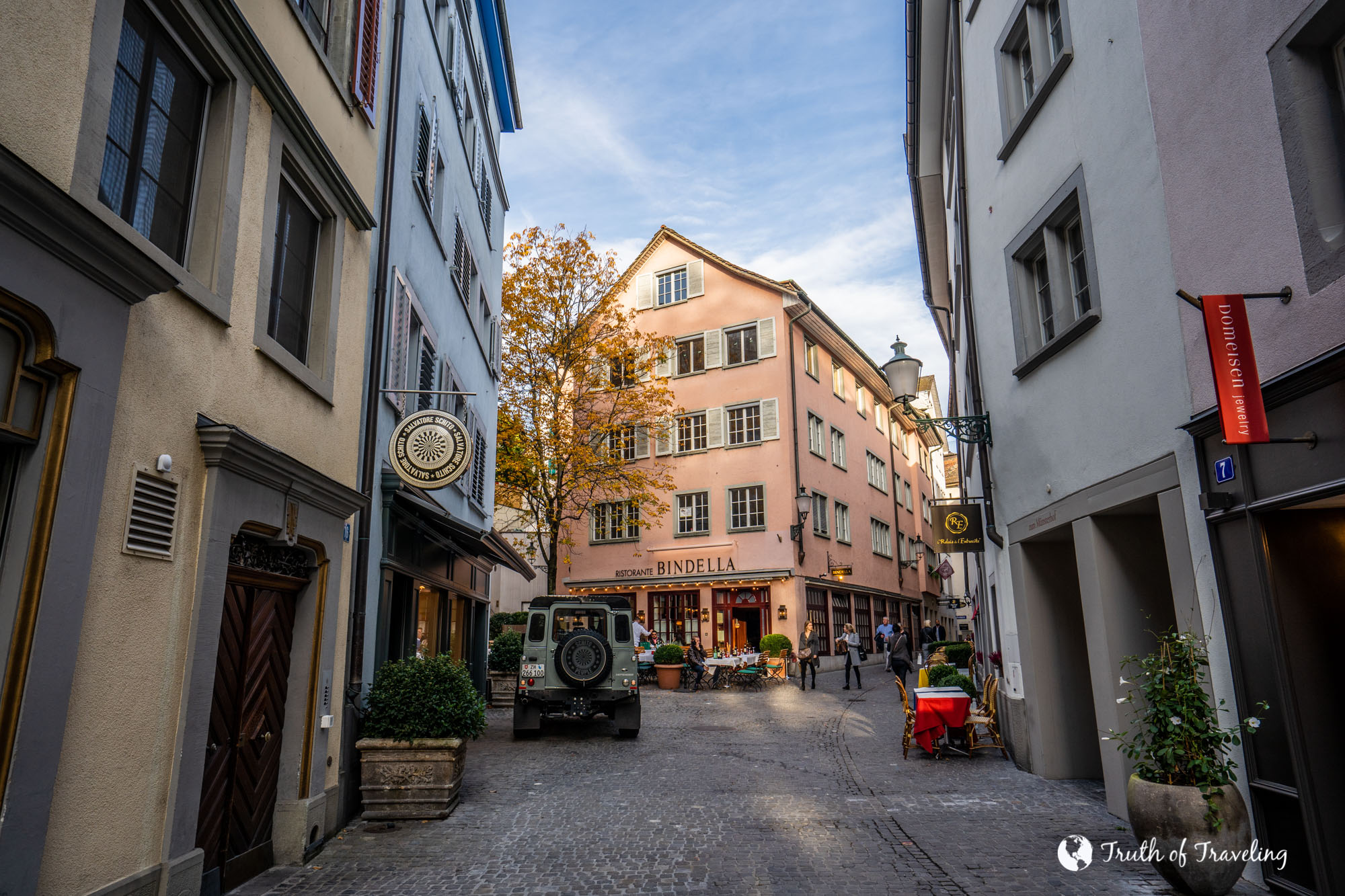 There are so many restaurants with outdoor tables as well as shops and chocolate stores. If you haven't already make sure to try some Swiss chocolate before leaving Switzerland because it really is delicious! We thought the chocolate in Switzerland was the best we had anywhere in Europe.
Take in the views at Lindenhof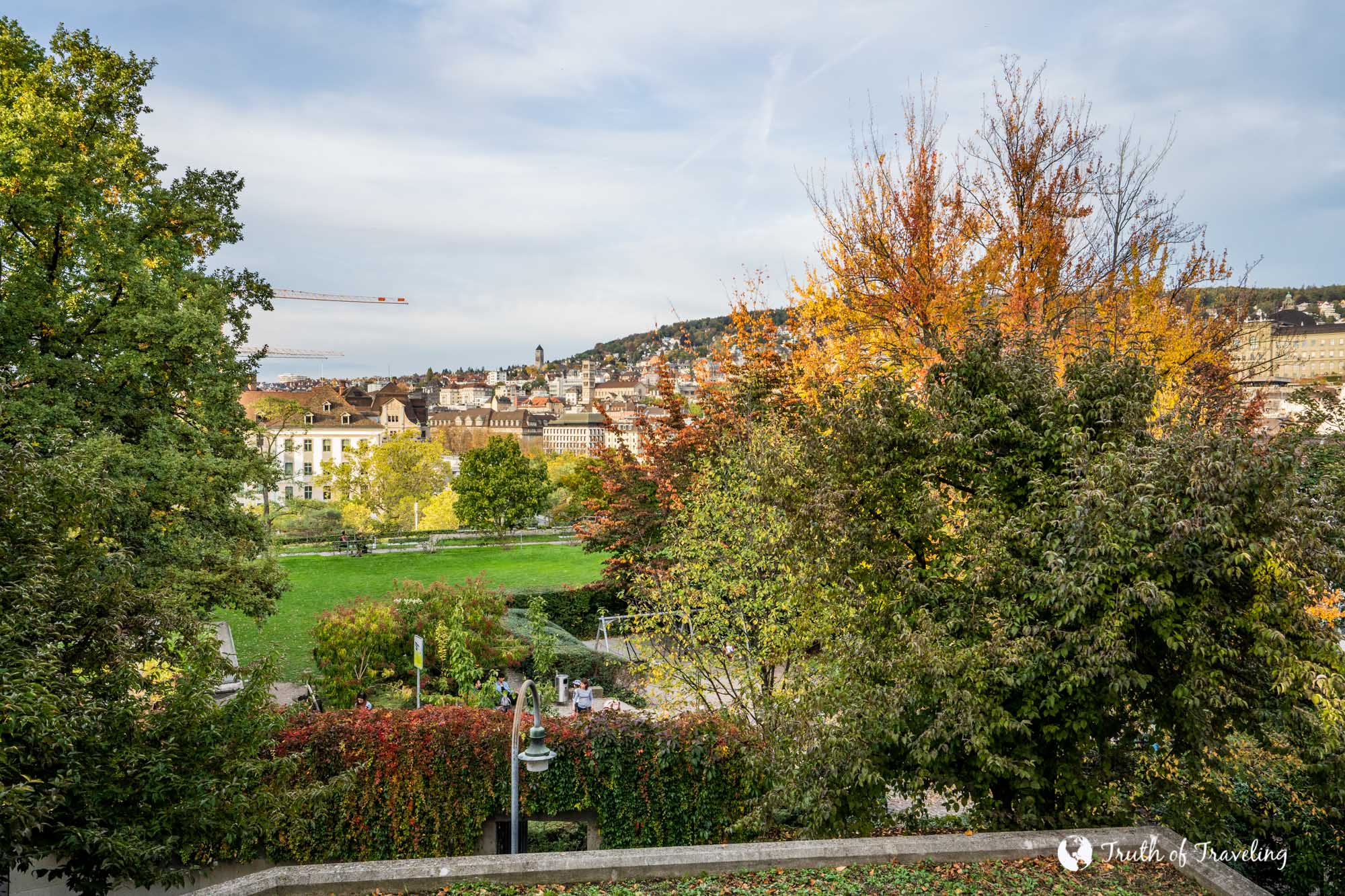 Lindenhof is a really nice oasis within the city! It's a large park area with benches to sit overlooking part of the city. In the fall it was a beautiful viewpoint with surrounding orange and red leaves.
This would be a really good picnic spot if you're looking for a scenic area to enjoy a budget friendly meal!
Walk through Kanzlei Flohmarkt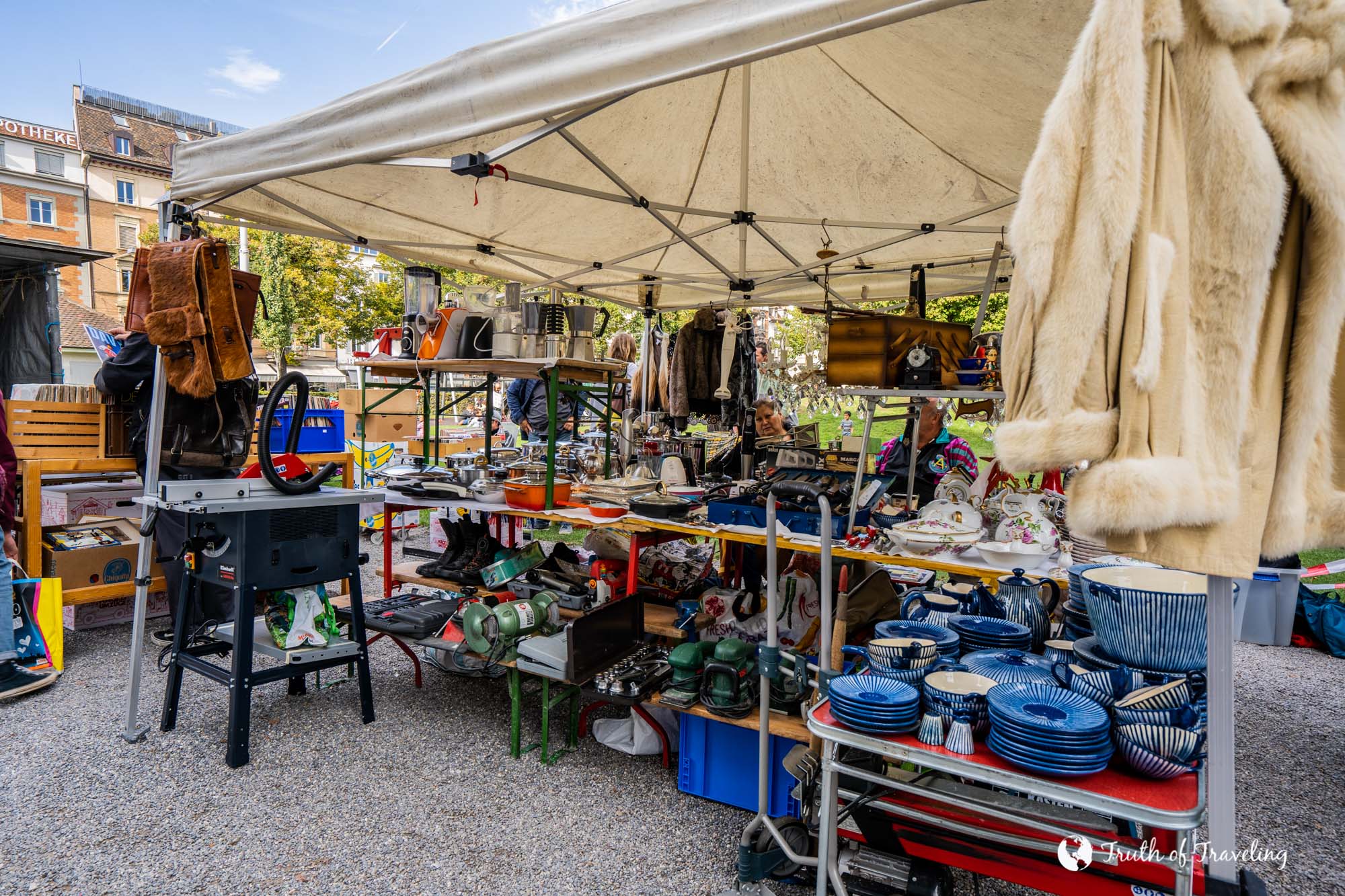 We stumbled upon the Kanzlei Flohmarkt while walking around Zurich old town. It's an expansive flea market featuring all kinds of items such as clothing, antiques, books and so much more. We weren't looking to buy anything but it was interesting to walk through for a few minutes as there were so many people in the area.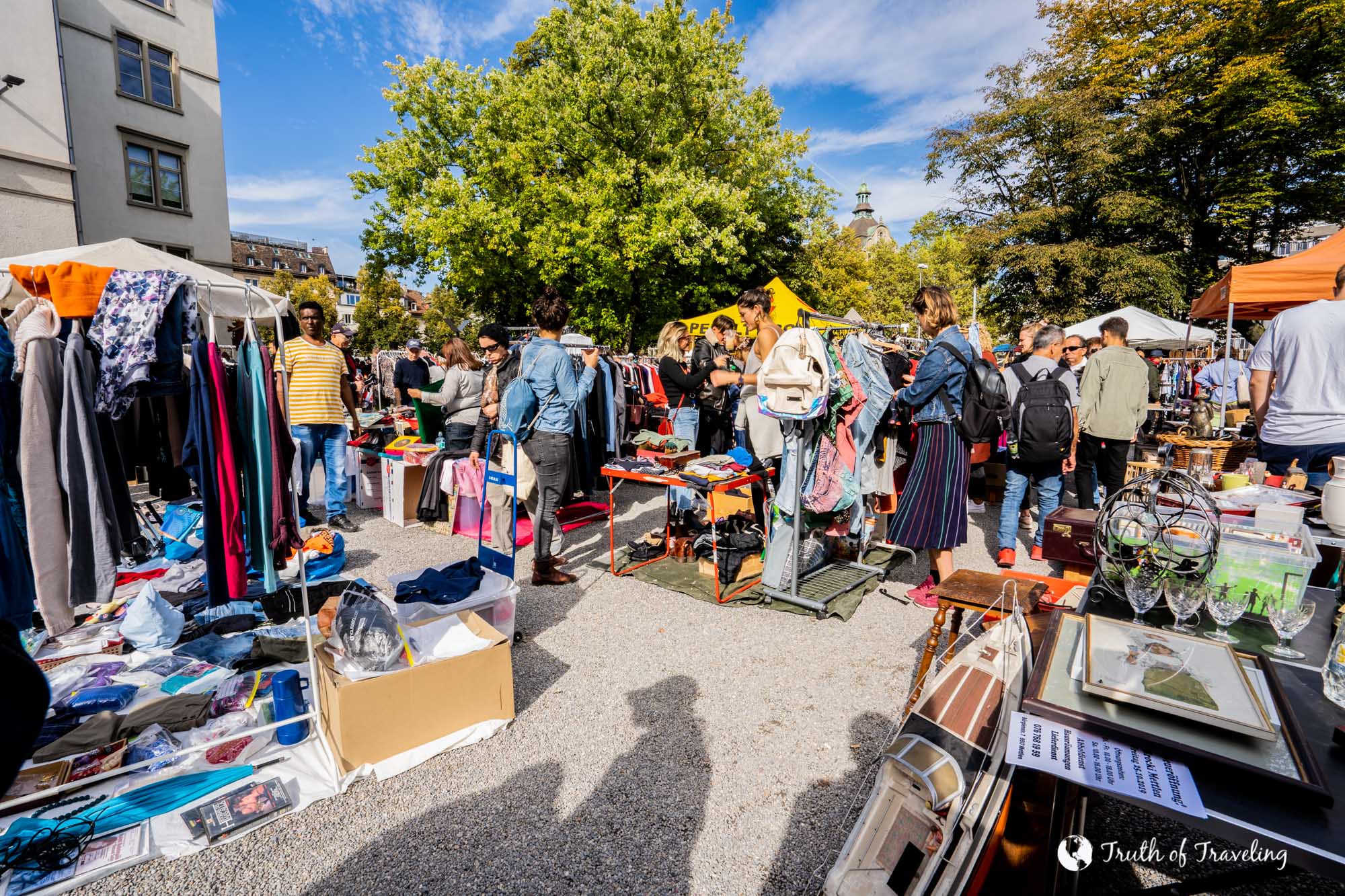 The Kanzlei Flohmarkt happens every Saturday in Zurich from 7:00 AM to 4:00 PM. We walked through around 1:00 PM in the afternoon and it was bustling with people!
Day 3: Lucerne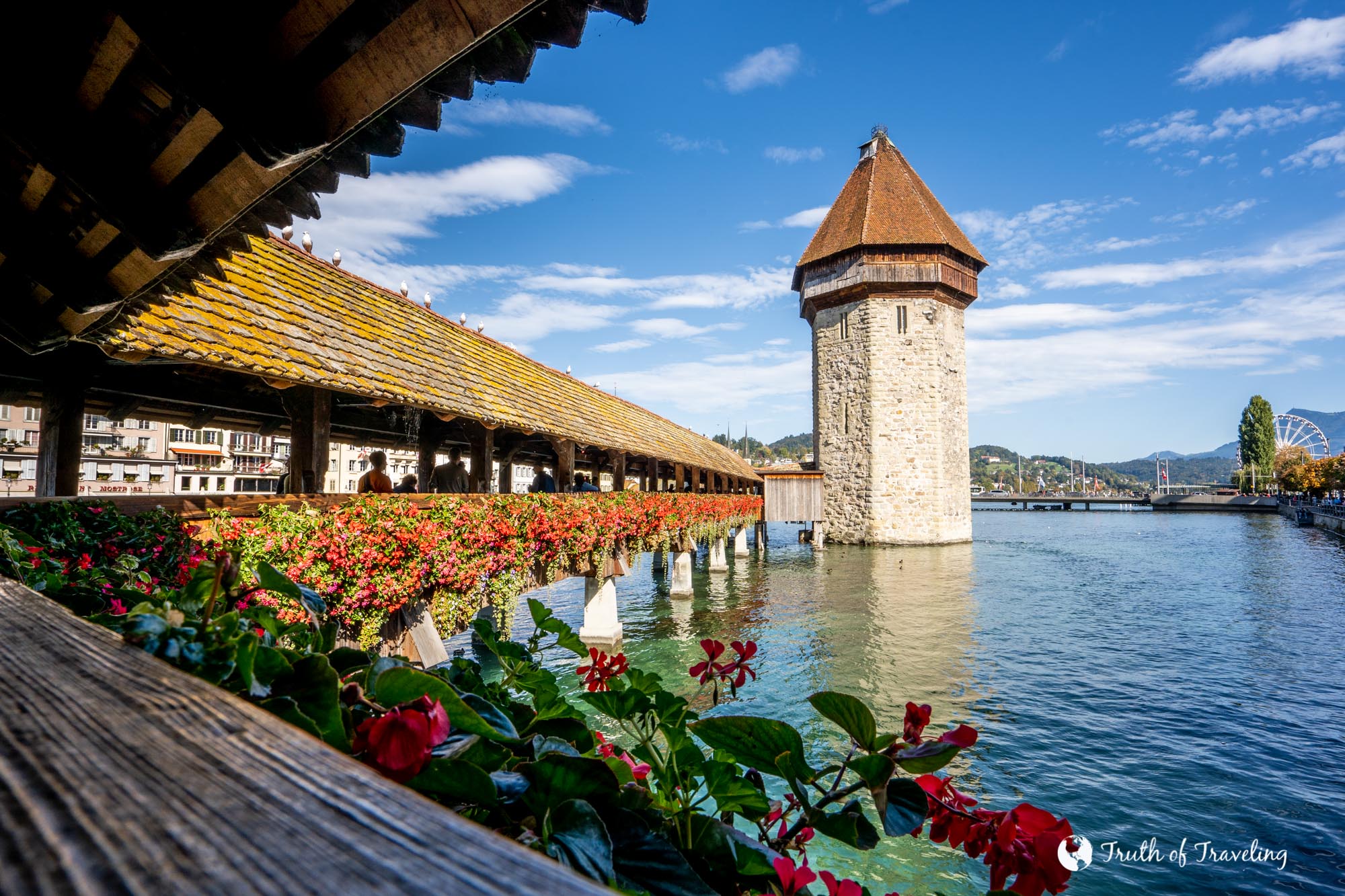 Lucerne is a beautiful town nestled between impressive mountains and Lucerne Lake. It's about a 45 minute train ride from Zurich.
Because it's so close it's very easy to do it as a day trip from Zurich if you have extra time. You can also visit Lucerne on your way down to Interlaken like we did. We checked out of our Airbnb in Zurich with our bags, took the train to Lucerne and then put our bags into storage lockers in the Lucerne train station.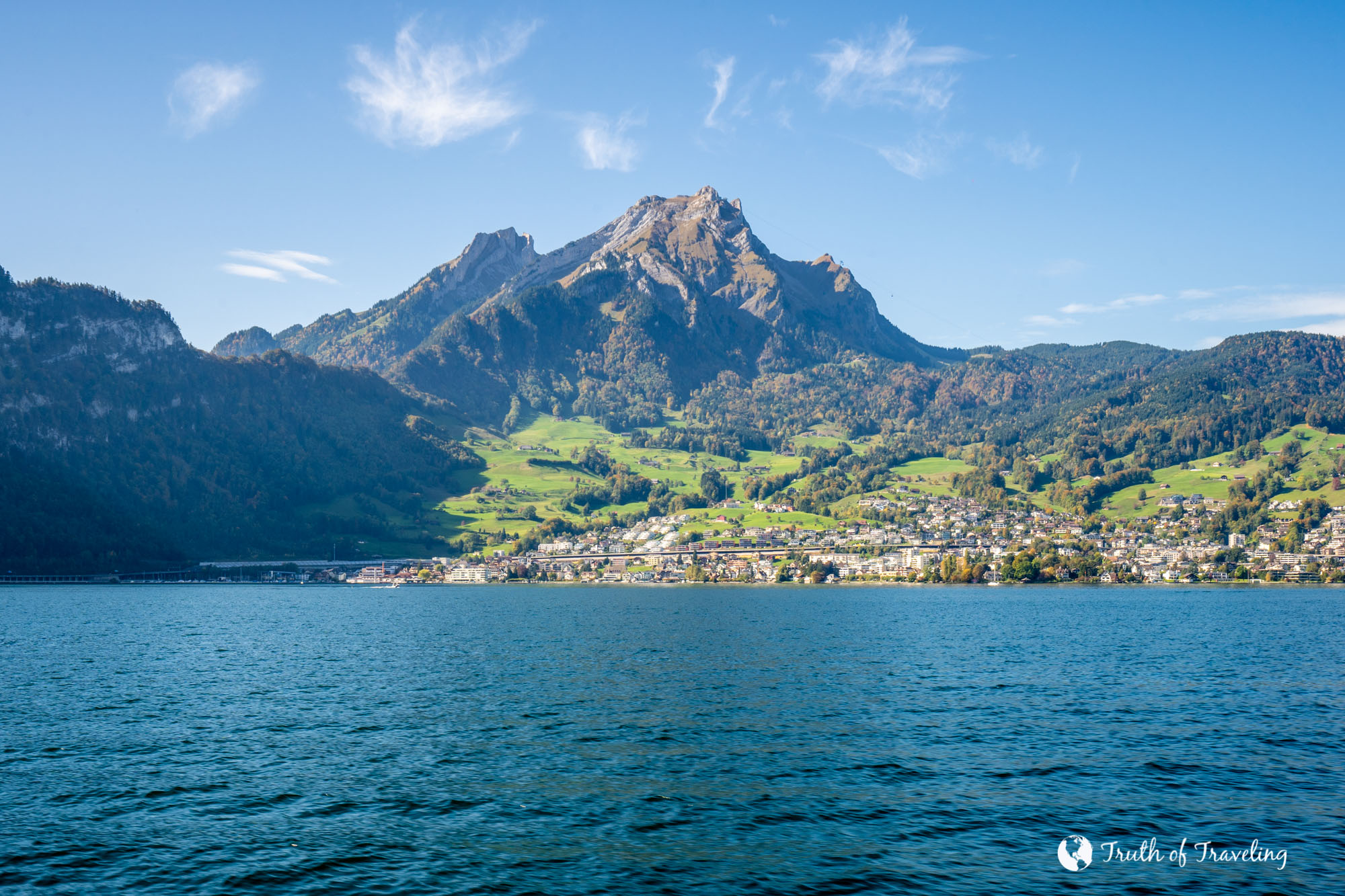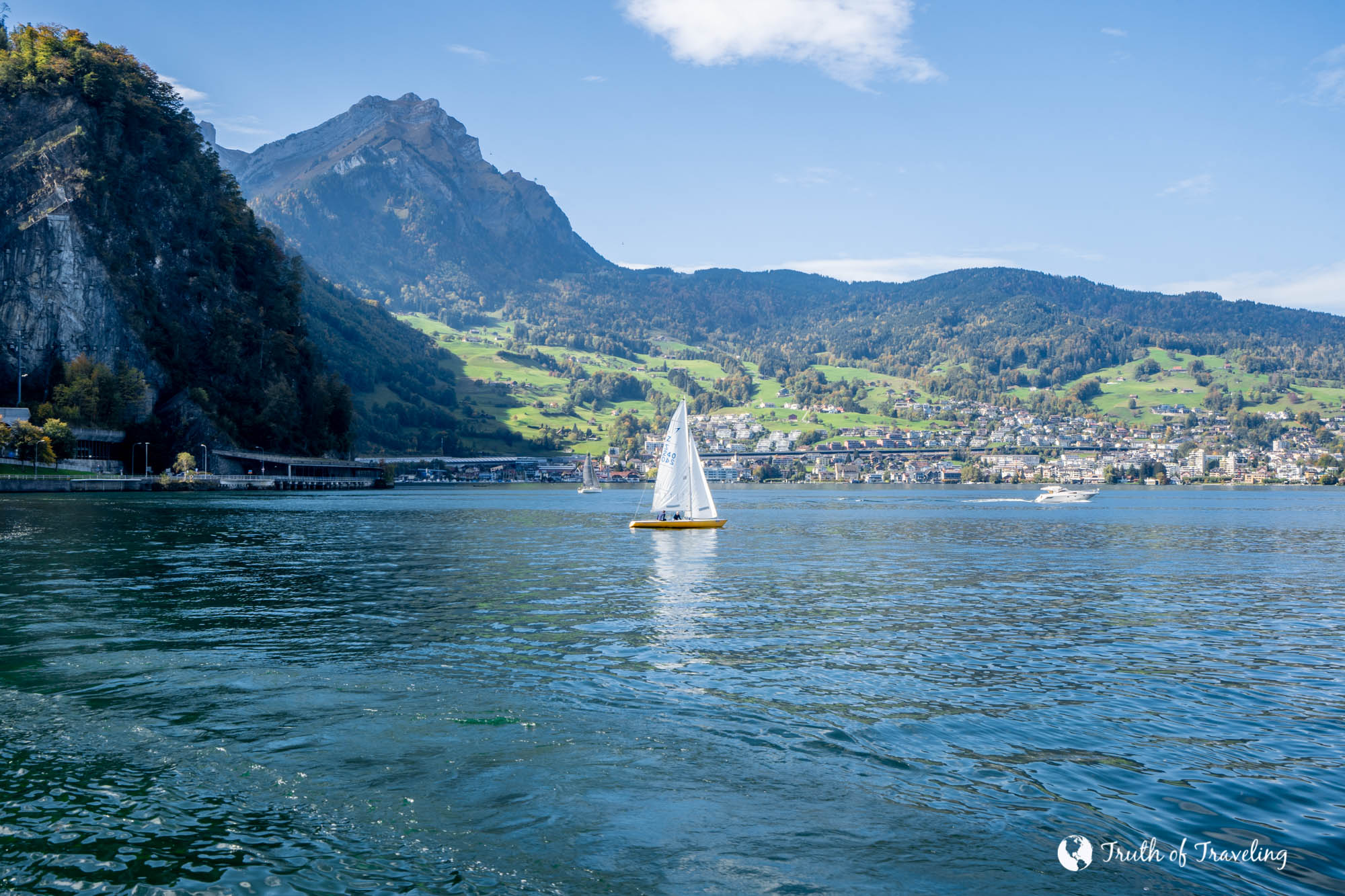 We took an amazing boat ride around Lucerne Lake that was by far the highlight of the entire day. The mountains surround you the entire time and there are views of mountainside houses and green pastures. It was an absolutely beautiful boat ride and completely worth the money!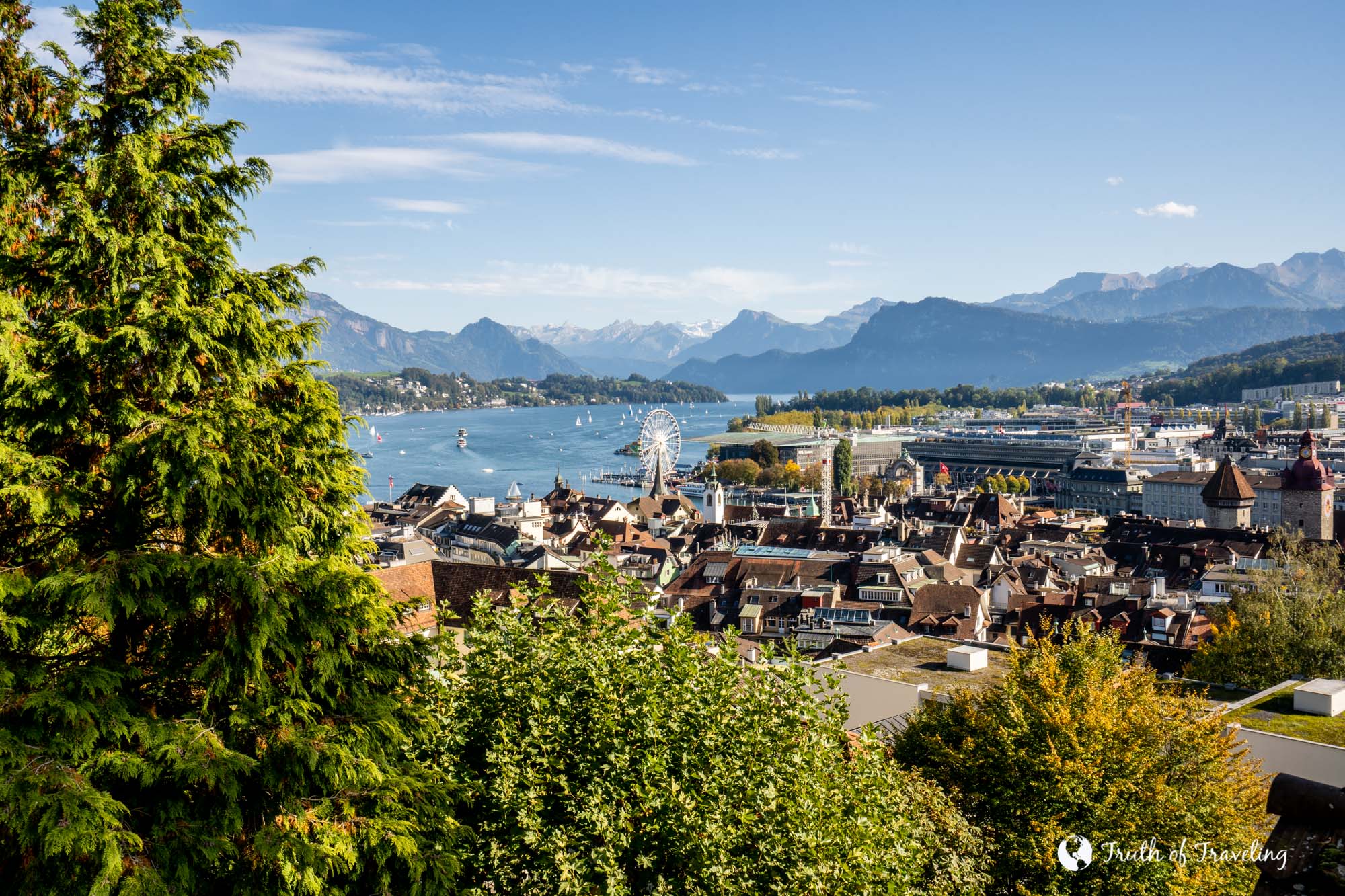 Read our full Day Trip to Lucerne Post for everything you need to know!
Make sure while in Lucerne to also walk the Museggmauer or the city wall. It's only a few minutes walk from the town area and is free to walk on. It gives you stunning views looking over the town of Lucerne as well as the lake and of course all the nearby mountains. The wall is definitely worth it because it's such a nice viewpoint for pictures and being free makes it hard to pass up!
Day 4 – 7: Interlaken
We spent the rest of our time in Switzerland in the town of Interlaken which sits in between Lake Thun and Lake Brienz. Interlaken means between lakes which is where its name comes from. The whole area is gorgeous and whether you stay in Interlaken or somewhere else close by, this area of Switzerland is stunning!
Staying in Interlaken allows you to take day trips to so many places nearby while basing yourself in one spot.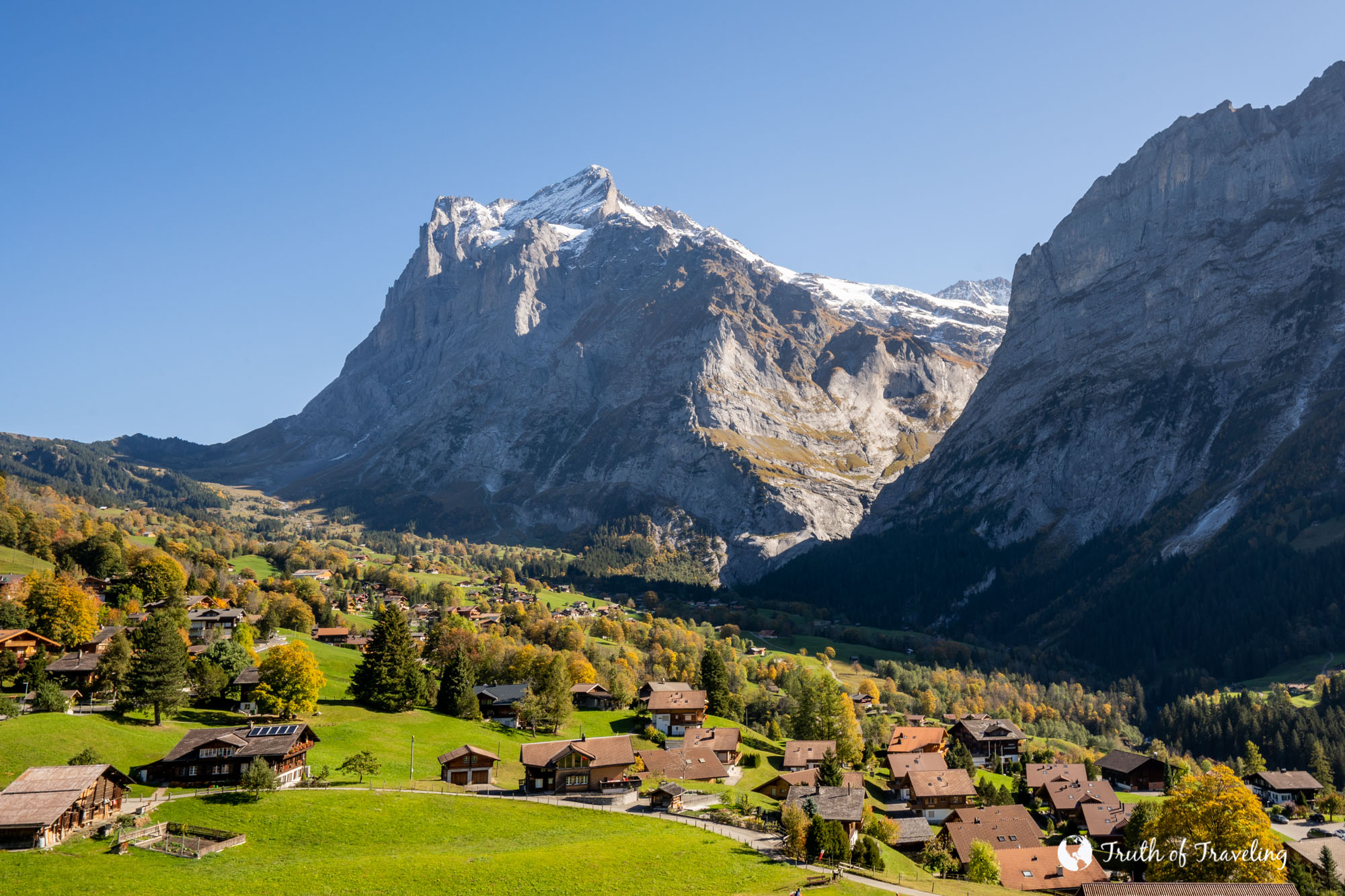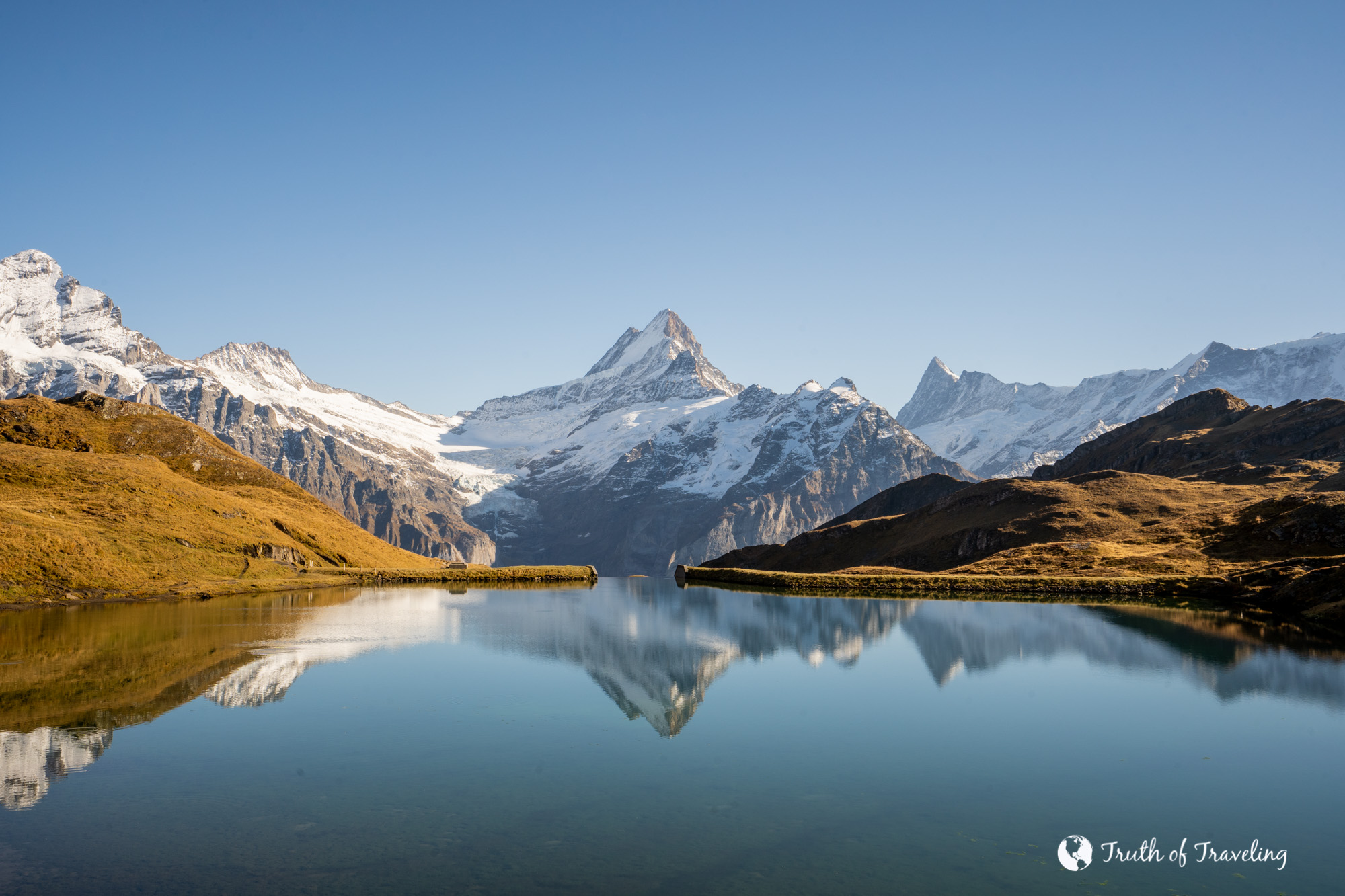 We took a day trip to Grindelwald which is at the top of the list for most beautiful places we have ever been. Spend the money on the cable car ride and you get incredible views from First which sits at 2,168 meters in elevation. There are so many activities like hiking, ziplining and so much more that you could easily spend a few days there!
Read our full Day Trip to Grindelwald post for what to do and how to get there!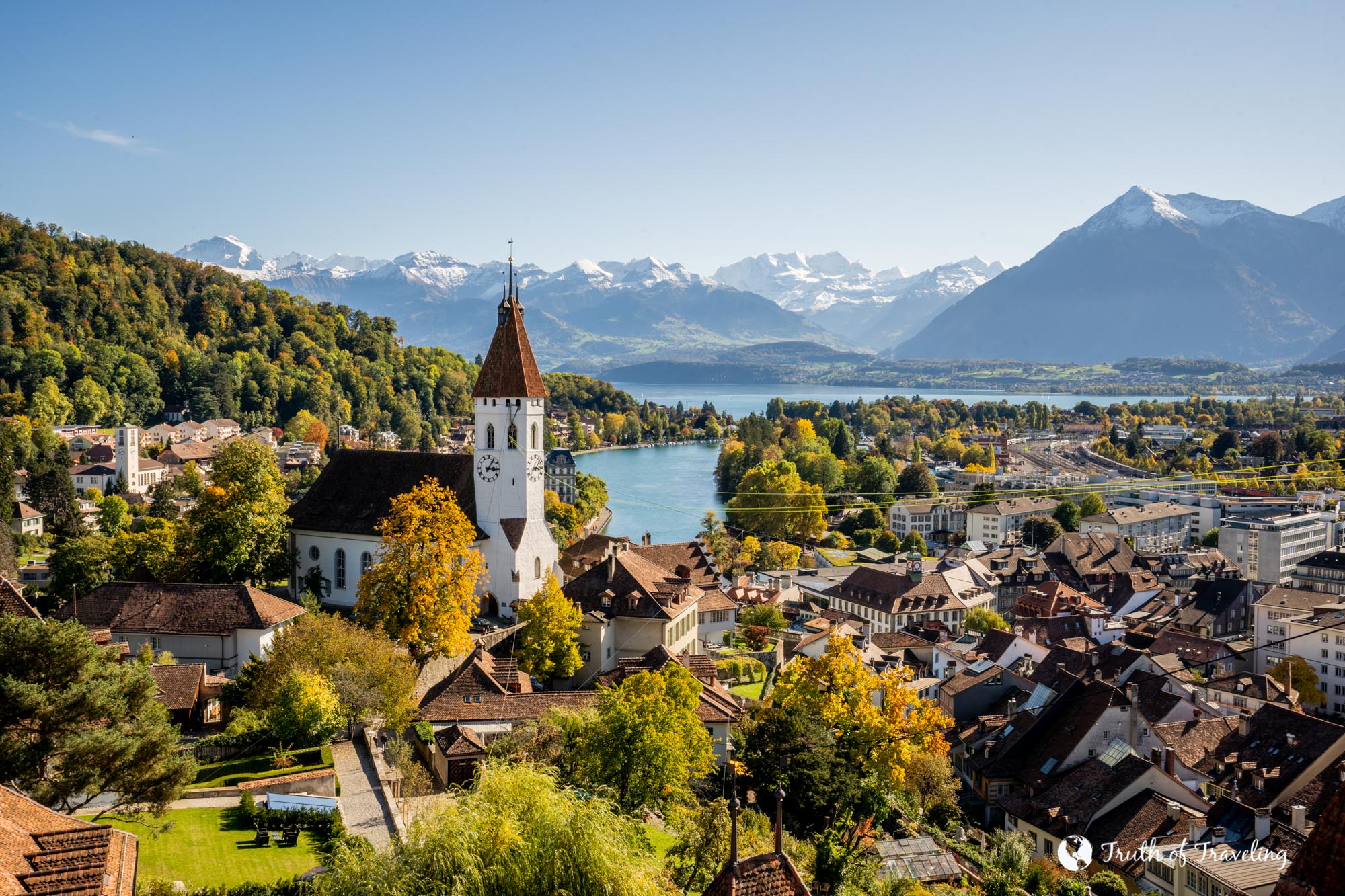 The small town of Thun is only a 30 minute train ride from Interlaken and another great day trip. Go to the top of Schloss Thun (Thun Castle) to get beautiful views looking over the town and all the surrounding mountains. The towers all face different directions so you really get such a cool perspective of the nearby area. We spent some time walking around this charming town and enjoyed some traditional Swiss fondue before heading back to Interlaken.
Read More: How to Spend 4 Days in Interlaken, Switzerland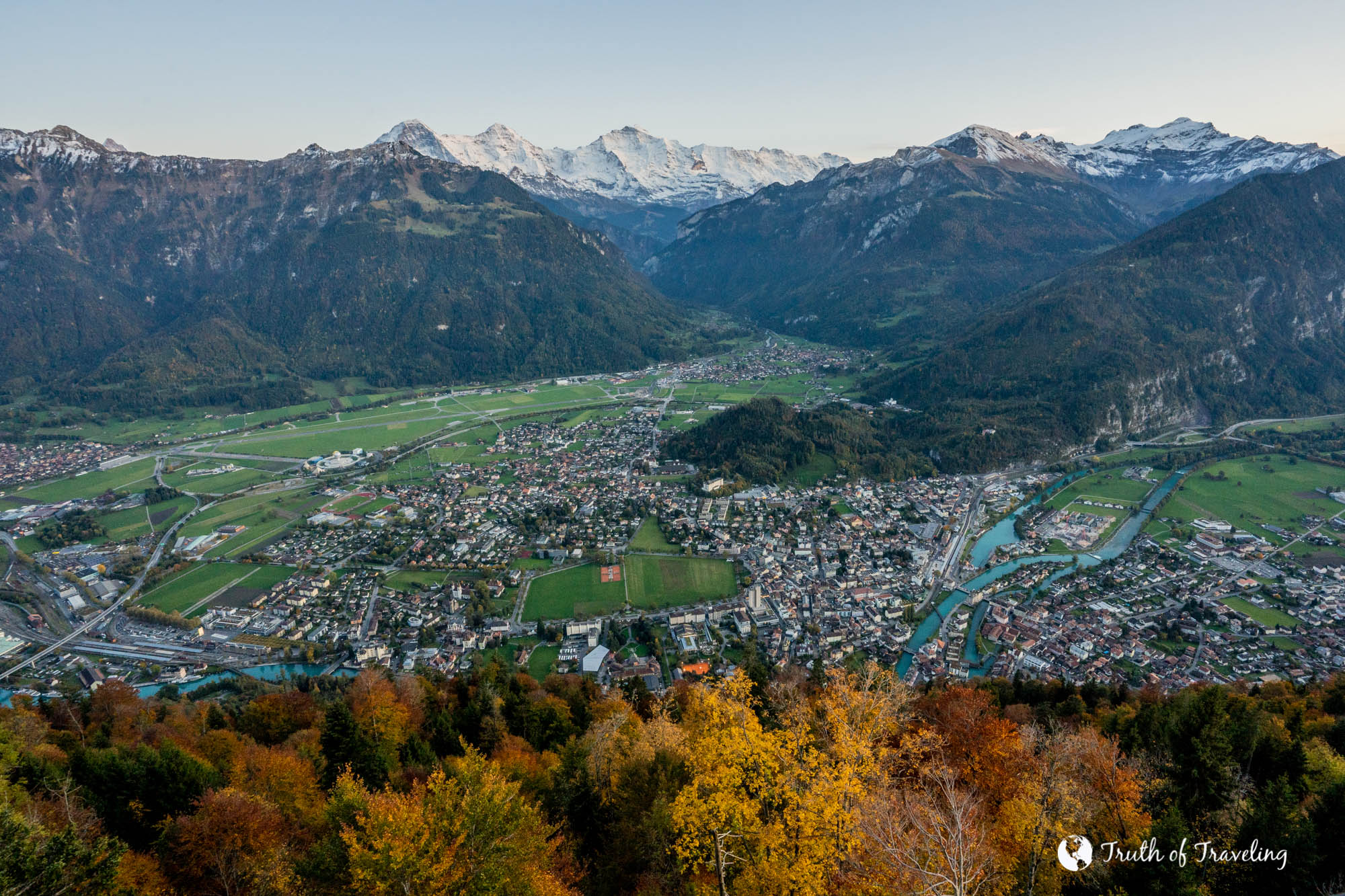 One of our favorite things in Interlaken was taking the train to Harder Kulm, a viewpoint looking over all of Interlaken at over 1,300 meters in elevation. The views at the top (just be ready for incredible views all over Switzerland) are so beautiful! We would recommend going up there for sunset because it was gorgeous! The sky turned a soft orange before the sun set completely.
Interested in More Posts About Switzerland? Read Here!
Pin it for later: