The Italian Riviera describes the strip of Italy along the Mediterranean Sea from the France border down near La Spezia, Italy. It is known for its turquoise water, impressive cliffs and beautiful towns. And let us say that it is one of the most beautiful places we've been! Here is our guide to visiting the Italian Riviera including where to stay, what to see and how to do as much as you can in in this beautiful area!
This part of Italy is known for towns like Cinque Terre and Portofino which are both small, colorful fishing villages that have become popular with visitors. In this guide we'll go through if it's worth going even with all the other tourists as well as how to see so much of this beautiful area with a relatively short amount of time.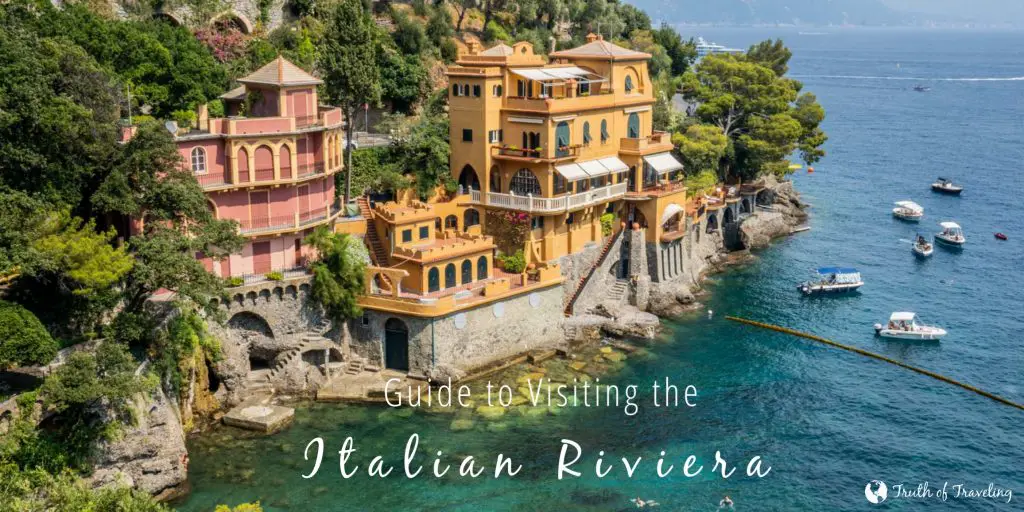 Where to Stay in the Italian Riviera
Because the Italian Riviera is a region, there are a lot of options in terms of where to stay. It's best to think about where you know you want to visit and then pick a place to base yourself in close proximity. For us we knew we wanted to take day trips to both Cinque Terre and Portofino. After some research we quickly learned our budget was no match for staying in either one of them. So we started looking at other options nearby. We settled on the town of Rapallo, which sits in between the two about 40 minutes south of Genoa. It sits at the southern base of the peninsula with Portofino at the tip.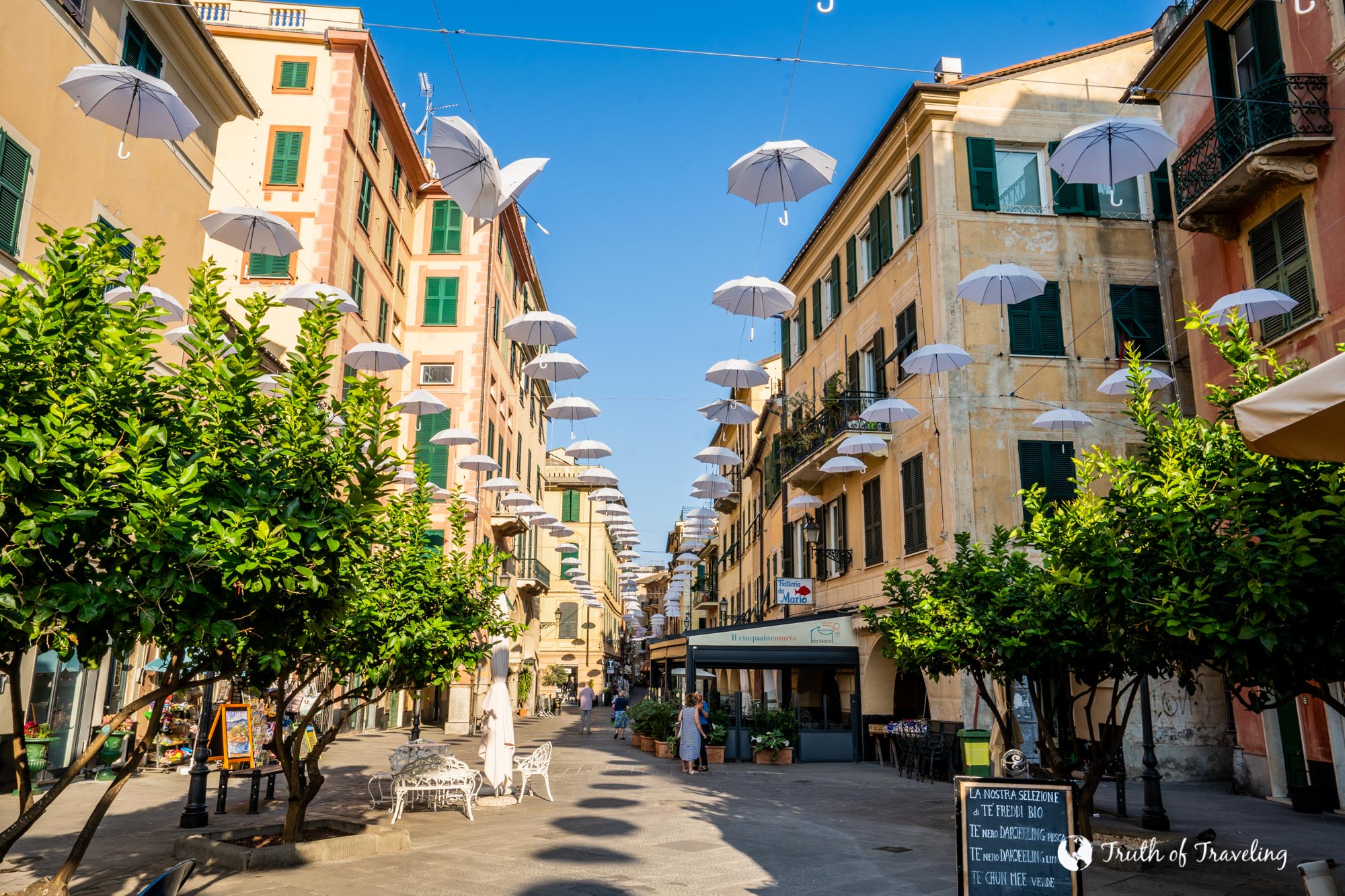 Rapallo has a train station which makes it really easy to take day trips to other areas but it also has a really charming town area. Because it's not as common for visitors, we found much more reasonable prices for accommodations in Rapallo. We would highly recommend considering Rapallo! We knew little about it before we went but ended up really loving the maze of streets and beautiful harbor!
How to Get Around the Italian Riviera
We used trains to get around and found it was so easy! We took a train from Genoa to Rapallo in under 40 minutes. Then we were able to take trains to all 5 of the villages within Cinque Terre. There is no train that goes all the way to Portofino so we took a train to Santa Margherita where we then jumped on a bus (right at the train station) to go out to Portofino.
Trains in Italy are very easy to navigate, all the signs and announcements are in English and there is always someone to ask if you're not sure.
While a car gives you more freedom to go to other places, it's actually hard to drive in some of these smaller villages. For example, there are no cars down by the port in Portofino as well as in the town centers within the villages of Cinque Terre. If you are renting a car, definitely do your research beforehand on driving and parking.
Day 1: Arrive & Explore Rapallo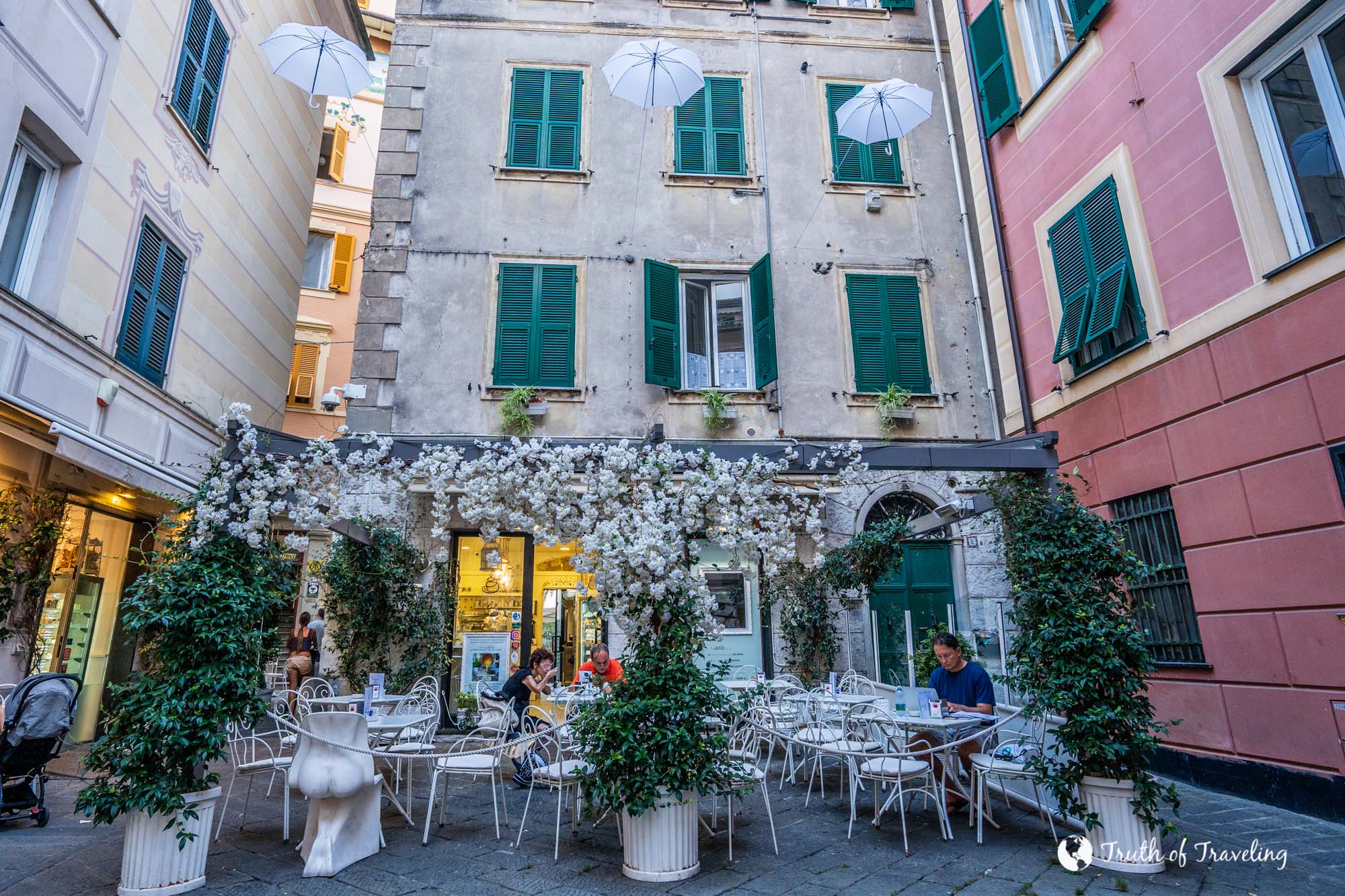 The Rapallo train station sits on the edge of the town center and is very easy to get to. We stayed in a guesthouse high up in the hills from the sweetest Italian couple. 
We were picked up and dropped off at the train station, given bottles of water each day and treated like family. The view from our window was of the entire harbor and gave us a beautiful sunset each night! The only downside was the 25 minute (sweaty) walk uphill to get back at the end of the night. But we like to think it was our work out and therefore why we didn't need to work out anymore while in Italy.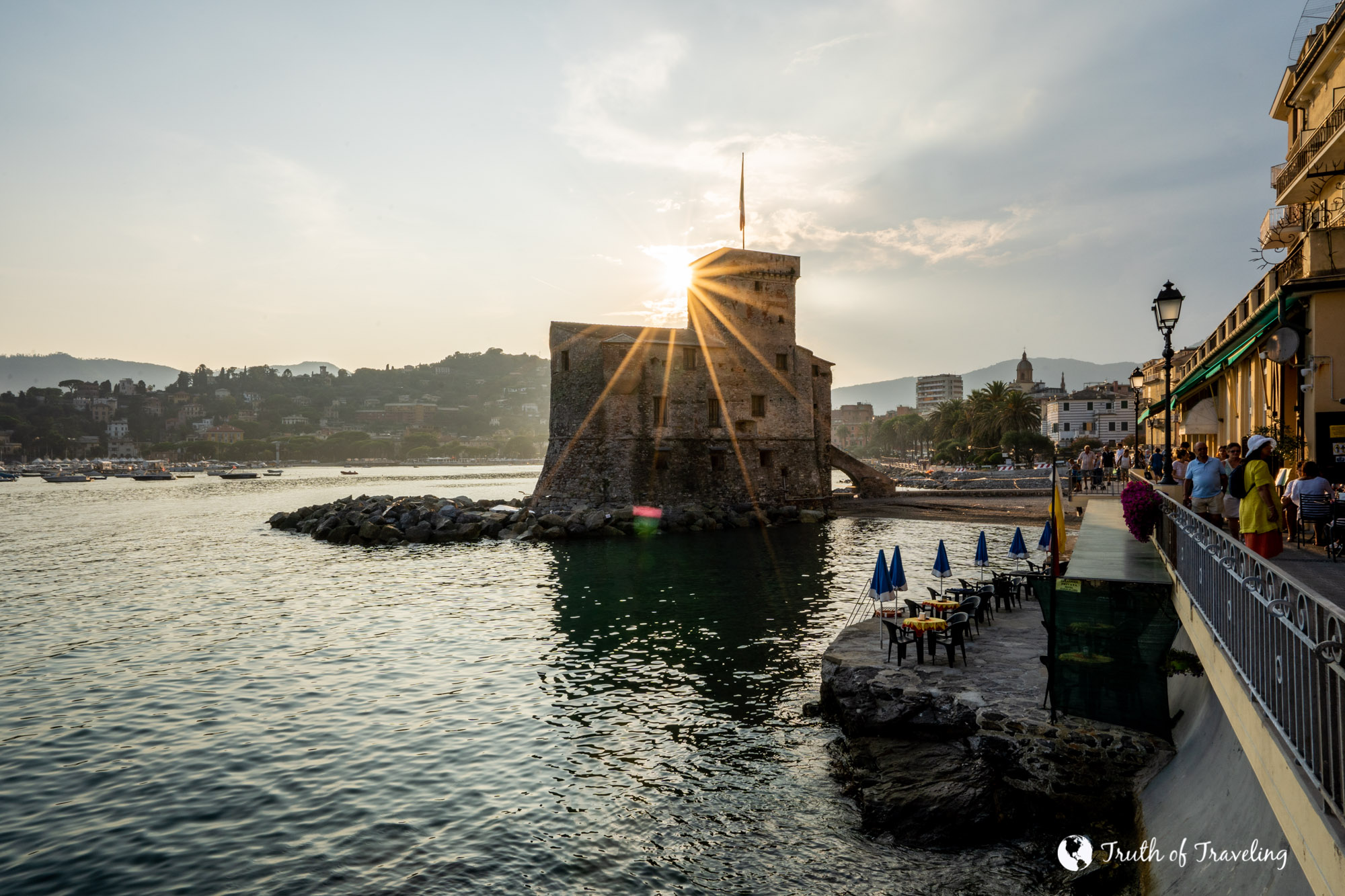 We walked through the pedestrian streets looking at all the colorful Italian buildings. Don't forget to walk past the Castello di Rapallo. There's a short stretch of walkway that goes along the water and it makes for a great spot to watch the sunset! There are a few restaurants along there that you can stop and get a drink while enjoying the view.
We were pleasantly surprised to see the town area had so much to offer! There are plenty of restaurants, cafes and bakeries to choose from. You can have your pick of places to get gelato or shops to stop in and buy something. It was all really nice without feeling too touristy or too inauthentic. I think that was our favorite part about Rapallo!
We had a quick pizza at El Paso that was delicious and also very cheap! If you're looking for a quick, affordable option this is a great place to go! It's close to the train station too if you're arriving later or want to get something to eat before getting on the train.
Day 2: Day Trip to Cinque Terre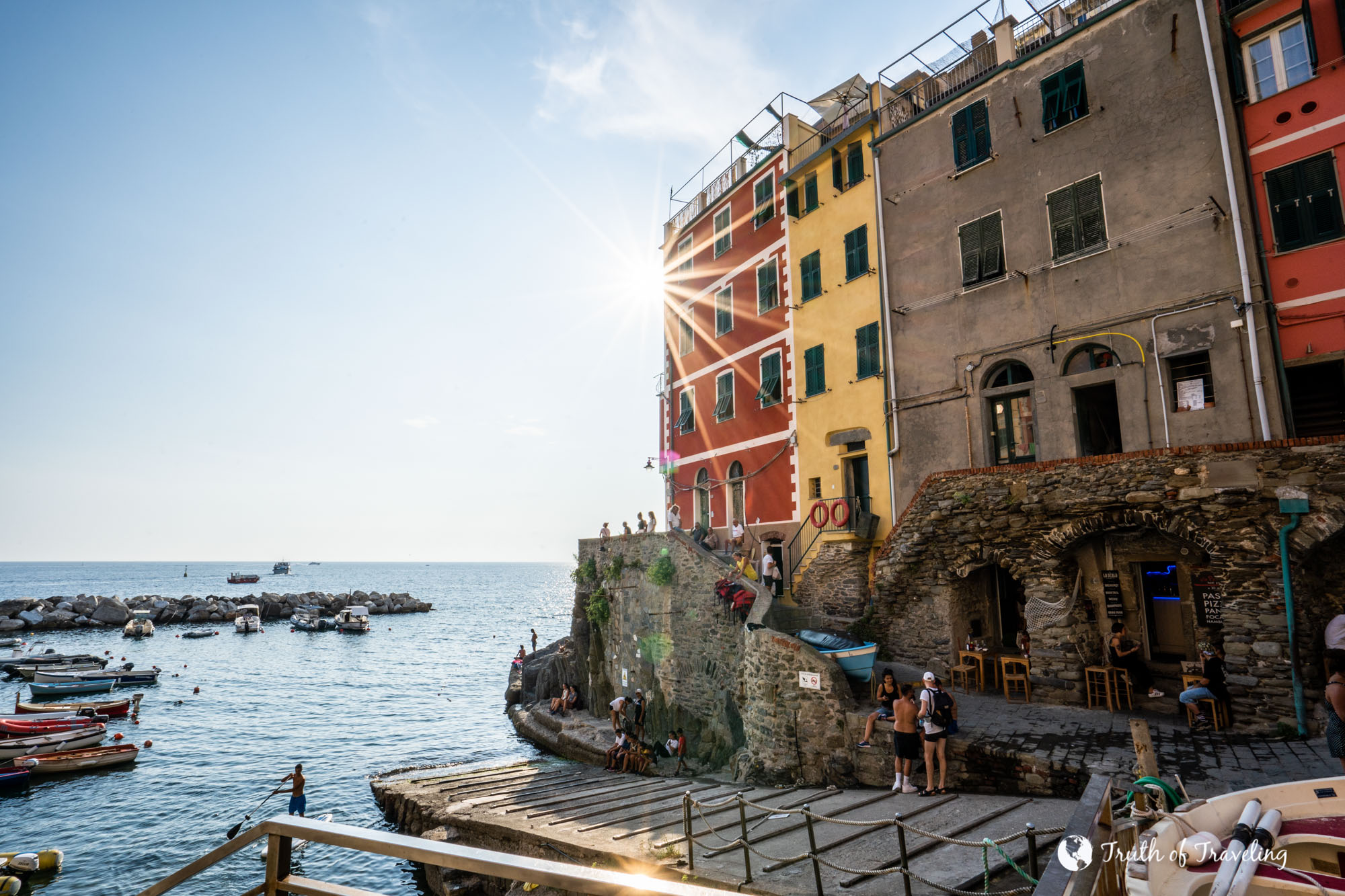 Cinque Terre, translated to five villages, is a series of fishing villages along the coast. Each of the villages looks a little different but all are colorful and beautiful! Cinque Terre has definitely gained publicity in recent years as more and more visitors go to visit these relatively small areas.
We took the train from Rapallo to Monterosso al Mare, the most northern of the five villages. With our Eurail Global Pass trains to all five of the villages are covered for us. If you don't have a Eurail Pass you can buy a Cinque Terre Train Pass which gives you unlimited trains between the villages. For 1 day it ranges from 13-16 Euros depending on the season.
Monterosso Al Mare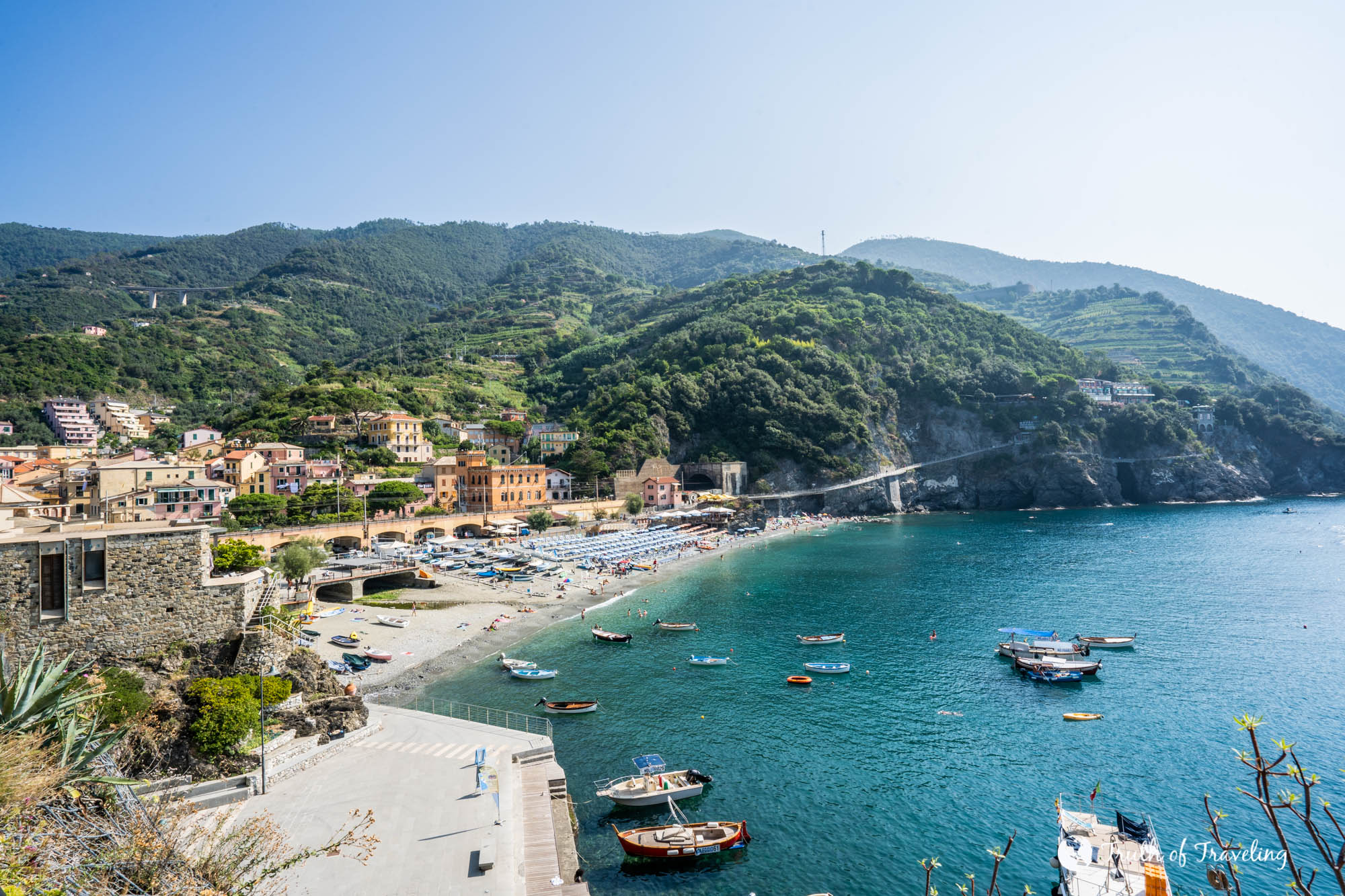 Monterosso Al Mare is the most northern of the five villages. If you're looking for a beach chair to set yourself up in for the day, Monterosso is the place for you! The town area of Monterosso is a beautiful 5 minute walk from the train station. The town has many streets to wander through and plenty of options for cafes, shops and restaurants.
Vernazza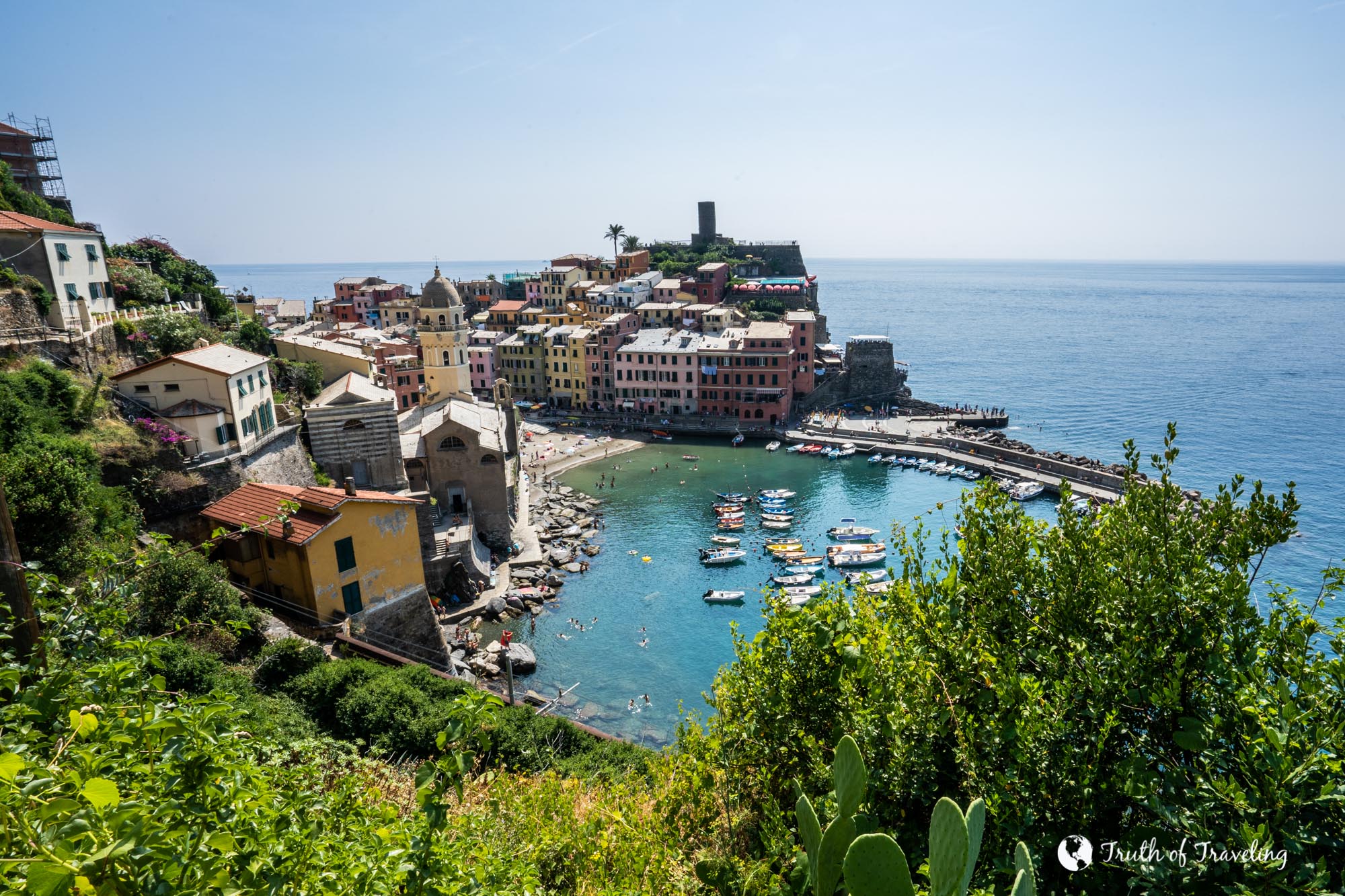 Vernazza is next to Monterosso going south. It is known for being one the most colorful of the 5 villages and we would have to agree! Vernazza was one of our favorites because you can get amazing views of all the colorful buildings as well as the surrounding area. There are quite a few lookout spots that are close to town and such good photo spots!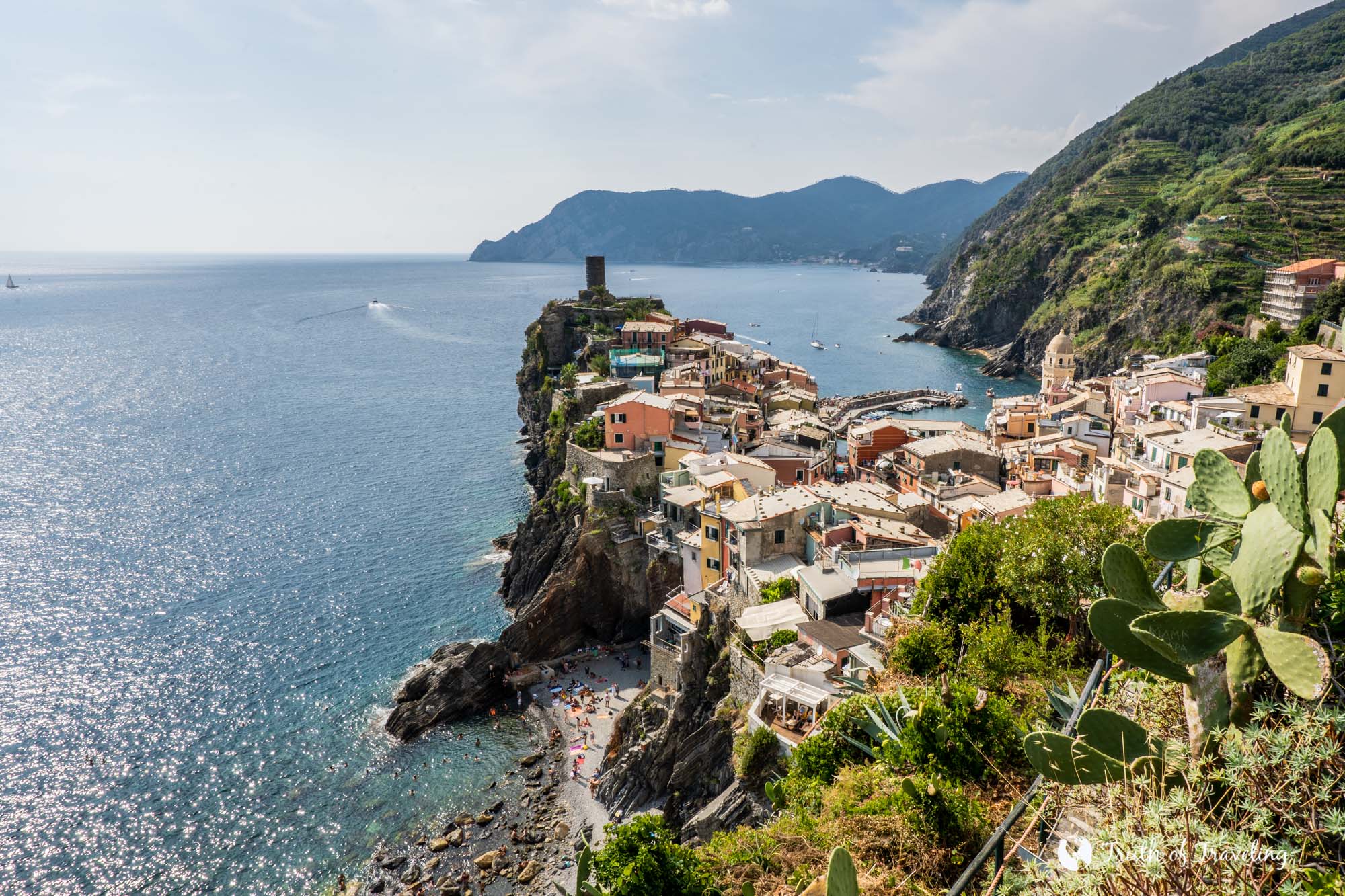 Corniglia
Corniglia is the only village within Cinque Terre that is not on the coast. To reach Corniglia from the train station you have to climb up over 350 stairs. Because of the climb up and not being on the water, this village is sometimes overlooked. If you're looking for a spot with less visitors, Corniglia might be the place for you!
Manarola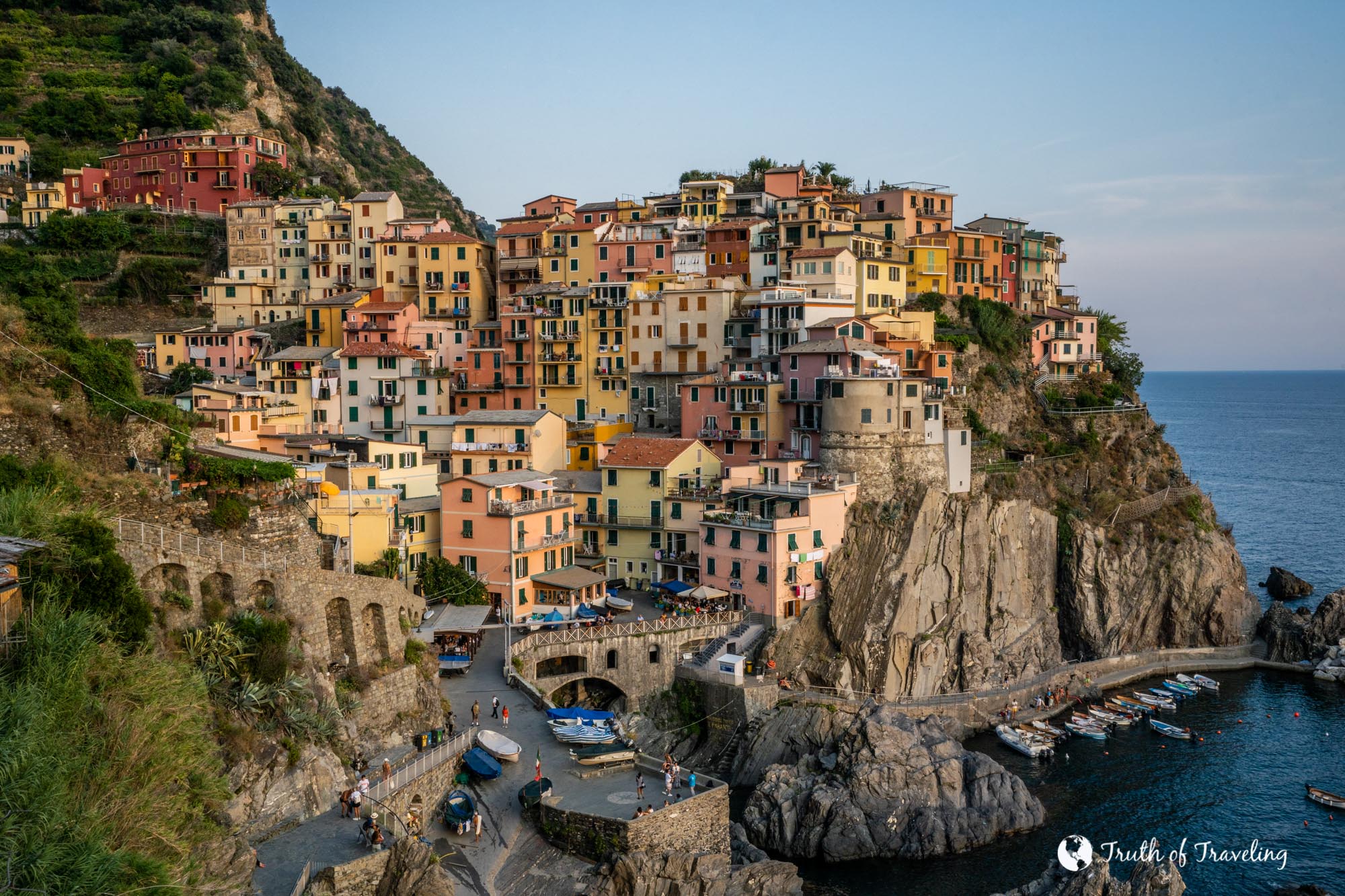 Manarola is the second to last village and gives you amazing views of the whole village and harbor! The village itself is small but this is such a good spot to end the day. From the water there's a walkway that leads to the most beautiful lookout point. It is an incredible spot to go at sunset and we're so glad we were able to make it! Because of this we actually visited the next village, Riomaggiore, before Manarola and then came back for the sunset.
Riomaggiore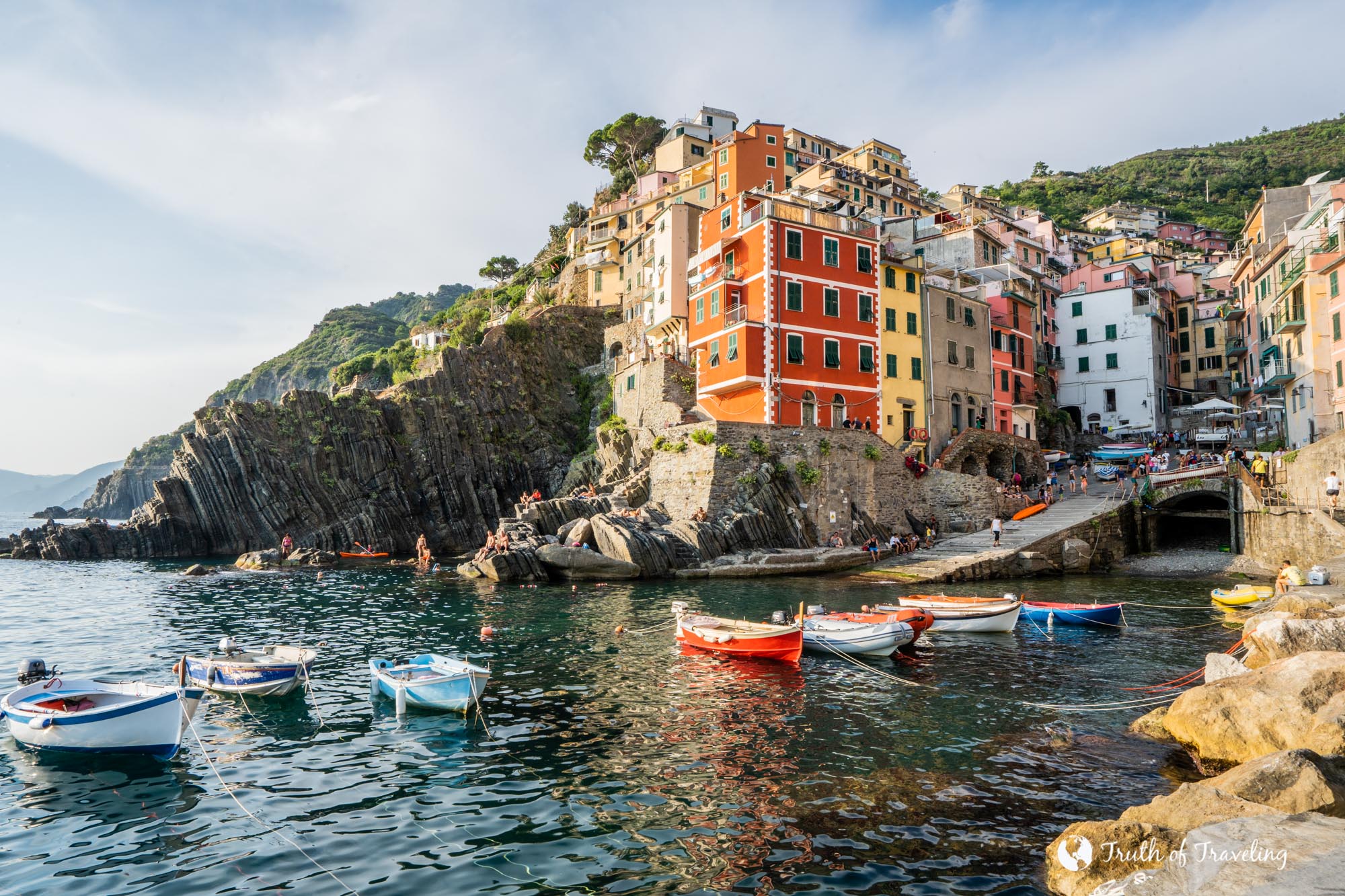 Riomaggiore is the most southern of all of the five villages. The town area is very small so expect to find less amenities in this village. The way the village is built so close to the water makes Riomaggiore so unique. If you climb down to the water you can get incredible pictures of the colorful buildings with the surrounding turquoise water!
Check out our Day Trip to Cinque Terre post for more information about each village as well as how it do it all in one day!
Day 3: Day Trip to Portofino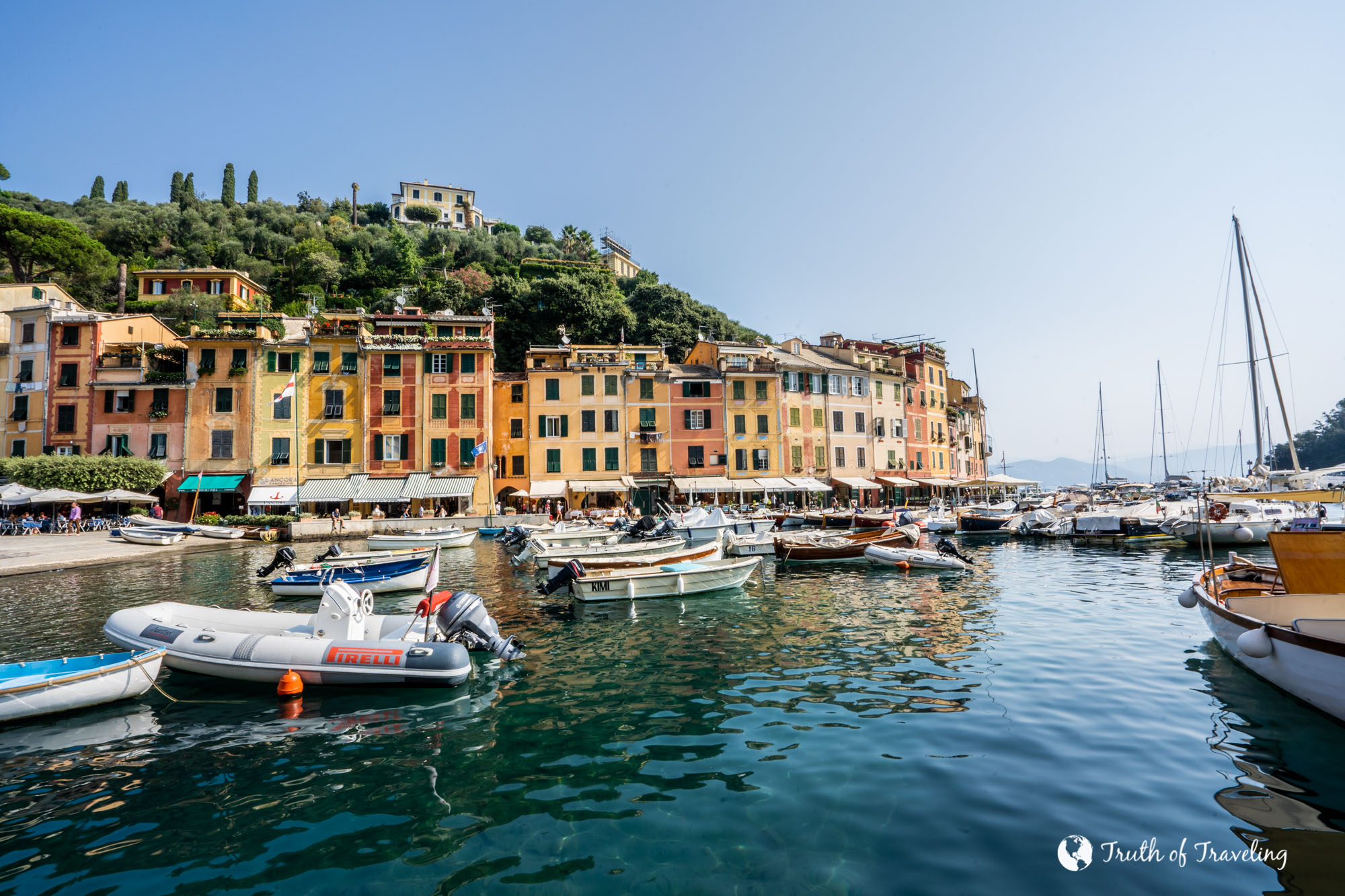 Portofino is a small fishing village located in the Italian Riviera about 40 km south of Genoa. It is known for it's colorful buildings that surround the small harbor. It's very small (about 400 people actually live here) but so beautiful and although it has a reputation for being expensive, it's totally doable as a day trip!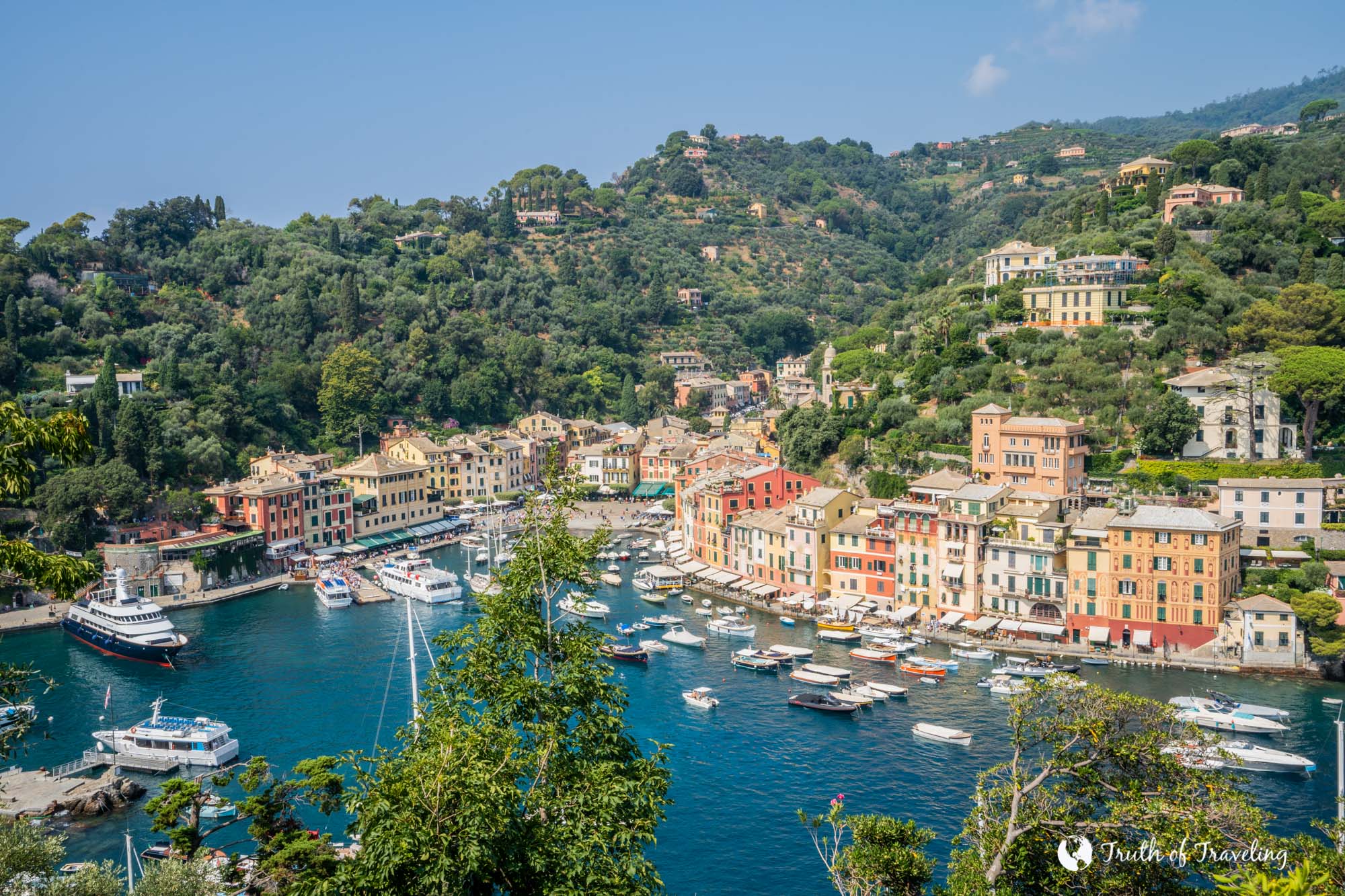 The views from the Chiesa di San Giorgio and Castello Brown are absolutely incredible and must dos if you are in Portofino! There are so many massive yachts and boats in the harbor that you can easily spend some time just watching the impressive boats coming in and out.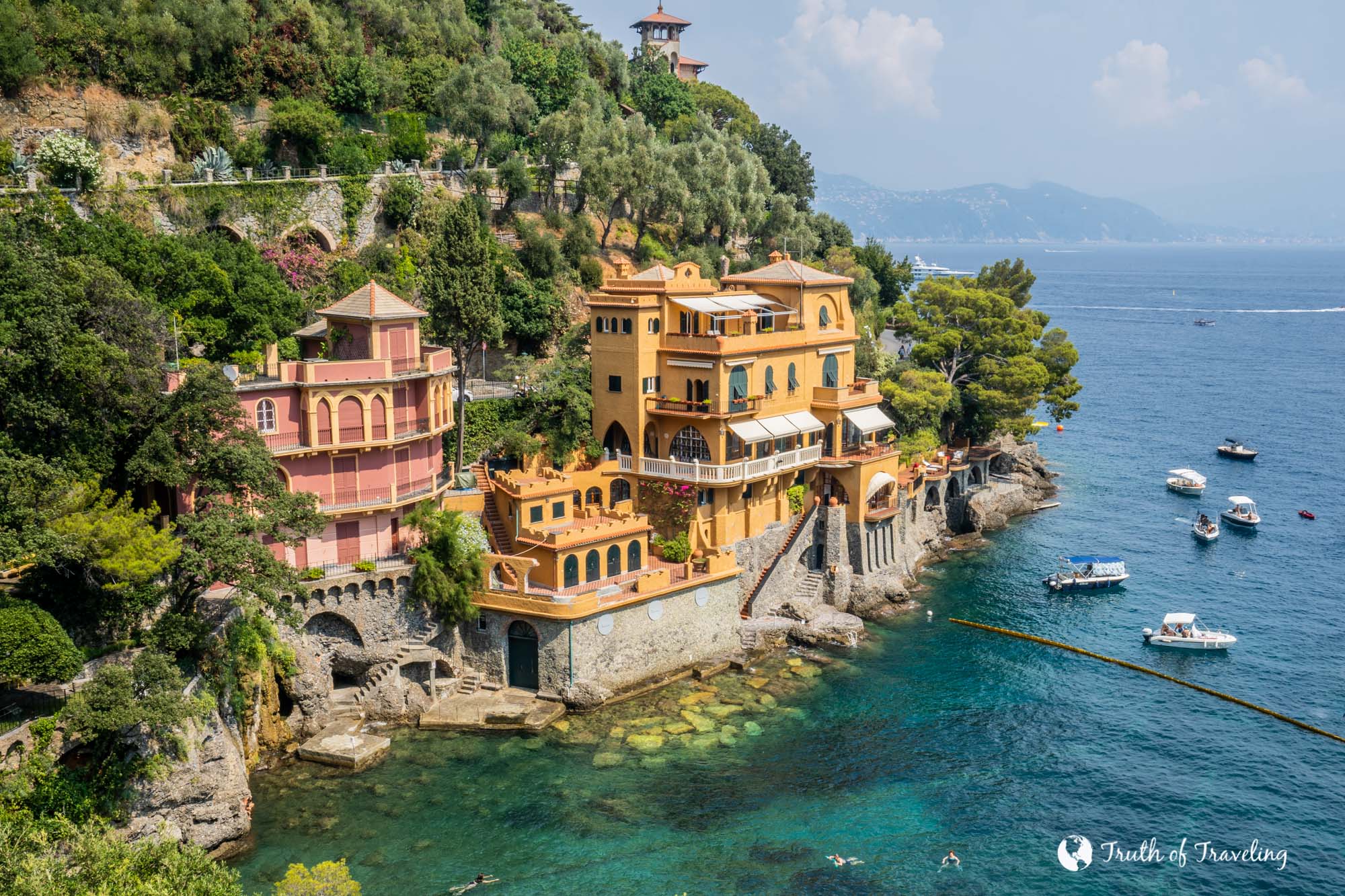 You can take a boat directly from Rapallo to Portofino. Or we took the train to Santa Margharita Ligure, which is the next stop. Then from the train station we took bus 82 all the way to Portofino. It was very easy and took about 30 minutes total.
Traveling on a Budget? Day Trip to Portofino, Italy for Under $25
Day 4: One More Day in Rapallo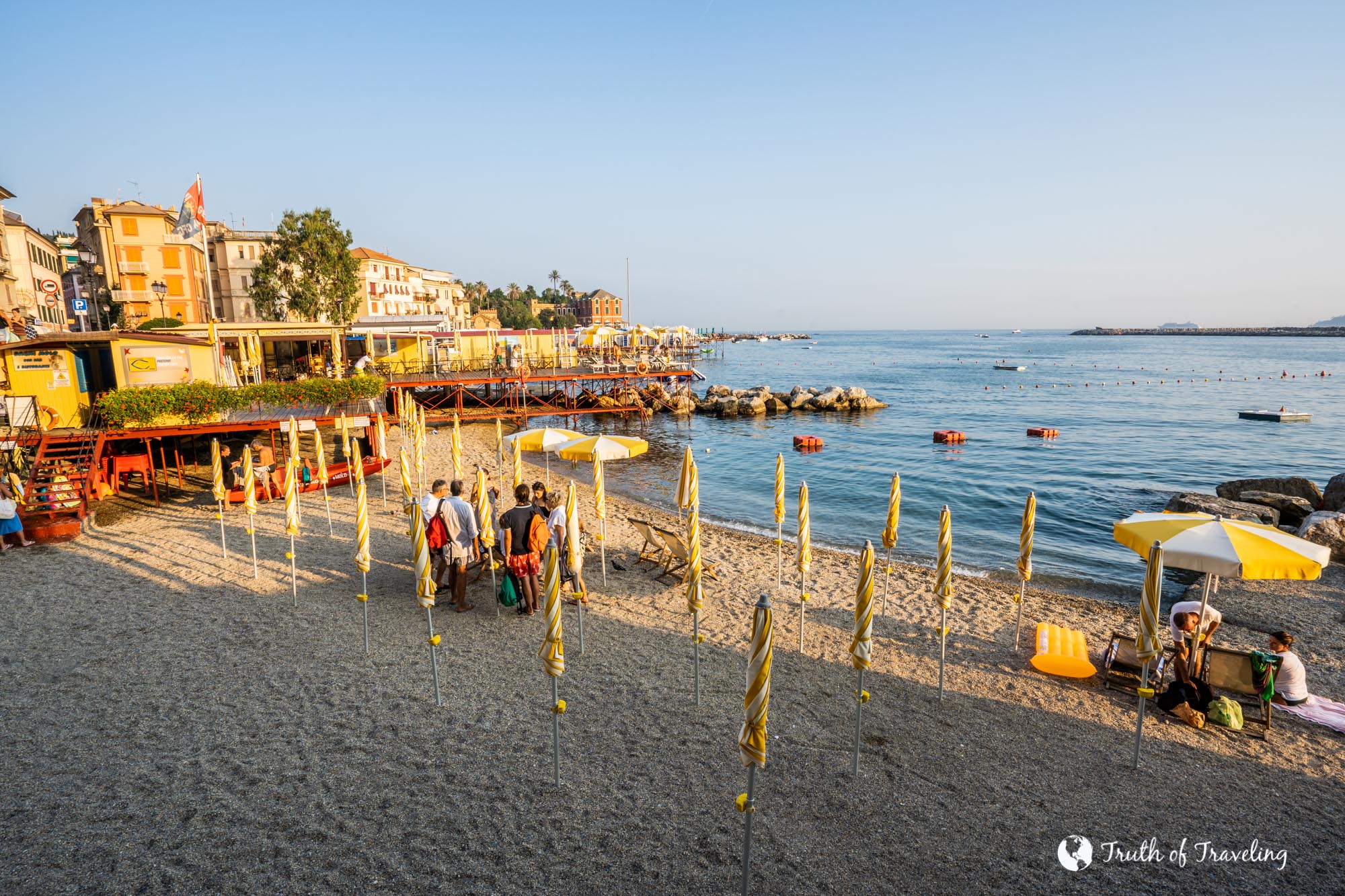 There are plenty of beaches in Rapallo that you can rent a chair or umbrella to enjoy some sun before leaving. If you continue walking south you will hit a large park which gives you views of the water.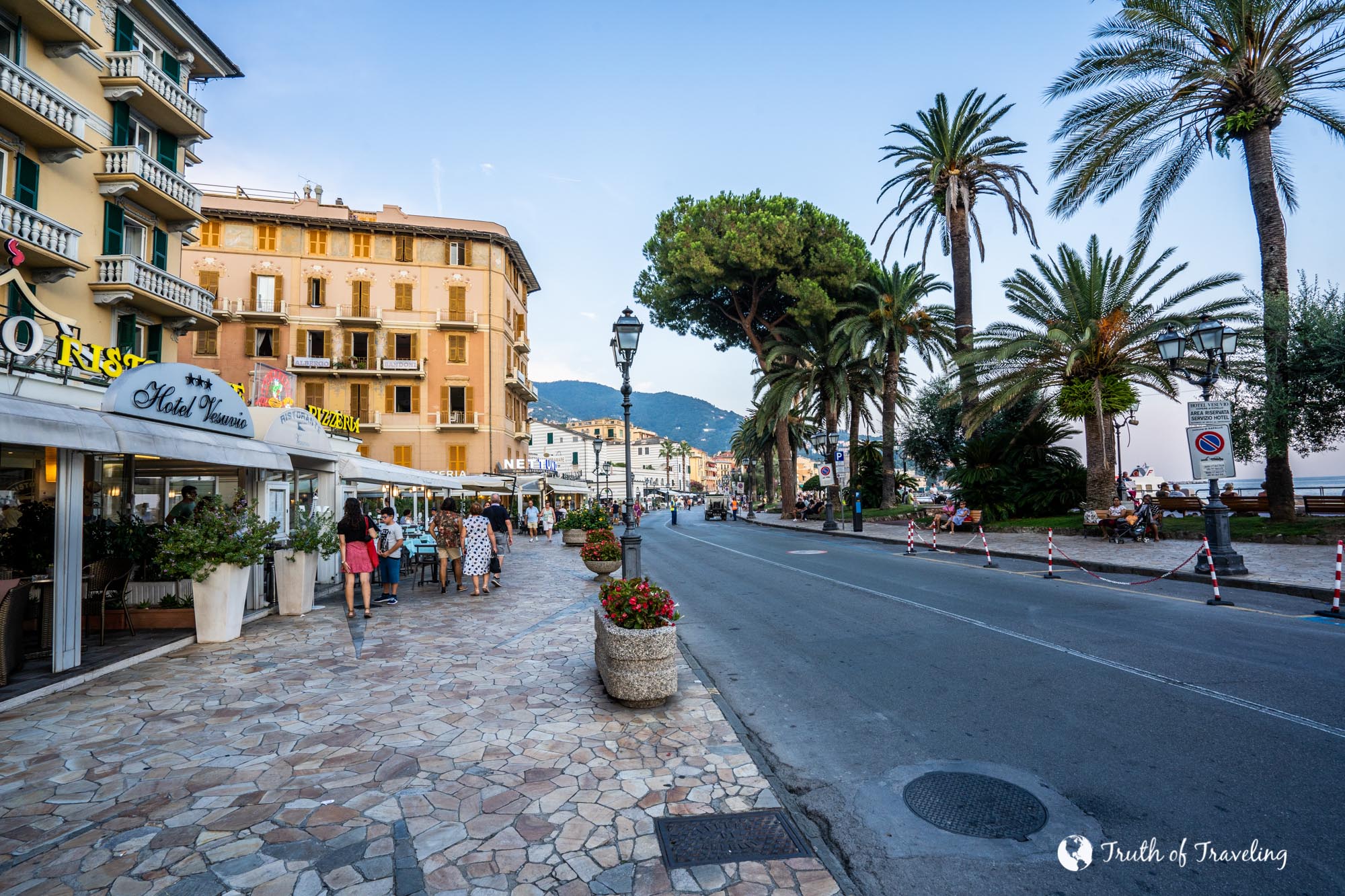 If you haven't already you have to try focaccia while in the Italian Riviera! It is everywhere and is so delicious! You can find it in all sorts of varieties like plain with spices, with pesto, with olives and so much more. Our favorites were plain and with olives. We ate it just about everyday while we were there and couldn't stop! There are so many places in Rapallo that you can get it as well as in Cinque Terre. We got focaccia and desserts from Panificio Pasticceria Mondo Pane in Rapallo and it was all so good!
For some photo inspiration check out: Photos to Inspire You to Visit the Italian Riviera
If you're looking for a really delicious dinner we loved Taverna Azzurra Rapallo which is a restaurant near the harbor. Dave got some of the best pasta bolognese he's ever had and I had an amazing pesto dish. It was one of the best meals we had and really wasn't too expensive!
Of course there are so many other areas in the Italian Riviera this isn't the only way to do it. We hope to come back very soon and explore even more of this beautiful coastline!
Interested in More Posts About Italy? Read here!
Pin it for later: